Arab Strapper, David Shrigley cohort and madcap soloist Malcolm Middleton is preparing for his latest adventure – and it's weirder than ever.

Titled Summer of '13, it's a 10-track electronic excursion into an unlikely alternative universe of bubbly R&B, millennial pop and electric japes.

It's released on the 27 May through Nude Records and is definitely the least predictable (and happiest!) thing he's ever done...

On this latest outing, the professional miserablist has officially ditched his dour demeanor in favour of a new blissed out sound, calling in production wiz Miaoux Miaoux and collaborators Gordon Anderson (aka Lone Pigeon from Beta Band and The Aliens) and First Aid Kit drummer Scott Simpson to help out.

The results are a multi-coloured odyssey around pop's oddest moments from the past decade, with hints of Animal Collective and Beach Boys thrown in for good measure.

We caught up with Malcolm as he was gearing up to tour the new record to learn more about its difficult beginnings and its happy ending…

Blimey – the new album! It's mental! And really happy…
This is the first interview I've done about it so I haven't really spoken about it much. I've not had any feedback yet, apart from people who know me, friends and family. So that's a good start, glad you think it's mental…

What led you down the synth-pop path?
I don't know! I've been doing lots of stuff in between but it's been so long since I sat down to do a collection of Malcolm Middleton songs. I was living in the middle of the country, it's quite isolated and I started recording an album about five years ago but it was sounding really crap. It was just the usual stuff, quite depressing and downbeat. At some point I got sick of that and started writing songs again not expecting anyone to hear them. I'd be singing stupidly into vocoders and loosened up a bit, just trying to enjoy it. I love pop music and synths so it made sense to me to brighten things up a bit.

You hooked up with Miaoux Miaoux's Julian Corrie for the record. How did he affect the musical outcomes?
He was a lifesaver. I've known him for a few years. I love Miaoux Miaoux and I think both of his albums are amazing – they're so under-rated. They should have been massive pop successes. I was recording at home alone and it got to the point that I knew what I wanted it to sound like. I did 95 percent of the recording and instruments and stuff, but I just didn't know how to mix it in a way that was interesting and modern. I gave him some reference points and it was all new R&B and pop. I sent daft things like Chris Brown, Major Lazer… I can't remember the last time I discovered a good new band. I just listen to random pop songs whenever I can.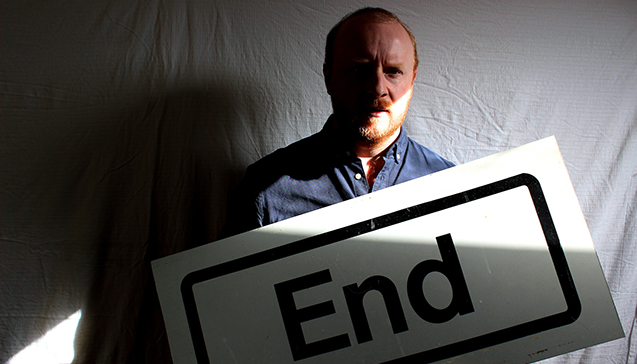 How did Summer of '13 start life? Did you sit down to write it or did it just come gradually?
It was very gradual. Most of the album started on acoustic guitar. I was writing for a few years before I decided to do another solo album. It was last year that I realised some of the demos I was doing were actually quite good. I had 10 songs, which is a good amount for a record.

Did you write it all at home?
Yep.

How did that environment influence your sound?
At the time I was living in an old clock tower with a stable courtyard in the middle of Fife. There was no one there. There were amazing summer nights when I'd go and sit in the clock tower and it'd be light til midnight. There was no one bothering me, so it was a really good environment to write in. It was a good place to start.

What comes first for you usually – lyrics or music?
Probably both. I think I usually write lines down in notepads. I'll pick up a guitar and start trying to come up with a tune and I'll see what lines work with it.

The songs on the new album seem more structured than your previous releases. Was that intentional?
I'm not sure, I don't think about it too much. I didn't want anything too meandering and ambient. I wanted succinct pop songs but my version of that still isn't very mainstream. It's weird, I remember when Will [from In House Press] first heard them he thought it was a bit of a stretch cos he wasn't that used to it, but to me the electronic stuff was quite natural cos I'd done the David Shrigley album and it was all kind of going this way…


How has your music-making changed since those really early Arab Strap days?
Not much. I know more about recording myself but I think in the early days there was no stress. We didn't know what we were doing so there were no rules. We weren't worried about doing anything wrong. It was really easy to do songs and quick to get the desired effect and emotion.
Now, with my own stuff, it probably takes a bit longer because I'm very cynical and don't let myself get carried away too much. If it's a mediocre song I'll just stop working on it – so that's why it takes seven years between records! You can be too critical of your own stuff.
You've worked with loads of different people over the years. Do you see yourself as a solo artist or a serial collaborator?
I still see myself as solo. It's probably one of my flaws. I know people who have gone on songwriting retreats to work with others but I can't really do it. I never have and I'm a bit scared of it – feeling like I'm not professional enough. I can do stuff in my own way but I feel like a solo artist who needs to call on people sometimes when I hit a brick wall. When the songs needs something else. I think I'm too insular! No one ever asks me to collaborate!
You're working on your live show at the moment – how's that going?
It's a major headache but it's a lot of fun! There's so much going on in the songs. I've been talking to Julian a lot about it cos he's my tech guru at the minute. The main thing I'm doing is stripping it all back and getting rid of the wee ambient noises that one in 10 people might notice if they listen really carefully on headphones. We don't need that stuff for live. I'm putting a band together and it'll be fun testing out how these songs will work live.
Do you have any favourites on the new record?
Yep, they've been there from the start. The song
Big Black Hole
– it's inspired by the Tegan and Sara song
I Was a Fool
. I heard it on the radio and thought: 'wow, I need something with some great piano in it,' so I tried something. I already had
Big Black Hole
written but I thought it would be nice to have a piano loop at the start. It all goes a bit Ellie Goulding at the end, unfortunately!
What kind of kit did you make the new record on? What's your studio like?
It's kind of crap! I just use a laptop and Ableton and loads of midi keyboards and guitars. I've got some bongos from Santa for Christmas and I've got a midi drum kit, plus an old Yamaha family entertainment system.
It's more interesting for me to create songs using loads of keyboards rather than just guitar. They usually start on guitar and then migrate, otherwise I get bored.
http://www.malcolmmiddleton.com/
Tour dates:
25 May: Aberdeen, Lemon Tree
26 May: Dundee, Beat Generator Live
27 May: Glasgow, The Art School
28 May: Edinburgh, Electric Circus
31 May: Gateshead, Sage Gateshead
1 June: Oxford, The Bullingdon
2 June: London, The Lexington - SOLD OUT
3 June: Liverpool, Leaf
4 June: Manchester, Deaf Institute