'We've got plans to do more and more stuff under this moniker and I never want the "band" label to limit our freedom.
'
Ben Thompson is chatting about why for him and partner Meg Williams, Luxury Death is more than just a band: it's an immersive project encompassing music, design and art.
Alongside their lo-fi art rock sonics, the duo collaborate with LA artist
Lucas Chemotti
to make their own videos, while Ben also runs zine company
Desire
and designs the band's gig posters and graphics.
It's a multi-disciplinary approach that finds the pair putting out music in constantly innovating ways. Their latest singles were released physically in the form of their 52-page zine, 
Digital Ceremony, 
which contained QR codes for the tracks as well as
works
from a selection of artists. Who said vinyl was king?
With all that going on, you'd be forgiven for wondering whether the music may suffer just a
teeny
little bit, but nope: it's all Moon Duo-esque shimmering keys, lush licks and boy/girl melodic earworms that stick for days.
Keen to find out more about the project's relationship between music and art, we chatted to Ben to get the lowdown...
https://soundcloud.com/pnkslm/luxurydeath-diluted
Did you have a vision in mind when Luxury Death was conceived?
One vision sort of merged with another. The original idea for the band was to be electronic and lofi, but then we got a band together and it became more punk when the real instruments hit and we rode with that sound for the
Glue
EP.
We've brought back the electronic sound more now and I'd like to think that our latest singles
Diluted
 and
Kids of the Club
find a balance between the lofi punk and the electronic. We've even done an electronic set before with drum machines and more synths. I'd like to do more of that stuff as well as full band performances in the future.
What is the relationship between art and music in Luxury Death? Does one inform the other?
The sound definitely informs the aesthetic. But then the aesthetic helps build characters within the sound. We write the music, then I design a 'look' to fill the spaces in-between. For
Glue, 
there was a lot of chains, a heavy black and white feel and a xerox look. The new singles have a more clubby theme; using bitmapped images of dancing figures, flashing light, projections and bolder more wide typography.
You've said you view Luxury Death as more of a project than a band. Why is that?
It's an art project because we do more than just the music. It's a very hands-on affair. We write music, make art, run a zine along with releases and make visuals for the shows. We've got plans to do more and more stuff under this moniker and I never want the 'band' label to limit our freedom.
How important is artwork to you?
To us, it is as essential as the music. I like us to go beyond the album artwork. That's why we run the zine along with music releases. Our zine
Digital Ceremony
was the physical release for our new singles, with the songs QR coded into the pages as well as art from ourselves and 10 others. That project was as ambitious and time consuming as the songwriting itself.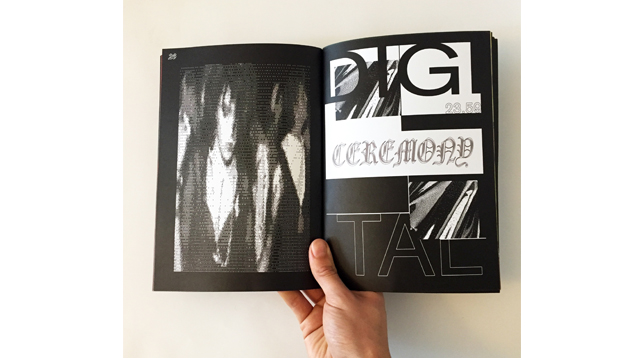 How would you describe the Luxury Death aesthetic?

Derivative, but aware of its influences. We aren't doing anything new or groundbreaking, but I'd like to think that what we create, we create genuinely. Trends come and go and we may be part of them, but I don't see anything wrong with exploring that.

How do you collaborate with Lucas on your videos?

Lucas is a good friend of ours from LA. I think our relationship works so well because we have the same kind of vision on film, design and music. I'm massively into his style and how he's been developing it over the years we've known each other.

For both of the videos we made together – Glue and Kids of the Club – myself and Lucas have had almost exactly the same ideas; it's like we think the same way. That's a really rare bond and I genuinely don't think I could work with anyone else on a video project for Luxury Death, it wouldn't feel right without Lucas.

For Glue, he shot the whole thing in the States without us being physically present, using a few models, a white room and some chains and roses as props. It felt like a short art-house flick, which was the aim.

For Kids of the Club, we flew Lucas to Manchester and shot the whole piece in a warehouse club called The White Hotel. The idea for this short film was that a young boy and girl were experiencing a taste of the underground for the very first time, unchained by lights and sounds they had never heard before. I was involved with the editing and graphics behind it – me and Lucas were doing it hungover on my sofa.



What role do you think album artwork plays in the digital age?
I think it's as relevant as ever. The cover is there to make a statement about the record and if the artwork is bad, it makes me not like the band as much. It's such an important piece of the puzzle. If you want go all 22nd century on it then you could do something like animate the cover for digital platforms.
What advice would you give to bands wanting to make their own artwork? How did you get started?
I guess it helps if you spent 'x' amount of years of your life at art school, but anyone with a vision for their own aesthetic can be in control of it. I find it hard to give up that control to anyone I don't fully trust and have worked with previously. Doing all of the art and design myself, with help from Meg, is the only way for LD.
What's coming up in 2018?
We are expanding our practice and taking our time with it. I think it's easy to rush into something like an album, but we aren't ready for that yet. We also all have personal projects we are involved in that take up a lot of our time. Myself and Meg run a design collective/studio called Desire Press and have some exhibitions and zines lined up, Luke produces music and has another amazing project called World Radio. Tommy writes poetry and is currently producing his first zine.
www.facebook.com/luxurydeath