Manchester trio LIINES make muscular, monochrome post-punk that hinges around bass, guitar, drums and vocals.

It's fuller than the economical sound which has defined the genre for so long, instead bringing a full-throttle onslaught of racing bass and beefy beats.

There are suggestions of Riot Grrrl and grunge in their sound too, which ramps up the anxiety and emptiness in tracks like Shallow and Cold.

Over the last 18 months they've been steadily raising their game live, winning fans in Radio X's John Kennedy, BBC 6 Music's Tom Robinson and Amazing Radio.

On Friday, they dropped their stellar debut LP, Stop-Start, and are gearing up for a string of live dates over the summer (more info below).

Here, drummer Leila O'Sullivan gives us the skinny on their propulsive sound…

What was the first song you developed an obsession for?
Probably something by Fleetwood Mac, like Everywhere. It's something I remember listening a lot to when I was young as my parents would play them, and it's still a song I can't get enough of to this day.

What's the first gig you went to?
I went to see Ash at the London Astoria in about 1996/97. That was my first experience of a proper rock gig live with full most pit and everything. Such an amazing experience at a legendary venue – so gutted it's no longer with us.

What's the first instrument you ever got hold of?
I learnt the piano at quite a young age which was my first proper opportunity to learn and play music, but it was teaching myself the guitar that really opened me up to the sort of music I loved, which was stuff like Nirvana and Hole. As much as I loved guitar, drums always appealed to me and that's been 'my' instrument for about 15 years.


What is your worst musical habit?
I'm the drummer and a total fidget. So basically I'd like to take this opportunity to apologise to my band mates, friends, family and colleagues who I have annoyed by tapping on a desk or whatever is in front of me, because I do it. A lot!

What's the best piece of musical advice you've ever been given?
I think to take a step back and plan. We'd spent a few years as LIINES doing ok but also not feeling like we were getting anywhere. So we took a step back and decided some goals for the rest of the year, which was to release our debut single and try and make a name for ourselves in Manchester. It forced us to plan and commit to things but ultimately it led to our first national radio play and some amazing coverage, we sold out our hometown gig and within 6 months we'd signed to our label, Reckless Yes.

Where do you discover new music?
Zoe (our singer) who has insane amount of music on her iPod! But also Spotify – seeing who others are including in their playlists. But also listening to shows like John Kennedy's X-Posure, where I've heard some really cool new stuff I wouldn't have done otherwise like Nadine Shah and Girl Ray.

What's your favourite venue?
We played Gorilla in Manchester earlier this year (pic below), supporting Hot Snakes. It was by far the best live experience for me. The stage and sound were perfect and the amazing response topped it off!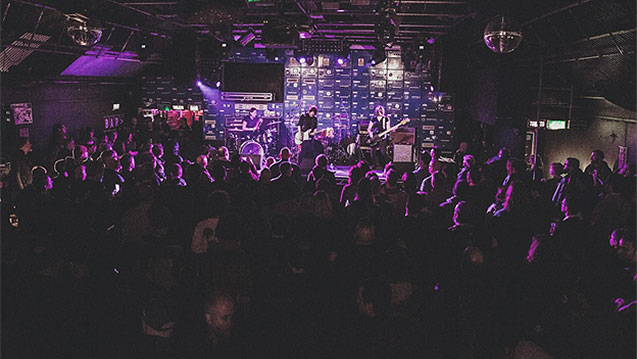 Who is your current favourite band/artist?

I've been following The National since I first saw them at The Roadhouse in Manchester in 2005, and I think I've have seen them in every sized venue in Manchester since! To be honest I'd lost track of them for a few albums, but their latest album,
Sleep Well Beast
, was easily my album of 2017. I listened to it so much. It gives you everything you want and some of the songs still make me cry. I went with Zoe to see them at the Manchester Apollo last year and it was the most perfect gig.
What inspirations outside of music impact your songwriting?

Zoe writes the core of our songs and they're mostly influenced by relationships and loss, which you can hear in the lyrics but also feel through the intensity of the music and her powerful vocals. She leaves nothing behind when she's singing these songs live and it really is something else witnessing that
–
many people and reviews see and respect that. In fact that is something that we are proud of in terms of any LIINES gigs – we throw everything into our performances. Few of our songs will reach the two-and-a-half minute mark, let alone three, but it's a physically exhausting experience! So the theme of our songs really does impact beyond the music.
What track of yours best represents your sound?

I would say
Shallow
. It nods to all the different aspects of LIINES music – the sparseness, having a core of bass and drums underneath with vocals and guitar dropping in and out. The build through the song to a noisy crescendo. And the fact that's over in two minutes 15 seconds = classic LIINES!
What's next for you?
Our debut album
Stop-Start
was out on 4 May via Reckless Yes Records. We were so grateful for the support from PRS Foundation's Women Make Music programme which has made a huge difference for us being able to work with a PR agency and create some cool videos. Off the back of our album release, we have some exciting gigs and festivals coming up and lots more to announce.
We play Manchester o2 Ritz for The Membranes and Friends all-dayer (5 May), Dot to Dot Festival Manchester (25 May), Some Weird Sin all-dayer, London (18 August), Head for the Hills Festival, Ramsbottom (14 September)
–
plus more to be announced. We want to get around the UK as much as possible for the rest of the year to play our album to as many people as possible. Also, we've not been back to Europe for a few years, so it's about time we did that!
http://www.weareliines.com/
LIINES have been supported by PRS Foundation's Women Make Music fund. Learn more about the fund here.
Top picture credit: Blake House Fimmakers Co-operative
Live picture credit: Tom Quaye