'Ask anyone with a great music programme in their venue and they will tell you how it's definitely NOT a get rich quick scheme. We do it for the love and passion of it,' says Liam Naughton.
The director of Liverpool's Kazimier Productions is chatting to us about the group's 10-year story, which all began with a vision to create events fusing elements of clubbing, theatre, experimental performance and fine art.
From creating multimedia shows to mass audience outdoor spectacles, innovation has been key to the Kazimier's longevity. The redevelopment of Wolstenholme Square resulted in the closure of the beloved Kazimier Club, which was 'a devastating blow to us all', Liam says. However, the group found a new home in 2016, opening 
Invisible Wind Factory
 (IWF)– a 1,200-capacity warehouse on Liverpool's North Docks and a 'cultural theme park for the future.'
With a team made up of artists, musicians and filmmakers, Kazimier Productions has an interdisciplinary approach to its multimedia programming, also running a gallery which supports the local arts scene. '
The Output Gallery
 is keeping us curious, and running this has cemented our cross-arts approach to running venues,' Liam says.
Here, in an extended interview taken from our
independent venues feature
, he tells us more about the challenges of running an independent venue - and how IWF is overcoming them...
How important do you think venues like yours are in giving a lifeline to new artists?
I think independent DIY venues are crucially important to giving new artists a platform, and a local home to belong to and identify with. Music venues and independent arts spaces act as community hubs where people can meet, share experiences and bond through the ritual of live events - which I believe is a vital service to artists and audience alike.
As an independent space, have you experienced challenges?
As an independent artist-led organisation we have experienced problems, pressures and opportunities over our 10-year story so far. In general, we are fine with market forces kicking in - it just keeps us fresh with having to find ways to deliver our objectives and overall activity in a viable and relevant way. It's exciting really. It does mean we need to chop and change a bit, but as we are an artistic organisation we also stick to our own aesthetic and taste, which evolves over time and with new collaborations and team members.
Redevelopment of Wolstenholme Square resulted in us having to close the Kazimier Club which was a devastating blow to us all. Licensing is always a tricky one for venues, and with issues around noise complaints and late night operations, it remains high on our agenda. It's difficult running music venues in this era; we are all constantly up against it with restrictions and especially when running venues in old factory buildings.
Are there any initiatives for small venues that you've been supported by?
We're involved with progressive organisations like the
Night Time Industries Association
who are pushing for more cooperation between night time venue operators and the authorities, and helping with the issues both sides face. There are great things beginning to happen such as the
Agent of Change
policy that has passed through parliament and is starting to be referred to in planning processes. We're keen for the sector to work together to help each other on the universal issues we all face.
Are there any artists in particular that have played a part in your story?
Oh wow, this question is massive really. Our directors and core team are made up of artists and our studios at IWF are full of makers, painters, musicians, filmmakers, performers and writers - so the immediate environment is chock full of artists that are all part of the team in some way or another.
Then there are the artists that have come through the doors at all of our venues including IWF, Substation, Kazimier Club, Kazimier Garden and Output Gallery - far too long to list here. As a creative team, we also collaborate with artists regularly such as our
recent project
with Stealing Sheep and Dogshow for an event called New Rituals.
How closely do you work with the artists/promoters of shows that take place at the venue?
We're a highly collaborative organisation, and plan to collaborate more and more. We certainly work closely with like-minded venues to help encourage a healthy ecosystem in the local area. It's important in an area like the North Docks. We also work closely with promoters to ensure that we are all doing our best to make events work, and to pay attention to production to ensure that it's bespoke and interesting.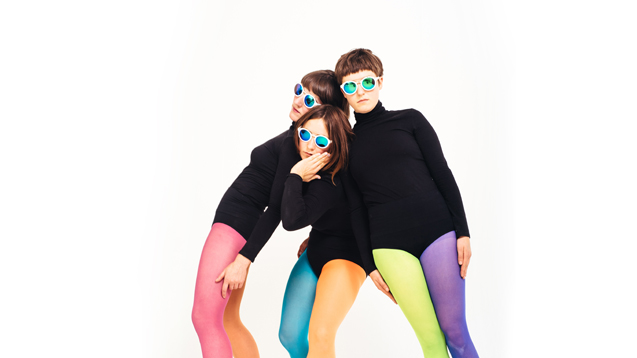 Do you think the interconnection between grassroots venues and music-makers is still important in the era of digital music?

It'll always be important in my eyes. Music going digital didn't stop people wanting to go to gigs... I hope it never does!

Are there any other new innovations/approaches that you think will help venues survive in the current climate?

The main challenges we face running a quality programme is overall viability of our business - if our businesses are not viable then we won't survive. Ask anyone with a great music programme in their venue and they will tell you how it's definitely NOT a get rich quick scheme! We do it for the love and passion of it.

Keeping the programme fresh and the operations running well, along with securing proper tenure are the main pillars to making this thing work. You also need brilliant people in your team; that's a must.

What does the future look like for IWF?

We're mega excited about our future. We plan to keep changing the venue and improving the experience for all involved. We are going heavy on interesting programming in 2019 - we'll be booking a lot more stuff in-house, and creating new avenues of high quality events. This'll keep us very busy.

The workshop will be abuzz with projects coming through it, and the studios and cafe will be vibey with new improvements. 2019 will see new shows of ours go on tour as well, which will mean we have a really fun and busy summer time.

The Output Gallery is keeping us curious, and running this has cemented our cross-arts approach to running venues. The Kazimier Garden will gain a new micro venue for super intimate live stuff.

In general we'll keep reinventing who we are, and stay excited about what we do.

http://thekazimier.co.uk/iwf/