East Anglian composer Laura Cannell is a rare proposition who explores the spaces between ancient and experimental music to create her own sonic pathways.
If her melodies and techniques sound unplaceable, it's because she's been steeped in historic sheet music and text for most of her adult life, while as a teenager she perfected the medieval and baroque
repertoire
of her cherished first instrument, the recorder.
Also an expert in the polyphonic overbow technique for fiddle, and with a fixation on creating sounds for the moment, in the moment, her live performances are special one-off events offering something completely unique each time.
On Sunday, (30 April), Laura performs with Ex Easter Island Head and the BBC Philharmonic Orchestra at Sounds From the Other City Festival in Salford.
Drawing on transcendental and earthly musics from the past and present, she's composed a site-specific piece for Salford Cathedral.
Here, she gives us some insight on what's in store for the performance, talks us through her groundbreaking Modern Ritual event series and explains how she came to find and nurture her unique musical specialisms...
How and when did you first discover your love of music-making?
I grew up in a small rural village in Norfolk and we learnt the recorder at primary school. I remember being much more interested in it than my friends - I just knew it was something I always wanted to do. I think it was discovering that I could produce tunes by ear and that by reading music I could bring to life the notes on a page and explore a different world. I was probably about six, and then I started having private lessons every week until I was 18 and going through grades, giving performances and going to music college as a first study recorder player.
I used to make tape recordings of myself playing traditional Irish tunes and at 16 I taught myself to play the fiddle, started a band and then the two instruments went in parallel. I loved the challenges of learning new pieces and I loved the repertoire for the recorder, which focussed on medieval, renaissance and baroque periods. My parents are antique dealers so I think I've connected the old music to old things all of my life.
What has most influenced your sound?
I have listened to a lot of traditional fiddle styles. I really like tunes with drones, this is partly why I've adopted the Overbow technique. It's an excellent way to create more harmonies. Monteverdi and Biber are amongst my favourite composers, I love the melancholic yet uplifting string writing. I really love the playing of Sequentia, who create medieval Icelandic music on early instruments. I like repetition and I think the baroque ground bass has been internalised for a long time. The idea of having a starting point for improvisation really appeals to me. I have also tried to step away from a lot of recordings so that I can find my own sound, and be as honest and true to that as possible.
How do modern technologies impact your music-making, if at all?
The main impact technology has on my music is that I record using a Zoom and I use editing programmes. I don't use any extra tech for performing except for going through a PA, though that depends on the venue and space. Even with the PA I try to keep it sounding as natural as possible. I don't want massive reverb, I want my performance to sound how it sounds in that moment. That's part of the challenge I set myself. I specifically want to explore how much I can do without any wires, effects, or electricity to rely on in live performance. Obviously the internet is crucial to my career in terms of communication with promoters, projects, commissions, distributers, interviews etc.

How does your interest in early musical forms translate into your own work?
I am interested in taking fragments of medieval or renaissance music, taking a few notes or a phrase that speaks to me using it as a basis for composition. Over the last 15 years I have consciously searched out older music and over the last four years I have researched and incorporated the ideas, modes and structures into my compositions.

Before that I performed a lot of it 'straight', but felt I needed to take it somewhere new. I think that the Cantigas de Santa Maria – a collection of 420 poems with music notation from 13th century – are a never-ending source of inspiration, the same as the sequences and compositions of Hildegard von Bingen. I use these materials to improvise around, to memorise and forget, or as graphic scores where I play anything except what is written.

Do you think the ancient/traditional music vernacular in Britain is still strong?
I don't really know. I decided a couple of years ago to stop thinking about how my music fits in with those things, and with what other people are doing. So I'm a bit out of the loop. I do think there are so many sub-genres within ancient and traditional music, the period performers, Historically Informed Performance (HIP), the traditional purists, the folk musicians, the party bands, the highly-polished and over-produced, people who specialise in a specific composer. I think the early music scene is probably more underground than it used to be, but that could just be my impression because I've stepped away and have lessened the importance I place on it.

Traditional music is strong, but it seems like a closed scene that doesn't have much room for change, a lot of the same names headlining festivals over and over.

I think that I have always struggled to find my place within ancient or traditional music, and although I draw heavily on my experience in performing and research into early music, I have never felt part of it. I am using really old sources, and creating something new, but I think that genres can be very rigid.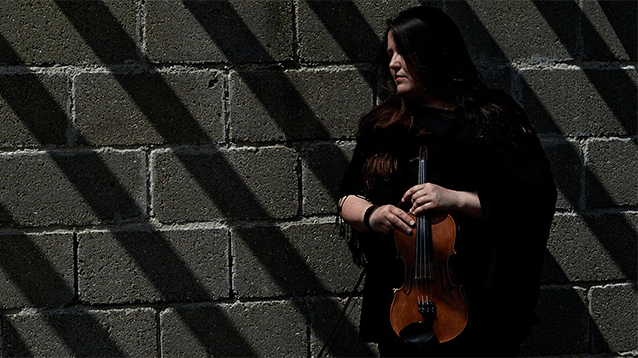 Do you think there's a continuous cultural thread that leads back to it?
Yes, I think there's definitely a thread which leads back to the early music revival and folk revivals. I think David Munrow's work is still really important and the burgeoning early music scene questioned a lot of the performance practice of classical musicians. It has definitely shaped the research and interpretation of earlier music. I think it's similar with the folk revival, both really were important and also influenced each with crossover of musicians appearing on recordings.

I was heavily inspired by the early music scene in my twenties, and as a teenager my teacher was part of Musica Antiqua of London. They performed absolutely magical music on viols and recorders. It was with them that I got to perform Monteverdi's 1610 Vespers in a local church when I was 14 and later the director Philip Thorby was a guest musician on a couple of my Horses Brawl albums.

What do you think modern composers can learn from ancient forms of music?
I think it's healthy to consider lots of things and then work out whether it is relevant to your practice. In many ways I feel that early music is not that distant from us, we are still people creating music, we haven't changed as humans. I think trusting that you have something to say at this point in time is enough. I think it's interesting to see what emerges out of the past. There are things we think are new, such as playing two recorders at once, but the aulos (double wind instrument) is one of the oldest depicted instruments. We can learn a lot but you have to start with what speaks to you.

You're known for your love of the recorder – what is it about the instrument that draws you to it?
I love the pure tone, that it can sound both simple and emotional at once. That you can colour the note with alternative fingerings to create subtle differences, and it has immediacy; you are either on or off in some senses. From very early on I have had a dislike for constant vibrato that is adopted for much classical playing, I just never liked it; to me it covers up the truth. You can't hide with the recorder, the art is drawing a complex sound world from a simple looking instrument.

Can you tell us about the thinking behind your Modern Ritual event series?
I started Modern Ritual as a way to perform alongside other musicians, to provide a platform for new ideas. Over the past couple of years I have been touring a lot on my own, and it has been really exciting and an adventure, but it can also be really stressful. I was talking to the artist/producer Julia Dempsey and composer/performer Sarah Angliss last summer when both Sarah and I were performing at Latitude Festival, and was saying how disconnected to other musicians I was feeling. I live in East Anglia, perform in the UK and Europe, and although I love performing it was making me feel quite stressed and isolated. So I came up with the idea for a series where I invite musicians/writers to come and present something new that in some way relates to their ideas of what modern ritual means to them. I wanted something which felt contemporary and allowed for historical contexts.

How did the first one go and what do you have in store for upcoming events?
The first one was very successful, everyone involved was really happy to be part of such a unique event. It really felt like a night with friends where everyone got to be themselves, to talk to the audience, to include them on the Modern Ritual journey. Café Oto [in London] was the perfect space for it. It was intimate yet not totally informal. I was really happy with the night and there was a very positive review/feature of nearly half a page in the Financial Times the following week.

The line-up featured Jennifer Lucy Allan's new performance talk based on her research into the social and cultural history of the foghorn, electronic musician Hoofus performed a semi-improvised electronic set evoking an imagined rural landscape between nature and machinery, Charles Hayward (This Heat) performed his 30 Minute Drum Roll, which was mind-blowing!

Writer and Journalist Luke Turner read from his forthcoming book about Epping Forest and I performed music from my latest album Simultaneous Flight Movement. Charles and I also created a collaborative piece that we plan to pursue through the next performances. It all sounds quite random but it worked perfectly and all came together under the heading and feel of the night.

The next events include a piece called The Machinery by Sarah Angliss, which incorporates live clog dancing with electronic music, (clog used by mill workers to communicate with each other), drummer Pete Flood presents new music based on lichens and other plant patterns, and the experimental harpist Rhodri Davies will bring something new to the table too!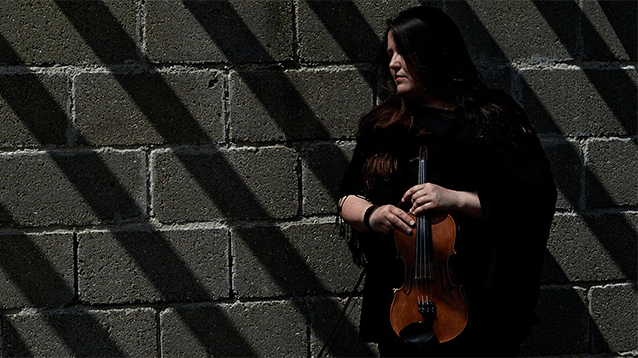 How's prep going for your appearance at Sounds from the Other City later this week? What can we expect from the performance?
I am so excited about this project! I was invited to collaborate with members of the BBC Philharmonic Orchestra and the guitar/percussion band Ex-Easter Island Head. It's a commission by Sarambeta and Sounds from the Other City.
We had a mini residency at Islington Mill in Salford and a couple of sessions at the BBC Philharmonic's studio at Media City. The players are really open to what I throw at them, using ideas of heterophonic improvisation (simultaneously playing the same thing), fragments from Silvestro Ganassi's treatise on ornamentation from 1532, we have created something very contemporary and very ancient.
I am really loving composing for a different ensemble and would love to do more of this; it's really opened up a lot of ideas for future projects. The piece is exactly 30 minutes and uses the natural acoustics and space of Salford Cathedral. I don't want to give too much away, but it is dramatic and beautiful and I can't wait to share it with people. I heartily recommend coming to the concert on 30 April.
What else is keeping you busy this year?
I've just completed a short commission for the audio part of an exhibition called
Medium
, about the artist as conduit of communication from other channels. This will be heard at the Zuckerman Museum of Art, Atlanta, Georgia, US. In May I am playing a couple of UK dates with the brilliant Seattle based cellist/composer Lori Goldston (Earth/Nirvana) and we're doing some recording together, then Supersonic Festival in Birmingham, and a festival and recording session in Bergen, Norway. Various other concerts and a really big commission for November, which is yet to be announced. Plus the next two in the Modern Ritual series at Café Oto (22 July) and the Union Chapel (2 December).
Laura Cannell's mesmerising new album Simultaneous Flight Movement is out now on her own Brawl Records.For more information on Sounds From the Other City Festival, please see http://www.soundsfromtheothercity.com/
Laura Cannell has been supported via the PRS Foundation's Beyond Borders fund, which offers organisations up to £15,000 for projects that include repeat performances of music written in the past five years, new commissions and recordings.