From his beginnings with jazz outfit Loose Tubes through worldwide collaborations and acclaimed solo endeavours, UK composer/saxophonist, bandleader and educator Julian Argüelles is a hugely influential figure in British jazz.

Having worked with some of the greats including Dave Holland and Django Bates, his latest project - Tetra - brings together Kit Downes (piano), Sam Lasserson (bass) and James Maddren (drums). It means it's a showcase for some of the most exciting sonic powerhouses in the scene. We find out from Julian why, with this latest outfit, anything is now possible…

How did you first get into music?

My initial motivation was just to have a good time playing music, as much a social thing as a musical one. Then it became a way of expressing myself and making sense of important life issues.

My parents weren't especially musical, but my brother, who is a couple of years older, had a great drum teacher. This led him to become interested in jazz and joining a local big band. I basically followed his path.

What led you to the saxophone?

I remember putting my hand up in class when I was about eight or nine, when the teacher was organising who was going to play what. I hadn't thought about it before, but I suddenly fancied a go. My hand shot up somewhere between double bass (too big) and trombone (not cool), sax wasn't an option so from then on clarinet and I became connected. Once my brother became interested in jazz, it was only a short and welcome hop to the alto sax. Luckily my schools seemed to have good peripatetic music teachers.

Charlie Parker, John Coltrane and Keith Jarrett stand out as huge and influences in those formative years.

Tetra is your latest project - could you explain how you got the group together?


I met Kit Downes and James Maddren through a bass player called Euan Burton after we did some gigs together in Scotland. I was surprised that they knew some of my tunes. I found Sam after a bit of research and getting some recommendations. I love the band as it seems that anything is possible.

I was ready to have a regular UK based band, I'd had one for about a decade, then a New York based trio and and a UK octet. Both were difficult to get together, so I felt I wanted a working, regular UK band to develop over a long time with regular performances. I feel fortunate to have found these wonderful young musicians.

The band is very versatile, which is a word I usually don't think of as complimentary when describing jazz musicians, but I feel we can explore all the musical possibilities that interest me.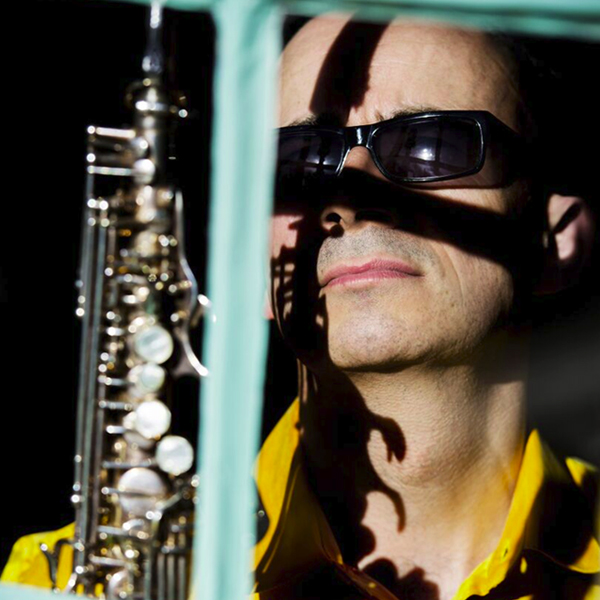 How did the LP come together? Could you explain a little a bit about the compositional and creative process?
We've been doing quite a lot of playing over the last three years and after one of the tours we recorded this music. It was originally conceived as a long suite with improvised interludes but we now play the music as stand-alone pieces. Recently we've played as a septet with the addition of another sax player, trombone and trumpet.
I compose in various ways, with and without musical instruments. My favourite is with a good piano, and, if I'm writing for a large project such as a big band, then I need to have a computer to demo arrangements. It's very handy to press a button and get a rough idea of how it will all sound. My piano playing is a bit limited so computers allow me to compose things I can't play. If I'm after a certain sort of melodic line then I'll use a sax to compose.
Recently I started writing classical saxophone etudes just with the saxophone which has been a lot of fun. I would say that playing 'your' instrument and writing for it certainly speeds up the process.
You're known for your solo projects, working as a band leader, a composer and educator - which musical 'hat' are you most comfortable with wearing?
I don't think of them as different, more like talking in different sized social situations. If you have something to say you can say it in different environments.
Ensembles do have different characteristics though. Solo: obviously you have all the responsibility, and of course performing and improvising as a saxophonist on your own is quite rare. Quartet: I love the intimacy and the solo and group improvisation possibilities of a small group, a sax + rhythm quartet has a lovely balance to it, no one really occupies the same musical space, and of course it's relatively intimate. As a composer/writer I enjoy larger groups because you have more possibilities in terms of musical colour, orchestration, more individual voices, and there is nothing quite like the sound of a big band all 'breathing' as one - it can be very powerful.
What have been the highlights of your career to date?
Kenny Wheeler's 60th birthday tour was special, so was my first release with John Taylor in 1990. But I'm lucky to perform with such great musicians so special musical moments happen each year.
From your perspective, is the jazz world in a healthy state?
The musicians in the UK are fantastic, as they are all over Europe, there are so many incredible players. Of course there are not enough places to play, and funding seems to be getting cut so it's tough for musicians and promoters putting gigs on. In the UK a government who didn't feel the need to cut arts funding would help, and I think their attitude to one to one instrumental teaching might have a terrible impact later. The awful housing issue in London is going to hurt the London scene in the next years. But despite this, the music is still very strong and healthy.
A new generation of successful promoters might be good too, especially in the established organisations, but I guess if there isn't a support system with funding then it'll be hard to attract the best possible people.
What advice could you give to new and aspiring jazz composers?
It really depends on where the composer is at. If they are starting, I'd say have fun, don't take everything too seriously (especially themselves). But I think if they have decided to dedicate themselves to being a writer, they have to work very hard, study a lot, be honest (especially with and about themselves). Being objective about their own music is hugely important, most composers aren't, and it really helps to iron out problems.
julianarguelles.com
The full list of Tetra tour dates is below:
October 27 - Spotted Dog, Birmingham (+ Jazzlines master class)
October 28 - University of York Workshop
October 29 - Arthur Sykes Rymer Auditorium, University of York
October 30 - RWCMD, Cardiff (+ master class)
October 31 - Turner Sims Concert Hall, Southampton (+ workshop)
November 3 - East Hastings Sea Angling Association, Hastings
November 4 - The Capstone Theatre, Liverpool
November 5 - Bonington Theatre, Nottingham
November 6 - The Verdict, Brighton
November 7 - Vortex, London