Jessica Curry is a trailblazing composer whose BAFTA Award-winning pastoral score to the videogame Everybody's Gone to the Rapture in 2015 has cemented her growing reputation in the games world.

Alongside her work as games score creator and co-founder of the internationally renowned indie games company The Chinese Room, she's also a lauded contemporary classical composer.

She loves writing for unusual spaces, and her work has been performed in diverse venues such as The Old Vic Tunnels, Sydney Opera House, Great Ormond Street Hospital, The Wellcome Trust, MOMI New York, The Royal Opera House and Durham Cathedral.

For our Sound Chip Symphonies feature in the latest issue of M magazine, we chat to Jessica about her experiences in gaming - an industry with a female workforce of just 19 percent.

She candidly explains that outside the safe harbour of The Chinese Room, which promotes equal opportunities and decent working conditions for all, she's received a mixed reception as a female composer and company founder...

How did you first get into composing for videogames?
It's pretty much the opposite of what I thought I'd end up doing as a composer, actually. My lovely husband, Dan Pinchbeck, was doing his PhD in first person shooters, which I think is the best doctorate ever.

He wanted to explore what happened in a game if you took out all the gameplay and rather than write about it, he decided to make a little experimental game and that became our first game, Dear Esther.

We'd never made a game before, we weren't part of the games industry. He was an academic in general, interactive computer entertainment and this game just became a massive overnight success. All of a sudden we were running a games company overnight. It was bizarre and totally unexpected.

So that's how The Chinese Room started?
Yes! Very quickly afterwards, we got asked to make another game for another company. It was a sequel to Amnesia, and then straight after that came an offer from Sony.

So it's been a whirlwind four years. As a composer, obviously, I was the natural person for Dan to ask to write the music for Dear Esther and it just snowballed from there. I actually found that I really, really enjoyed it. I wasn't a gamer at all. I had no interest or knowledge about the games industry, much to the shock of some of the other people in the industry, who I sometimes feel I haven't earned my stripes, in a way.

But I've done a lot of other things that led to this point. I've done opera and films and installations, concert work, so I feel like I earned my chops but just not within the field of games.

How did you get your brain around the non-linear nature of games music?
Well, for Dear Esther, I literally wrote a film soundtrack that we put into a game. I have no idea about interactivity, how that worked, I just didn't have any frame of reference or knowledge. At the time there wasn't any pressure because it was Dan's experiment.

During Amnesia: A Machine for Pigs, the second game I worked on, I started my journey into interactivity. I remember thinking, 'how does this all work?' They were my baby steps. Rapture was the first time I would say that I wrote a truly interactive score for a game, rather than my music shoehorned into a game.

On a compositional level, how does that actually work?
It's really complicated, actually. In Rapture, there are four different types of music functioning throughout it.

There's what we called 'unique cues', which work as film cues essentially. No matter how many times you play the game, that piece of music would play under that specific dialogue.

Then we had travelling music, so as you walk around this beautiful world, different music is triggered each time and that music can be broken down. So you could have the full cue, which would be orchestral, or you could just have the piano version of it or harp and strings or voice and piano.

And then there's the procedural music, which is where it gets really exciting for me because I don't get out very much (laughter). This is completely different for each player. So the music is being mixed and processed real-time as the player progresses through the game.

That's something that you can only do in games. It was very structured, so I knew which chords and notes the game should take from from, but it mixes it completely different every time.

Then there was character music - and I think this is why Rapture got so much attention. Each main character has their own musical theme and each of those themes has lyrics that tells the story of that character. I think everything just coalesced to make a really lovely audio experience for the player. I spent three years writing the music, so it was a total labour of love.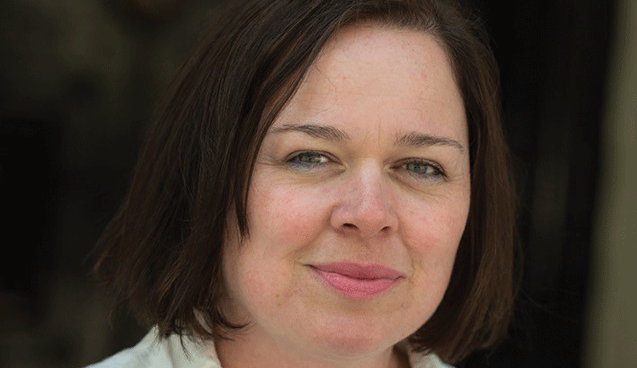 Did that world feel natural to you?
Yes, I mean, on a creative level, my husband Dan and I had worked together on lots of different projects for many years. So that felt incredibly comfortable, creatively.
The industry itself, I mean, I'm pretty famous for being very outspoken about the trials and tribulations that we went through with development and I'm fairly critical of the industry as a whole.
It is a brutal place to be, not just for women, although that's pretty tough. I get death and rape threats constantly for being a woman just daring to work in the industry, which I find shocking and very dismaying.
But just generally working conditions, short contracts, the hours expected, crunch, all of these things I think make it an industry with a lot of problems.
Is it changing at all?
Well, we hire very proactively at The Chinese Room. We're just coming up on gender balance within the company, which is almost unheard of within most games companies. The games companies that do have women often hire them in what they call 'softer skills' areas, although they're very important, like producing, writing.
But we have programmers, we have environment artists, we have women working at very, very high technical levels of achievement and that's something we're very passionate about.
So I think there are companies like ours that are trying to change things. I think institutionally, those big publishers still hold the powers. That's also shifting.
What should be done about the industry barriers?
Well, I'm in my mid-40s now. I see the generation of women under me and they're actually really fearless. They aren't interested in pleasing men and being liked and nice and popular. Sometimes I think I've tried so hard not to annoy anybody throughout my career and be the nice woman so no one can have a problem and no one can say, 'women are really difficult to work with'.
Actually this new generation of women are just forging ahead and are not aggressive and they haven't got a problem, but they're just going, 'we have
ownership
of this place', they're not scared to be part of it.
I'm about to speak at the European Women in Games conference and I think spaces like that where women can meet and network are extremely important.
I've spoken a lot about the fact that I think the industry needs a union. I'm very unpopular basically within the industry (laughter) I'm either loved or hated on the whole, which I've made my peace with. It's been difficult. But it's interesting, I haven't been offered any work since
Rapture
– because I'm so outspoken about the industry.
What's on the horizon?
Well, it's been an amazing year actually because after the annus horribilis of last year, I thought I just don't want anything to do with the industry.
So I collaborated with the poet laureate, Carol Ann Duffy, and wrote a really huge suite of music for Durham Cathedral which premiered this summer.
I've been commissioned to write lots of short choral pieces, too. I'm not doing the day to day running of the The Chinese Room now but they're working on three new projects and I'm going to write the music for all three. I'm really busy on those. So I feel like I've got one foot in and one foot out of the industry really.
Does that suit you?
Yes. It's still a place that I don't feel particularly safe in, in terms of the online abuse that you receive just because of your gender. I find disgusting and very frightening at times.
http://www.jessicacurry.co.uk/