Twenty-one-year-old songwriter and producer Jamie Isaac is responsible for one of the most hazy, lazy jazz-addled albums of the year.

His debut set, Couch Baby, landed on 8 July carrying all the wonky electronic trademarks of his South London home.

Sonically, it's clear Jamie is indebted to a scene rippling with disparate influences from the likes of Usher, J Dilla and Steve Reich – but he's also bringing his own love of jazz into the mix.

Through friends and contemporaries King Krule and Jesse James Solomon he found his way into the studio, channeling his classical training in piano and his shimmering ballads into an impressive debut LP.

We spent some time with Jamie to learn more about how he's redefining the South London sound…

How did you first get into making music?
I started this project in 2011. Before that I was doing stuff on and off. I was in a choir for a bit and my nana used to help me play the piano. I was more into classical music at first and then I delved into jazz when I was 14 or 15, which really influenced me.

When did you first find your voice?
I was in a choir and then my voice dropped. So it was a bit more difficult to find it.

I was really into Chet Baker's voice - how soulful it was and the way he used it as an instrument. On his album, Chet Baker Sings, his voice is almost like his saxophone. It's not very high in the mix, it's quite low down and everything's floating and progressing together. I really wanted to make something that was a bit of an homage to that.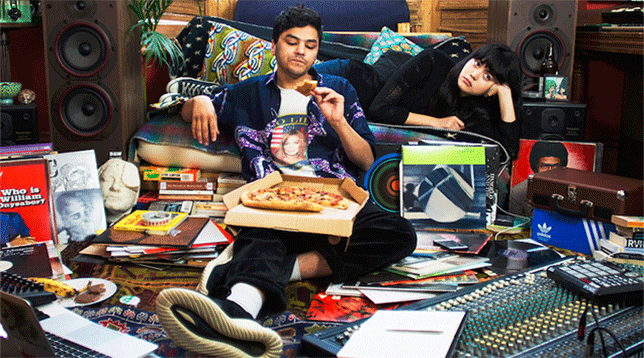 Aside from Chet Baker, who or what have been your biggest influences on your sound?
A lot of old rare groove soul. My dad used to play it all the time. For this album, I've been really influenced by Marvin Gaye. I got into him over the last couple of years. Other than that, production-wise, I can't really say much, I don't really know.

Has your south London home played a part in your sound, would you say?
I grew up in Croydon. I live in Peckham now and used to live in New Cross. I spent a lot of my spare time as a kid in Deptford rather than Croydon – it seemed to have more of a community spirit.

South London is thriving at the moment. There's no doubt about it. There's something definitely in the water because there are a lot of people coming out of the area.

How did your debut record come together? Did you have a set plan or was it culmination of a couple of year work?
It definitely wasn't a planned thing. Suddenly I had all the tracks written and I wanted to do something with them. To start with, I wasn't really sure if it would be an album or not.

The name Couch Baby has literally come from just doing shit all, sitting on a couch smoking weed and making music. That was the environment I was making it in. That's the thing behind it.


How do your songs start life?
If I sat down to write a song, I wouldn't be able to do it. I have to think of something when I'm just chilling. Then I'll run into my room and play the piano for a time to try to get the idea across.

In terms of actually writing a song, I always start at the piano and always do the vocals last. I'd make the beat and sit on it for maybe a couple of weeks before I work out the melody – because I want the vocal to take on an instrumental feel.

A bit more embedded in with the music rather than a topline?
Yes, exactly. It's much more difficult to do so I struggled with it quite a lot. But I really wanted to keep with that idea.

How do you feel now that the record is out in the world?
I feel so excited. I feel very emotional. I held the vinyl for the first time a couple of weeks ago and I shed a tear because it was one of those moments. I've spent two years writing this and I never actually really thought, while I was doing it, that it would amount to this.

Why's that?
Well, I thought in between me writing it for two years and it coming out, I would be dropped. That paranoia definitely goes through your head constantly. That I'm not writing good enough tracks, or are people are going to like it? I'm so happy people are liking it and feeling the music. I'm just really excited for people to listen to it and make it a record of the summer.

What does the rest of the year hold for you?
Promoting the album. I'm doing Latitude Festival. I've got a gig at Corsica Studios on 19 October and then one in Hamburg, I think.

It's all quite weird because, even doing interviews! I don't know why people want to know about me or the album. I'm still quite new to all this. I like the idea of it [the album] being over now and I can just get down to doing the fun part. The fun part is making the videos and doing all that stuff. It's always good to try and do a visual element to it.

Finally, are there any new South London artists that we should be tuning into or looking out for?
Definitely. I know a few. Do you know Jerkcurb? He's definitely a person who needs more recognition. He's a big influence for me on mine and Archy's [King Krule] work. People need to be tuning into his incredible sounds.

https://www.facebook.com/jamieisaacofficial/