From PiL to Invaders of the Heart via dabbles with drugs, drink and a stint working for London Underground, no one else has done it quite like bass-playing impresario Jah Wobble. Jim Ottewill meets one of the last true originals…
'Our debut single
Public Image Limited
went top 10. So my first ever record was the best seller I ever played on. In a way my career has been steadily going downhill ever since…'
Alongside being a poet and painter, Jah Wobble is pithy and self-deprecating, the ultimate post-punk polymath. No matter how finely you slice, dice, cube or quarter his art over decades of aural mayhem, you'll be confronted with a shifting palette of different, even conflicting, flavours.
His musical universe has been far more anarchic than his punk roots could ever have anticipated. World music, dub, reggae, pop, jazz - they've all fed through his fingers into his iconic bass playing style. Latest album, this summer's
Everything is No Thing
, co-produced by legendary producer Youth, is one of his most accomplished, shaving endless styles off the top of a deep, creative iceberg.
Forty years since his friend Johnny Rotten dragged punk kicking and screaming in front of the UK's mainstream, it's Wobble who's still setting the agenda. He's certainly a long way from selling butter.
'I used to say with punk that some people are still chewing the last remnants of shrivelled flesh off its cadaver. But I don't see any point in being conservative. Now is a time when you can really take chances creatively and be whatever you want to be.'
Youth
So-called by teenage pal Sid Vicious, who gave this moniker to him when he drunkenly slurred his real name, John Wardle, Jah Wobble was brought up in Stepney in London's East End. He was weaned on a rich diet of music from blue beat to Trojan compilations and classical
works
, all fed through the echo chamber of his family. His father was a self-taught pianist while one of Wobble's sons is also an accomplished amateur musician in his own right.
Despite this musical love, it wasn't until punk ripped through popular culture that he even vaguely considered being a musician. 'I was friends with Jonny Rotten. He'd become singer of the Sex Pistols. So he disappeared for a while, joined them, came back and told me, "I'm the singer in the band". He may as well have told me he was training to be a 747 pilot. That would have been a less amazing thing to say.'
Early days of bass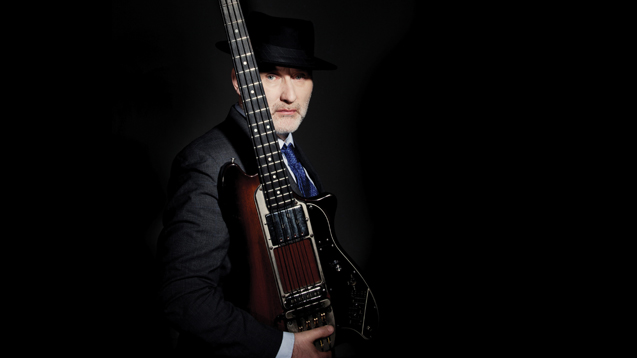 Punk stripped everything back to a musical year zero, launching an invigorated DIY culture. These new attitudes suddenly created new opportunities meaning anyone could now pick up an instrument, Wobble included.
'I got hold of a bass and ended up in a squat in South London. I had an amp and lead too but sold them very quickly to get money for alcohol and drugs,' he explains.
Despite having a 'crap bass' with a high action making it tricky to play, he had a natural predilection for the instrument. Inspired by seeing Bob Marley play live with Aston 'Family Man' Barrett on bass, and blues dances in Hackney, as well as the eclectic record collections he'd been exposed to as a kid, his natural talent was able to ferment organically.
'I was very lucky. I was a novice player but definitely had a sound. I was able to just do my lines as I wanted and the band followed me. So I was able to develop, in a very relaxed, unconstrained way. I couldn't even count in when I started.'
PiL
Wobble's first group Public Image Limited (PiL) and their initial releases helped capture a sound many artists are still trying to emulate. Featuring his deep and distinctive bass sparring with Keith Levine's metallic guitar and Rotten's alien vocals, the first two albums -
First Issue
and
Metal Box
- sounded like they'd been beamed in from another planet. It was Wobble's musical naivety that helped the group surrender themselves to this primal form of musical expression.
'I made geometrical shapes on the bass in an almost modal style. I was actually playing modes without realising it. This in-between major and minor, what I call vertical music.'
His innovative playing formed the musical backbone of PiL, complementing the hedonistic lifestyle of its various members. 'That whole post-punk thing, it was very bohemian and pretty wild,' he says. 'By the time
Metal Box
happened, it was like, "right, fuck it, we don't give a fuck now".'
Why does he think those records still hold so much sway over musicians years after their release? 'There was a tremendous energy when we started, and an openness that surrounded us with those two records,' he says.
'It was a very natural expression, with these, dubby, careering modal basslines, lyrics dealing with politics, the troubles in Northern Ireland. It was a real zeitgeist, primal thing going on.'
But for Wobble, these energies turned sour once the band tasted success, attracting too much attention and money without any management in place. The group was turned inside and out, mangled by the pressures of this new-found spotlight and its various members' addictions.
'As the money came in, it corrupted the band very quickly. There were drug issues in and around the group, everything you get when people are using heroin. It gets very dark, underhand, money goes missing - and that fucked it all.'
New beginnings
Jah Wobble managed to extricate himself from the wreckage of PiL in the early eighties and set out on an extraordinary musical journey. Notable moments included working with Can members Holger Czukay and Jaki Liebezeit on the former's solo projects and creating a dubby, disco sound with producer Francois Kervorkian.
His endeavours led him to work with ambient masters The Orb and Primal Scream, and enjoy chart success with
Visions of You
, a single made with his group Invaders of the Heart and Sinead O'Connor. During the eighties he managed to kick alcohol and drugs and even worked for London Underground in what he describes as 'the best job I ever had'.
More recently, his efforts have been poured into his re-energised band The Invaders of the Heart, his Cherry Red imprint 30 Hertz and his experiments with Warp's Lonelady via Chinese dub, spoken word and paintings. It's an extraordinarily creative furrow he's ploughed and Wobble is certainly grateful to be free, both from his vices and previous groups.
'People remain in bands but they get tired - they all remind me of unhappy marriages, where you have to compromise large parts of yourself to stay. I have been so lucky. I've never had to do that.'
Everything is No Thing
His new record
Everything is No Thing
has been lauded as one of his best in recent years. Featuring a killer line-up including Marc Layton-Bennett on drums, George King on keys and Martin Chung on guitar, plus contributions from revered drummer Tony Allen, Hawkwind's Nick Turner and producer genius Youth on the dials, it's an engaging collection of songs drawing on a typical kaleidoscope of styles. It's also an album that seems to have left him creatively satisfied yet simultaneously hungry for more.
'It was a great lesson and shows, if you are open-minded, what you can do. It felt like a conscious segway from previous Invaders of the Heart material, numbers like
Visions of You
,' he says.
With Youth on board, a fresh line-up, plus a new acceptance with his collaborators, Wobble was able to move more freely than ever. He explains: 'I don't like it when albums become a kind of a torture - something is wrong, you know that is not good and you don't want that. So we made sure that it was all fun all the way through.'
It comes amid a particularly creative time with Cherry Red last year releasing
Redux
, an exhaustive collection of music, covering 90 tracks of originals and reworks. While we talked, he'd just finished another new record, this time more psychedelic.
'It features some really unusual playing and some things I have never quite done before,' he says. 'I am absolutely cock-a-hoop with it. I am fucking 58 surrounded by a group of great musicians. I'm still absolutely turned on by music.'
Staying inspired
After so many years in the game, Wobble's somehow ensured that his output has always orbited in exploratory spheres ahead of his peers mired in nostalgia. Although he did reconvene with PiL guitarist Keith Levene in 2009,
Metal Box in Dub
offered weird reinterpretations of iconic songs rather than tired re-treads.
For him, songwriting at its best is a taut balance of emotions. 'It needs to be like a well-tuned bass string - there's a tension but also a relaxed quality too,' he says.
As with collaborator Youth, Wobble's painting is closely aligned to his musical output, helping him flex other creative muscles to enable his artistry to course easily through him. He made the painting on the front of his new record with its shapes reflecting the album's contents.
'That is at the heart of it. By being open, you can free up a certain energy that comes and allow yourself to go with that, knowing it is like some force of nature. You might not know where it takes you.'
It shows that really in this, the fortieth year since punk began, anything is possible. 'Punk now, funnily enough, is like a group old of soldiers – "where were you in the war? Where were you in punk?"'
Although he approved of some of this year's celebrations, Wobble believes now is a time when artists can afford to go out on a limb. With his sons grown up, his label, management and PR handed over to others, it means he can focus once again on music.
'I am really a creative person, I want to be creative and I know I could be gone in a year or two. So I relax, breathe in and try and really enjoy the process of being an artist. It should be one of exploration, expression and amazement, where you amaze yourself and you allow the circumstances to amaze you.'
jahwobble.com