Not many young men in their early twenties can count Quincy Jones or Herbie Hancock among their musical admirers.
But then Jacob Collier isn't quite like anyone else. Weaned on music from an early age, he's already garnered a lot of heat with a series of YouTube videos of performances proving to be irresistible to music lovers from across the world.
Now with debut album
In My Room
full of his own material and ready to drop on 1 July, he's also preparing to take his new live show full of loops, samples and 3D technology out on the road. We caught up with this musical protegee to find out where the benchmark for sonic creativity is heading next…
Who inspired you to want to get into music?
I was brought up by a whole family of musicians. It meant I was exposed to different kinds of music, different emotions and ways of feeling.
It was like, 'Check out how this chord feels, check out how this singer or this harmonic progression makes you feel'. Music was tied in to my emotional framework from the start.
I learnt how to speak about the same time that I learnt to sing. Singing was an extended way of communicating different things.
That was an inspiring situation growing up. And still, to this day, my house is definitely a loud place to be. I have a room in my house full of instruments and it's been my playground for my whole life.
Is that where you first started playing and writing?
My mum has always taught the violin at home. I used to sit in those lessons and listen to people play and join in sometimes. I learnt a lot in those lessons about how to communicate musical ideas.
I was given Cubase for my ninth or tenth birthday. It became this crazy new universe to explore. I would go into this music room in the morning, sit on the computer and not come out until evening.
I'd bring people to jam in there. After school I would be making grooves or beats or harmonising songs and listening to loads of music. I haven't had many teachers necessarily, but that room has been a huge teacher for me. It's like this wonderful little musical glade.
Was there a tipping point for you in your musical development?
I never set out thinking, 'I'm going to make a big musical paradise out of this one room'. It was just something that I absolutely loved, that I was always encouraged to do.
There was a point when I was 15 or 16, where there was an audio-visual concert. It was a sound image movement thing. I made this song and one of my friends suggested doing a video for it.
I did that, really enjoyed it and it made me realise that it would be fun to think about how to visualise music, things that were perhaps more acoustic or more vocal. I arranged a jazz song, filmed it on my sister's iPad and I put it
online
. That's kind of how we've got to here.
I never once thought: 'this is how l should start my career, or how to get people more interested'. It was just about challenging myself. The next thing was to try a video arrangement of every single thing you hear in a track. It's just been about learning, creating, learning, creating ever since…
It's interesting for you to say, 'It's not really about a career, it's actually about me trying to push myself musically'.
If I put something online that people really enjoyed, and I then I thought, 'I ought to invest in that, because I want people to enjoy my music a lot more' then I fear I would be neglecting the whole reason of doing it.
As it's happened it's great. All the interest has surprised me.
Much has been made about the online presence and your celebrity fans like Herbie Hancock and Quincy Jones. Do you now feel a certain amount of pressure to deliver when you're putting music online?
The only pressure I really feel is from myself. I know what I'm capable of doing and what I'd like to achieve. The fact that Herbie and Quincy have decided to be involved as listeners means it's really exciting to be making music and sharing it with them. But as far as what they think, I don't mind too much. I think it's great that they have just been able to hear my music. That's one of the miracles of the internet is how music can travel.
I've never been in a rush to do anything. I've held off making an album just because I wanted to find a place from which I'd like to do it.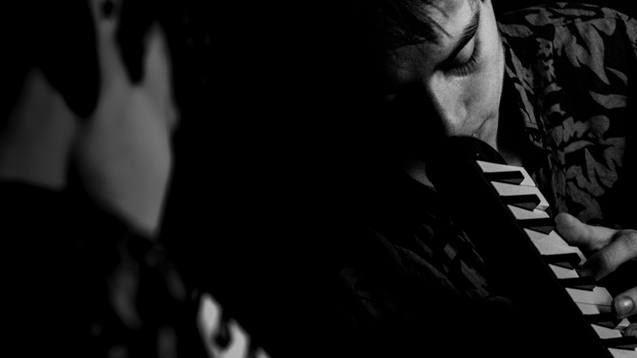 What are you hopes for the album?
It's going to be really interesting to see which songs people connect with, as well as being able just play gigs around the world. It's one particular feeling playing other people's songs. I love it because it means you can kind of reinvent them and they become your own, but when you're playing your own songs there's a different kind of feeling involved, which is really, really special.
What are your plans for live gigs?
I've got this one man, solo show system I'm going to be touring. It's a massive, on-going process that I've got plans to keep on changing.
I want to grow these songs over the next few years, and see what they become. I don't want to be too precious about how they've ended up on the album. It will be lovely for them to evolve and have lives of their own.
I looked to Beardyman for inspiration. He used a bunch of software to create this thing called the Beardytron 5000. He's hilarious but also amazing at generating styles on the spot. He takes live ideas from the audience. The way he's set his stage up is, there's a massive amount of looping and live sampling. I really wanted to try it but with acoustic instruments.
I thought, "How on earth am I going to do it?". I accepted the gig at the Montreux Jazz Festival to open for Herbie. This was about nine months before the gig. I didn't have any idea what I was going to do. Two days after I accepted I got this message in my Facebook inbox from this guy Ben Bloomberg, and he was like, 'Yo, I'm a grad student at MIT and I've worked with Bjork and I've done some stuff with Imogen Heap and I build shit, and have you got any ideas of stuff you want to build?' It was just this perfectly timed moment.
So I jumped on Skype with Ben and gave him the most enormous tirade of ideas of things wanted to try and achieve. We had a really long conversation, and Ben was really, really good with me. He said, 'Jacob, that is great but let's try and do one thing at a time because we can't do all that at once. Let's try and nail one of those things first'.
The first thing was this vocal harmoniser where I can sing into a midi controller, which sends the audio signal of my voice through every single not that I'm playing, so it's like an on the spot choir. And it sounds amazing. Ben, being the genius tech dude that he is, broke down the task into a variety of different things and I flew over to Boston and we built it in a couple of days and then continued to refine it over the following few months.
The second thing was to build the circle of instruments that has become my live show, where they all join up together and I play multiple instruments at one time. Then there's this crazy screen behind all the instruments which also follows all of the looping that I do. There are two 3D cameras on the stage that can track my skeleton, so they understand who Jacob is and what Jacob's skeleton is. In some sections you get four or five Jacobs at once on the stage in different places in the 3D space.
It sounds incredible. You must be really excited about doing this.
I really am, it's mad. It's forced me to think about sustaining ideas and composing songs. There's this kind of lovely circle of learning that I've found myself in.
Have you got any tips, any words of wisdom you could impart from your experiences?
I would just say listen to everything. I think people are quite afraid of the internet because it makes everything so available. It's the most incredible resource.
I did so much listening, I guess my whole life, but when I was 18 to 19 I was at the Royal Academy of Music for two years. Every day I'd listen to an album on the way in and on the way home. That's like 1,500 albums. I just kind of drank them in. From pop music to classical stuff and music from India and Africa. That was something I felt really helped me learn.
The more stuff you can make the better. I'd really advocate trying to get some space for you to work in.
People are scared that the internet is taking away people's power to be creative and make money, but I think that what it's really doing is it's taking the power away from the record companies and giving it to the people. Now anyone with any idea and very few resources can make stuff happen.
I think instead of complaining about the state of the industry, I think people should go and do the industry. Now it's literally in our hands.
jacobcollier.co.uk
In My Room
is released on 1 July. Catch him on tour across July.
Photo credit - Greg Gorman