Footloose innovator Huw Bennett is the bassist and producer behind Susso, a project which weaves in field recordings from Gambia with his own work.

Based on the playing of Mandinka musician Yusupha Suso and his extended friends and family, the project has yielded just one album, Keira, for Soundway Records.

On it, found sounds from street corners, in homes and on the beach bring to life the local environs he was immersed in while visiting the country to learn the balafon, a type of wooden xylophone with gourds that's indigenous to West Africa.

Following the success of the first record, which has been repressed a few times since its initial release in 2016, Huw is knee deep in another exciting audio venture.

Currently brewing under the Minyanta moniker, this new outing brings together Gambian and British musicians both here in the UK and back in West Africa – taking the collaboration to another level.

We caught up with him for the Found Sound feature in our upcoming print edition to learn more about his love of field recordings, how the Susso project took shape and what's in store for 2018…

Have you always been interested in field recordings?

Yes, massively. Basically, I was studying and got into a fellow called John Drever. He has released whole albums of sound recordings and what I love about his stuff is they are specific to a geographical region. He captures the characteristic sounds of a geographical place, and lay them on top of each other to create a collage.

I started doing field recordings at home in Wales, in the Vale of Glamorgan. I'd do sound walks to map the coastline and also got into recording the choirs around there.



How did the Susso project come about?

A few years ago I went to Gambia to study the balafon. Then I started playing bass in a local band. A lot of the brothers of the Susso family introduced me to all their extended family. I had my Zoom recorder along and just kept capturing things: when we were in cars, the music - obviously - and conversations.

That's how that album came about really. I didn't go to Gambia with the intention of making an album. I didn't even start working on it until two years after I was back in the UK.

What's the thinking behind the record?

Well, I think I just found a way to do it, which was very respectful to the sound. I put my own compositions on it, but also - because I know the way that music is structured from studying it - I tried to give the music the space it needed as well.

How integral was the field recording aspect?

Massively. That album is a collage of atmospheres, and a sound journey. My production techniques, sometimes, don't take over the field recordings. There are a lot of production techniques in there which are very subtle.

Now, when I listen to it back, it's hard to know where the field recording ends and the produced stuff begins. I took a long time trying to do that.

There are no synthetic instruments, it's all recorded stuff - whether it be instruments I've brought back or instruments I had already, or just sounds that I made from pieces of wood or whatever.


What was the draw of using field recordings in this way?

It adds an element of folk music and personality. In the past, folk music wasn't put on at [the] Kings Place [concert venue] or somewhere like that – it was performed in pubs and on the streets. It naturally incorporated the atmospheres and conversations surrounding it – and these are the sounds that add identity to music, geographical, social and creative.

There is an amazing album called Northumbrian Voices by Kathryn Tickell. She researched a lot of Northumbrian folk musicians' lives, and got them to speak in recordings, marrying it together with the old songs. Some of the stories are pretty harrowing, but they're stories of that region. It adds another folk aspect to it for me, you know, some identity.

How has it influenced you?

There's another project I'm starting now with singer Bethan Lloyd and film producer Geoffrey Morgan. It's a Welsh language project which uses field recordings from the three coastlines - the south, the mid, and north. We're going to record get some Welsh and non-Welsh speakers talking about their lives and put together a narrative. I've got to do a lot of other things first, but that will be coming - definitely.

What are the challenges of incorporating field recordings and found sounds into your music?

Being respectful to the recordings you are using. There are things on that album which I would not do again, and things I would edit out the album now.

As a composer - or a compiler – you often think, 'Should I even be doing this?' The reason I wanted to make the Susso album was to demonstrate the amazing sound world that is going on.

I'm pretty sick with a lot of music which is coming out at the moment - basically a bunch of European artists or producers making some beats and then putting some samples from Africa on them and not giving it any geographical placement or personal placement.

I might be able to identify roughly where it's from, but I don't know who it is. That's why I wanted to put that field recording in the record, because it has people involved - talking, singing, chatting - and it gives identity to them. It's not like I'm just pressing a button and a scream is coming out. The whole thing is connected to where they're from.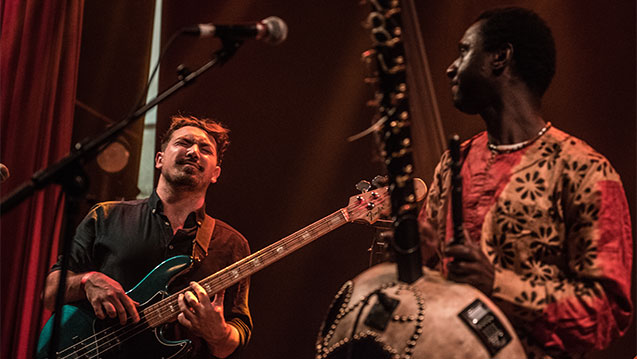 What's the new LP going to be called?
It's under the name Minyanta, named after the band we're using at the moment. I'm going to connect the albums, so it's still part of the same story. I'm going to go back out there in March, with the core players here as well. I'll visit everyone and do some more recordings. But I feel it's more useful for them to come over here than it is for me to go over there.
Why do you think global music and field recordings are striking such a chord at the minute?
We're the first truly global generation. We can learn about any part of the globe whenever we want. We can access the music, we can find a video of anything and learn about it. It's an amazing thing and means that we can take influence from our little corner of Europe.
Have you got any tips for capturing found sound and field recordings?
There's definitely a lot of trial and error involved. You can record on a pocket-sized handheld recorder like a Zoom or Roland. A stereo condenser microphone is good – I have a big long stereo lead for when I want to put it in the middle of big groups and be on the outside.
If you're going out to record a beach it's pretty easy one - the issue comes when you've got subjects. It's like photography, in a way. You want to be in the background, you've got to be invisible. Even though they're putting on displays for you, you want it to be completely natural. Having lots of gear and loads of microphones is not the way to do that.
Sometimes, even a small recorder can ruin the moment, so I would put a recorder under my foot. Everyone knows it's there, but they stop paying attention to it pretty quickly. Life can happen, and that's where the magic of recording comes in, you know?
https://www.facebook.com/mintanyamusic/