Composer and oboist Helen Grime studied her craft with Julian Anderson and Edwin Roxburgh before going on to carve her own impressive career.

In 2003, aged just 22, she won a British Composer Award for her work, Oboe Concerto, and has since been commissioned by some of the UK's most revered classical institutions, including the London Symphony Orchestra, Britten Sinfonia and the BBC Scottish Symphony Orchestra.

Last week, her piece, Two Eardley Pictures: Catterline in Winter and Snow, received the Large Scale Work Award at the inaugural Scottish Awards for New Music.

The accolade was sponsored by PRS for Music and presented by Stuart Fleming, the society's senior account manager for Scotland, and its classical account manager Harriet Wybor.

We find out more about the winning piece, which was influenced by some of her favourite rural Scottish artwork…

How and when did you first discover your love of composing?
In the school I went to in Edinburgh (City of Edinburgh Music School), composition lessons were offered to everyone and from primary school age. My brother, who is a few years older than me, was already composing and I started having some lessons when I was around 12. It just all went from then really.

How did your experiences with John Anderson and Julian Anderson shape your sound?
I had lessons with Julian Anderson at the Royal College of Music, first when I was 18 and again, after a gap, for my Masters. I love his music, he has a wonderful ear for harmony and a true gift for melody and colour. There are things that are also very important to me. Julian's enthusiasm and knowledge of music is also deeply inspiring and he opened my ears to many new composers, sounds and ideas.

I also studied composition with Edwin Roxburgh (also by chance an oboist- John Anderson taught me oboe). Edwin was a wonderful teacher who gave me confidence to try out new things as well as to have belief in my own ideas. Also a great, conductor, Edwin introduced me to many ideas and new scores.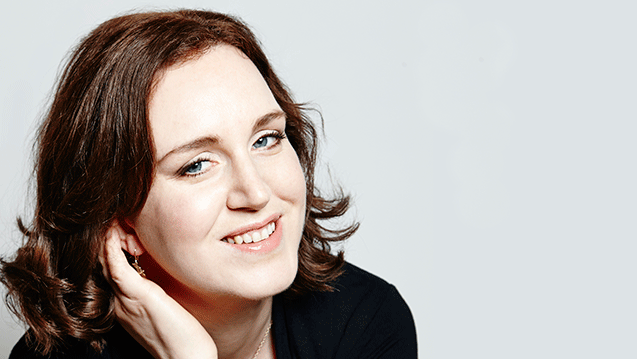 You've also been associate composer with the Halle Orchestra – what was that experience like?
I was associate composer from 2011-15. It was a great experience, getting to know the orchestra and their sound over a series of pieces. With each piece you learn something new, but having the opportunity to do this over several years with the same players is rare.
What inspired your Scottish Awards for New Music-winning work?
I was commissioned to write two linked pieces for the BBC Symphony Orchestra and National Youth Orchestras of Scotland (NYOS) which were linked in some way and also had a Scottish connection. Having played in NYOS when I was younger, the project got me thinking about my childhood in Scotland.
I have loved Joan Eardley's work since my school days and always knew I wanted to compose something in response, additionally, when I was much younger I lived in the North East of Scotland and the paintings I chose to respond to are of a small Northeastern coastal village, Catterline.
How did you set about bringing Joan Eardley's paintings to life sonically?
Joan Eardley painted many paintings of the same scenes: the row of cottages in Catterline or fishing nets for example. Often she painted the same scene from a different viewpoint or perspective or at a different time of day or season. I wanted to use the same musical materials in each piece, so that they are very connected, but for each piece to have its own distinct character.
I also wanted to two piece to work as a pair, one after the other, as well as separately.
Catterline in Winter
is darker, with moments of great clarity and brightness, whereas Snow begins very brightly, where the previous piece leaves off, and ends like a dark, repetitive lullaby, somewhat like Catterline began.
What were the biggest challenges you encountered?
Everything is a challenge for me composing! Getting the proportions right so that the pieces would work together as a complete work but also balancing the similarities and differences of each piece.
What did you learn from the process?
I learnt a lot about subtle manipulation and repetition of my musical material.
What's keeping you busy this year?
I'm writing a piece for the London Symphony Orchestra at the moment as well as song cycle for Wigmore Hall later in the year.
http://helengrime.com/
Top photo credit: Amy Barton.