Experimental singer, songwriter and multi-instrumentalist Hannah Peel has been traversing the vast musical universe since 2010.
In that time she's cross-pollinated her ideas with The Magnetic North, Wild Beasts' Hayden Thorpe, John Foxx and The Maths, and lent her voice to the latest
Beyond the Wizard's Sleeve
album.
Using the last half-century of wayward electronics and acoustica as her guide, she's explored the buzz and whir of lo-fi indie, synth-pop and the avant-garde.
Now, for her new album,
Awake But Always Dreaming
, which was funded by the PRS for Music Foundation's Momentum Fund, Hannah puts the debilitating brain disease dementia under her musical microscope.
Also this year, Hannah has developed the alter-ego Mary Casio, who draws on the work of early electronic pioneers Delia Derbyshire and Daphne Oram.
Alongside Tubular Brass, who were inspired by a new brass score of Mike Oldfield's
Tubular Bells
, she's created an oscillating masterpiece,
Journey to Cassiopeia
.
It combines brass and electronics for more than 30 musicians and will be performed at PRS for Music Foundation's New Music Biennial in Hull next year.
We spent some time with Hannah to find out more about the mysterious Mary Casio and hear how her new solo record came together…
What's the thinking behind your new LP Awake But Always Dreaming?
It's a record inspired by my grandma, who fell into dementia a long time ago and passed away earlier this year. I didn't set out to make an album about it, but things came together about six months ago just after I'd visited her.
Grandma had been in her own world for such a long time, but when
we started singing Christmas carols to her she completely opened up and remembered the words and melodies. We also sang a Yeats poem back to her, one that she knew by heart,
The Isle of Innisfree
. At that particular moment she joined in and said, 'Happy Christmas', and, 'I love you'. It was a very emotional moment.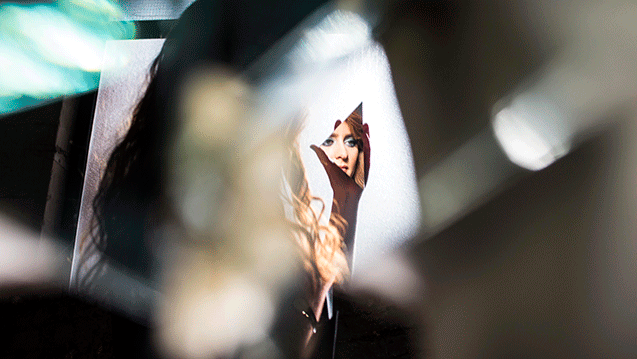 How did that come out in your music?
It was then I realised the power of music and memory, and also that the album was, subconsciously, about where she had gone and where exactly she was. She was in her room but she wasn't, mentally.

The psychedelic side to the album drew on that in terms of the instrumentals and the loss of the voice, the repeating of lyrics and lines, and the phrases that are used throughout that refer to being awake but always dreaming. It all just fell into place. It was a massive eye-opening experience. I could go on and on…

Unfortunately she died this year, which prompted me to release the record as soon as possible.

When and where was it recorded?
I received Momentum funding which helped pay for the recording and the mixing. Most of it was done in my studio in Hoxton, and then we finished it off and mixed it in over in Donegal, Ireland, in a place called Attica Studios, which is run by Tommy McLaughlin who did a lot of The Villagers' records and SOAK. Have you come across it? It's really amazing.

It's where I'm originally from and my granny was over there so it just felt like the right place to go and tie it all up, really.


You duet with Wild Beasts' Hayden Thorpe on Paul Buchanan's Cars in the Garden for the record – how did that come about?
Wild Beasts are in the same studio complex as me. He was just walking past the door one day and I said, 'Hey, what are you doing?' He was like, 'Oh, I'm just having a cup of tea.' I said, 'Do you want to come and sing some vocals on something?'

We talk a lot and bounce off each other so he was really happy to just come in and do it. Having a male voice on there and a perspective of somebody else, kind of just tied it up for me.

Was it a one-take thing?
Yes, more or less. 'Have a whiskey and a sing', we said, and then he did it! He's a massive fan of Paul Buchanan so I think it was a bit of a joy for him to sing something like that.

You featured heavily on the new Beyond the Wizard's Sleeve record – what was it like to work with Richard Norris and Erol Alkan?
That was incredible, actually. Richard had made a remix for me for the single, All That Matters. In return for doing that he said, 'Can you come and sing a vocal on a track?' So I turned up. I didn't know Erol was involved at all. I didn't know what it was for. I just got the address, turned up, met Erol.

Instead of being one track it ended up being seven on the album. I kind of became the voice of the record, which was really wonderful for me. To be involved with them – they're just incredible producers and fun to work with. It was amazing really.


You've collaborated really widely in your career. Why?
I like to be sociable in music and find that it's the best way to communicate. It should be enjoyed by the people you make it with and, at the end of the day, if you don't enjoy it you shouldn't be doing it (laughs). That's how I view making and creating and being with people. So it's always the people that I really like and really inspire me.

Is there anyone you're really desperate to work with?
I'd really love to do a song with John Grant (laughs). I'd love to do something with him; I think he's absolutely amazing. I really, really like his lyrics. His voice is wonderful. Or Jonny Greenwood, he would be amazing as well. Oh my god, mow I'm opening doors, Laurie Anderson would be amazing too (laughs).

What's the thinking behind your Mary Casio alter ego?
That came from a post on Instagram when I was on tour with East India Youth and we had a day off. I took the team to the Saddleworth Marches, an annual event where all the best brass bands in the country come and march round some tiny little villages. They arrive in coaches. It's generally a big piss-up of guys drinking, marching and competing (laughs).

You get to see some of the top-class players in the world, really. We had a fabulous day and I took a picture of us enjoying some of the music. The organisers got in contact and said they were doing a rework of Tubular Bells for brass band. They wanted something for the first half, something involving electronics and traditional colliery brass bands. Because I used to play the trombone and played in a lot of brass bands up north, they just thought I would be a good candidate.

So Mary was just some idea that for a pseudonym that I felt would be a really cool ages ago. I just happened to have written a couple of pieces that were instrumental, about her going on a journey to Cassiopeia, which is a star constellation. It premiered in May and it will be performed next year for the PRS Foundation Biennial.

Awake But Always Dreaming is released on 23 September through My Own Pleasure.