In a relatively short space of time, five-piece Welsh language band Gwilym have established themselves as one of the most highly-regarded emerging groups in North West Wales.
In 2018, Gwilym were named Best Breakthrough Act at the Gwobrau'r Selar awards and the following year, bagged themselves five awards including Band of the Year and Best Song for their knock-out track Catalunya.
Made up of friends Ifan Pritchard, Llyr Jones, Llew Glyn, Rhys Grail, and Carwyn Williams, the band's debut album Sugno Gola (which translates to Drink Cola) also became one of the first Welsh language albums to receive over 100,000 streams on Spotify.
But while their ever-growing list of accolades is undeniably impressive, it's the affection for and devotion to Welsh language music that makes Gwilym such a class act.
We caught up with frontman Ifan Pritchard to chat about the thriving music scene in North West Wales and the joys of singing in your native tongue.
Down below we've made Ifan's song suggestions into a playlist so be sure to tune in.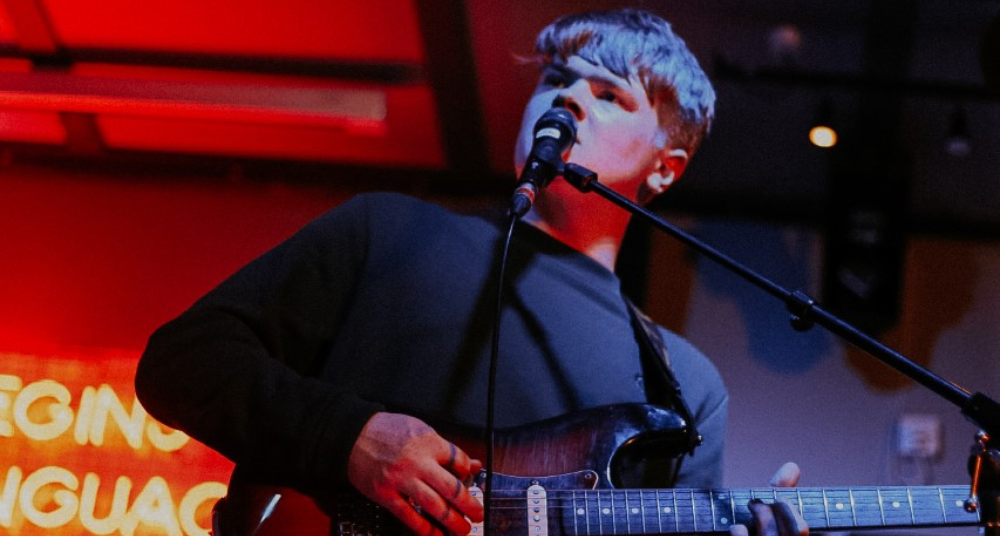 Why don't you start by telling us a bit about winning the award for Best Song at the Welsh Language Music Awards?
'The best thing about our Music Awards, or better know as Gwobrau'r Selar (The Selar Awards, sponsored by Y Selar Magazine) is that all awards are distributed based on a democratic vote amongst fans of the scene.
'The awards are held over two-nights and we headlined the Friday night ceremony. To be the best song, amongst some amazing nominated tracks by some very talented artists, is an honour.
'Neidia is a foundation to the direction we want to go in as a band. Every band member has different influences, and different tastes, however, we never fail to bond over our songs. For fans to vote for something that we created together is just the icing on the cake to a great year for us.'
Do you think that there's been a renaissance of regional language music?
'It never went away. 'Minority Language' music has always been there, the world is just that little more connected now. Streaming services gives us the ability to upload our original music and place it alongside the content of the world's biggest artists.
'The Welsh Language Music Scene has produced so much contemporary talent for over 50 years, we're just the fortunate ones who have these tools to share our work on a wider scale, and it seems that people want to listen.'
What does singing in your native tongue mean to you?
'How long do you have? It means so much. The apparent demise of the Welsh Language is no secret. Those who don't live in Wales or visit frequently may not even know that it exists.
'Many of my friends in university didn't understand that this was the language I grew up speaking to my friends in school and my family. When I was young the only English spoken in the house was on the telly, and that's probably true today.
'As I got older, I fell in love with cheesy American TV-Shows and English Bands; Busted, McFly, The Hoosiers and one particular band who crossed some borders, and oceans, The Super Furry Animals. To see semi-local lads make it so far was a huge inspiration. It means more to me now than it did then, of-course. However, I understood that not a lot of Welsh Language music makers got to play on the Pyramid Stage at Glastonbury.
'It's not until the GCSE period that I fell in love with the idea of singing in Welsh. Bands such as Sŵnami and Candelas opened my eyes to the possibility of making music I'd heard and fallen in love with in English, and pasting it with Welsh lyrics; a language I felt more comfortable speaking and singing in.
'I owe a lot to those bands and a lot to the friends I made going to these gigs, some of whom are members of Gwilym.'
What is the music scene like in North West Wales?
'I found something special at these gigs. When I was 16, 17 years old Caernarfon became the mecca for Welsh Language Music fans.
'Band culture is huge in North West Wales and has been for quite some time. Ffa Coffi Pawb, Big Leaves, Maffia Mr Huws, Frizbee, Cowbois Rhos Botwnnog, Yr Ods and many others are all from the area. Many parts of Wales produce very talented bands, however, there seems to be something in the water in the North West. Discovering this roster of bands at the time was class. I had no idea what I'd been missing out on. Now I understand why these bands love to write as a collective and to be a part of this list is an honour.'
In your opinion, how does the Welsh music scene differ from others?
'Like every other contemporary scene across the world, there is very much influence taken from the mainstream Anglo-American way of presenting pop-culture, but the Welsh scene has some unique characteristics to its music scene.
'I've already mentioned that pop-music in Wales is very much nurtured and curated by bands, however, folk music is very much a fan favourite across Welsh festivals, with artists such as Calan, Bwncath, Lleuwen Steffan, 9 Bach presenting a traditional craft in an outstandingly contemporary way.
'We have record labels, however, all of them are independently funded and run by some of the Welsh scene's biggest heroes. Most of them are artists that have previously released music themselves, and now take it upon themselves to nurture the future of the scene.
Do you know what proportion of your fans aren't Welsh speakers but still sing along to your songs when you perform? What's that like?
'The Spotify for Artists app is a magical place. For us, it's great to gauge where our fans come from and how they're engaging with our music. As you'd expect, most of our audience is UK based. Cardiff is the city listed at number one and Birmingham at number two. We have no idea why Birmingham is at number two.
'I guess it may have something to do with the fact that Rhys, our guitarist, studies in Birmingham. But to be at number two, above Bangor (number 3), our home city, is crazy. It doesn't baffle me that non-Welsh towns around the UK listen to our music. Spotify makes it so easy to share music on a global level and it helps that music is a universal language in itself.
'Music is not defined by what language the lyrics are sung in, Sigur Ross have told us that already, in their own little way.
'How else do songs like Despacito, Gagnam Style and artists such as BTS reign strong on the world charts? People are invested in people and their music, not the language they speak.
This is something we've had to realise as Welsh Speakers. Our fellow label-mates Alffa have proven that it doesn't matter what language you sing in; you can still make it onto curated playlists and gain traction on a global scale.'
How did it feel to have one of the first Welsh language albums to receive over 100,000 streams on Spotify?
'To be honest, I didn't even know this to be a fact. But now that you've pointed it out, it's a massive honour. In comparison to other bands, we brought the album out so early into our career on the scene. We'd only been a full band for just over a year when we brought it out.
'To see figures like this is insane. We've just surpassed 710,000 streams on Spotify and it just makes us happy that our audience is still listening to the album almost two years on. I like to open the app from time to see how many people are listening 'right now' so to speak. It's a good feeling to be a part of people's morning routines, pre-drinks parties and general day to day music listening.'
What does the future of Welsh language music look like?
'Welsh language gig and festival line-ups in Wales look very different to those in England.
'It's normal for us as a band to play in between artists of completely different genres. Folk, indie, pop, rock, drum 'n' bass and choral music all share the same stage and nobody bats an eyelid. We're here to support all music put out onto the scene. At the end of this article I'm going to give you a list of bands to listen to and you can decide what the future of the scene looks like.
'People tell me that we are a part of a strong period of the scene. People seem to have the urge to write songs now, and with it being so much easier to independently release music, the amount of music being released is amazing.
'As well as being the most talented country in the world, we very much have a DIY nature to life, therefore the fact that you've recorded your debut album in your bathroom means nothing to us, we'll still support it.'
Are there any other bands, Welsh or otherwise, that you'd like to give a shout out?
'There are so many talented bands releasing music at the moment, here's a list of my favourite bands who are currently releasing music and a song to look out for.'