'Never give up. I know that might sound a bit general, but it took me a very long time to have success. I was in my thirties when I became successful.' Says hit songwriter Guy Chambers.

His tenacity paid off in the late nineties when he began working with Robbie Williams, a musical partnership that produced a series of chart-topping albums and singles, three BRITs, three Ivor Novello Awards and a Q Classic Songwriter Award.

The songwriting partners hit a bumpy patch in 2002, and in the interim Guy went on to work with artists like Kylie Minogue, Rufus Wainwright and Mark Ronson.

He and Robbie eventually reunited in 2013 for the album Swing Both Ways and have continued their creative partnership ever since.

Following the 2015 Let Me Entertain You tour and The Heavy Entertainment Show album in 2016, the pair are set to embark on a very different kind of project.

2019 will see Guy and Robbie collaborate on a musical based on David Walliam's book The Boy in the Dress for the RSC.

But before that project takes flight Guy is preparing for the release of a solo album, Go Gentle Into the Night, which reimagines some of he and Robbie's most-loved songs as simple piano instrumentals.

Here we chat to guy about the motivations and processes behind the record and get some of his top tips on songwriting…

What's the thinking behind Go Gentle Into the Light?

It came together after my mother died, that was the catalyst for it. She was a huge supporter of me playing the piano. She always thought I should make a piano album. So, when she passed away, I thought, "well, maybe now's the time to do it." So that was the main driver.

How did you go about selecting the tracks for the album?

I looked up what were the most popular songs I wrote with Robbie Williams, and then I had a list of twelve and I tried to play them on the piano. For example, Rock DJ didn't really work very well, so that's why that's not on there. And Let Me Entertain You had to be very virtuosic and noisy, and I wanted the album to have one mood.

Were there any surprises in the process?

I think Road to Mandalay surprised me, pleasantly surprised me. It's the one we put out first and it's had over 1.1 million streams on Spotify now and there hasn't really been any promotion. That's just been word of mouth. It's very gratifying, because I didn't really have any idea of how it would go at all.

You usually maintain a behind the scene's presence, are you looking forward to performing these songs?

Yeah, I think so. I like new challenges, I like the simplicity of just rocking up and playing a piano with no crew or anything. It's just me and piano and an audience and hopefully people will like it. Yeah, I am looking forward to it.


What advice would you give to budding songwriters?

The very first one would be, never give up. I know that might sound a bit general, but it took me a very long time to have success. I was in my thirties when I became successful, which in the world of pop you're middle-aged in your thirties, or old even. So, if people are struggling through their twenties don't think it's too late, that would be my first thing to say.

Second thing to say is that when you're young, in your teens, it's really useful to learn how great songs work. I think it's good to learn your favourite songs on the guitar or on the piano. Maybe you can sing them, but you should really learn how the harmonies work, how the melodies work.

It's not enough just to listen to a great song, you've got to sit down and deconstruct it. If you can do that by ear and not need to read music that's also really good because ear training is very important when you get in a room with someone you really have to use a lot of ear and intuition.

If somebody sings you a melody and you have to harmonise it with guitar, if you have a really good ear for harmony and how that melody can be enhanced that's how the song will come together.

You only really learn that through learning about the great songs by The Beatles, Bacharach, Elton John, Gershwin, there's so many amazing songwriters that you can learn from. That would be my first two things to say.

Which song are you most proud to have written?

I suppose the obvious one is Angels, because it seems to have a life outside of Robbie's celebrity and his fame. It has a life beyond that. It's become part of that national consciousness, and not just our country, in many countries. For that, I'm very grateful.

How do you know when something's working in the songwriting process?

People smile at you. I think you can sense an excitement building up, and a song will start flowing between different sections, the verse, the chorus and the bridge in a very effortless way. That's when you know it's working, and also the voice sounds good, it's right. So much of songwriting is about how the voice fits, if the singer sounds good, in the right key and the chorus isn't too high, the verse isn't too low. All this technical stuff. You have to work through all of this.

But then of course, there's the lyrics. The lyrics need to be believable and hopefully aren't chock full of horrible clichés.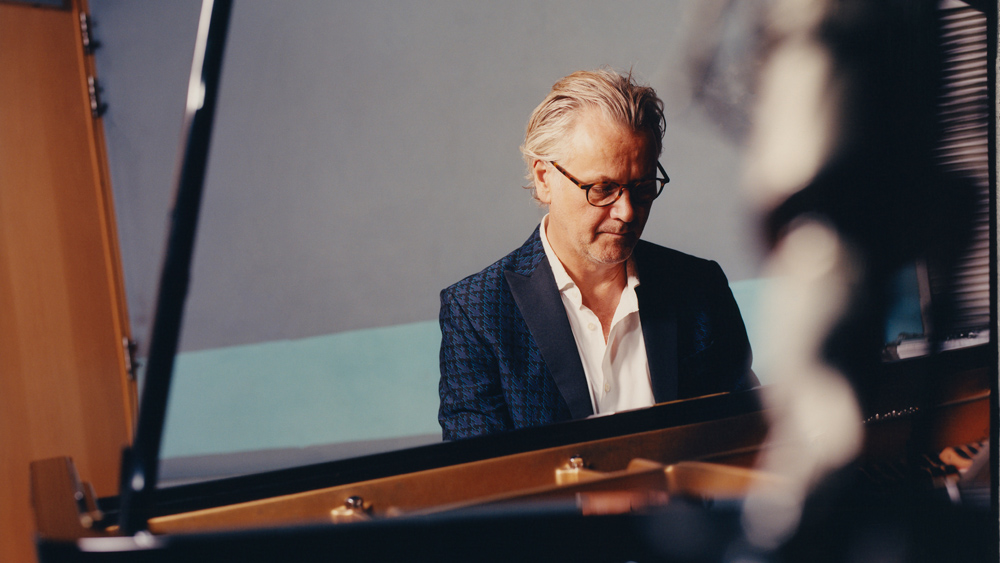 Do you have a specific method when songwriting?

There're two different methods for me. There's the old-school method, which is sitting with someone in a room with a piano or guitar and slowly working through the song on the harmony, the melody and the words. That's like the most old-school way of doing it. I still love writing like that.

The other method, which is how I often work with Rob, is that I will prepare a track before I meet him. A track that has a confidence, it's got bells and whistles on it and it sounds exciting. I'll play that to him and then if he likes it, he'll start singing on it and we go from there. We might have to change the key to bring it up or bring it down, we might do lots of edits, but basically, the song sounds really exciting within half an hour.

Both methods are equally as good. They're my two main methods really.

What song do you wish you'd written?

There're hundreds of songs, all the time. Pretty much all of the Beatles songs, all of the ABBA songs, a ridiculous amount. All of the Cocteau Twins, if we're gonna go in an indie direction. Kate Bush, Thin Lizzy, AC/DC, Queen of course.

I'm a huge fan of pop, and I always will be.

Do you have to have a connection with whoever you're co-writing with?

Yes, in a word. I've written with many, many people over the years and not all have been successful. I have struggled, especially in America when I tried to co-write there. I didn't understand the way people wanted to write songs there, it didn't connect with me.

I think if you have a deep connection with your co-writer it pays dividends over the years. Even though Rob and I are completely opposite people, when we sit down in a room together to write music, we have a very deep understanding that we don't need to talk about. We're very fast, we do have a shorthand. We know what we like, and I know how to push his buttons and get him excited.


How do you feel about the trend of having 10-plus writers credited to a song?
I think it's bullshit. I think it's pathetic. A lot of it's to do with the music business in that somebody there was sitting in the room, he's the drug dealer, or he's the best friend of the manager and so they give him two percent. Or somebody came up with the bass drum pattern, another five percent. I just think it's just awful. That's something I can't relate to really. If there's any more than three, it's problematic for me, to be honest.
Also, what happens now is that songs get re-written. You get the initial writers, and there could be three or four of them and then the record company decides to hand it to another team of writers. Unfortunately, record companies can be very aggressive, and if they think something can be a hit they'll just keep going. They don't really care who writes the song.
How has the shift to digital affected you?
The difficulty for us – I suppose you could describe him as a heritage artist, although I hate that expression, he's been going for 25 years now – is that his audience is older so a lot of them don't stream. So, his stats on Spotify look quite poor, compared to Ed Sheeran or Ariana Grande. I think he's got seven million listeners on Spotify, which sounds impressive but when you compare it to other artists, it's not that much. So that's a challenge for him as the physical sales are going down, just like they are for everybody, and you just have to adjust. And actually, he has adjusted
For me as a songwriter, I guess the money has diminished. But I was never in it for the money, and I don't think I would have gone on for so long trying to be a songwriter if it was for the money.
I was totally broke when I met Rob back in 1997. My flat leaked, I was about six months in arrears on my mortgage. I wasn't doing it for the money, I was doing it because I love music, I love songwriting, and I believe in the power of music to change the world.
Can you tell us more about your collaboration with Robbie to write the score for The Boy in the Dress for the RSC?
It's a musical based on David's book and basically, it's very like the first album we did,
Life thru a Lens
. It's got that sort of Britpop feel to it, lots of guitars and sunny pop songs, there's also some sad pop songs. And the opening night is 9 November in Stratford-Upon-Avon.
So, at the moment we're doing workshops for it, in fact, there's one going on today and I'm going to see what they're working on tomorrow. It's an ongoing process and I'm learning a lot about what it takes to put on a musical, how challenging that is to be honest.
Go Gentle Into The Light is released on 3 May via BMG
guychambers.com