'The concert experience isn't just about what you hear: it's about the social context of where you are, who you're with, what you've had to eat or drink, what the smells and sights are around you. The experience starts before you even enter the room where the music takes place.'
Composer Freya Waley Cohen is chatting to
M
about the role that grassroots venues play in today's digital landscape, and it's clear that she's a firm supporter of the live experience. 'When the performers play live in front of you, they're not just playing 
at 
you, or even 
to 
you: they're communicating 
with 
you,' she says.
Together with William Marsey and Josephine Stephenson, Freya is co-founder of
Listenpony
; a concert series and record label which programmes a carefully selected mixture of new
works
and classical
repertoire
, as well as folk, jazz and acoustic - all within unusual spaces. From crypts to galleries, she believes venues of the unconventional variety are 'vital' for bringing audiences ever closer to the music.
Freya's roaming performance artwork
Permutations
explores this idea further: its 70 rotating doors create 'an infinite variety of possible listening experiences – it's up to each individual to create their own version.'
Premiered at the Aldeburgh Festival 2017, it's since been shown at Dartington Festival and the Royal Academy of Music,
and comes to Liverpool's RIBA North in May 2019.
Here, in an extended interview from our upcoming feature on independent venues, Freya tells us more about the 
Permutations
project, the thinking behind Listenpony, plus why unusual venues have been so important to her craft...
How did Listenpony come about?
Listenpony is a concert series and record label founded and run by myself, Josephine Stephenson and William Marsey. It grew out of our desire to produce concerts where we would hear the music we love in a friendly atmosphere, while also providing a platform for outstanding young musicians.
Our concerts take place in beautiful and unusual venues such as crypts and art galleries, which is vital to help create an atmosphere that allows the audience to experience a close connection with the music and the musicians themselves. Since 2015 we have commissioned twenty different composers from the UK and abroad, often through an open call for scores.
How important do you think smaller, grassroots venues are in giving a lifeline to new composers? 
The first thing a composer needs for people to start becoming interested in their music is for people to hear their music. Smaller grassroots venues give new composers that chance. More than that, each grassroots promoter or venue has its own unique vibe, and it can give a composer a home for their music that feels right to them. A place to experiment and take risks, but also a chance to find a venue that suits the way you hear your music. Music performance is a very social thing, and the venue can change the way the listener hears a new piece.
Have any small venues in particular been instrumental to your development?
Although there have been lots of small venues that have been really important for me; in some ways it's more to do with the concert series or promoter and their support, in combination with the venue itself. Listenpony began in the foyer bar of
RADA
and moved into art galleries, bars, and crypts. My mother is a sculptor and we've had two of our most visually spectacular events amongst her life-sized sculptures. Our most frequent venue is the
Crypt on the Green
in Clerkenwell. It's beautiful, central, easy to set up in any way you like, and has a warm feel to it. Venues like
The Victoria
in Dalston and the third floor foyer bar in
St. David's Hall
, Cardiff, have also been important to me.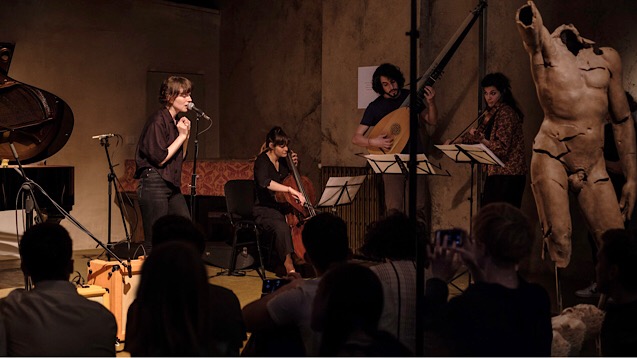 What's the most unusual venue your music has been performed in?

Particularly unusual venues have been totally vital to me becoming who I am as a composer... which means I'm going to struggle to pick just one! The most unusual venue must be Permutations which isn't so much of a venue in the traditional sense, but is a set of six movable chambers designed by architectural designers Finbarr O'Dempsey and Andrew Skulina, created in tandem with my piece by the same name.

The idea came about because of my work in unusual and small venues: about five years ago, I had an idea about a way of bringing listeners into the inside of a new piece of music for six violins. The idea was to create a new space especially for the music; a space that a listener could walk around, choosing which part would be their soloist at any given time.

Permutations is much more interactive and playful than I originally imagined. It has nearly 70 rotating doors, and different doors are moveable depending on the shape and size of the venue in which it is installed. This gives the listener an infinite variety of possible listening experiences – it's up to each individual to create their own version.

Do you think the relationship between grassroots venues and artists is still important in the era of digital music?

Yes! The concert experience isn't just about what you hear: it's about the social context of where you are, who you're with, what you've had to eat or drink, what the smells and sights are around you. The experience starts before you even enter the room where the music takes place. And then when the performers play live in front of you, they're not just playing at you, or even to you: they're communicating with you. When there is a live performance, the listener is an active part of the experience.

What would you like M readers to know about your music?

I suppose I'd just like them to listen to it! I think I write music because there's so much that can't be said with words, and so I'd rather they listen than me tell them anything particular.

What's coming up next for you?

Currently, I'm writing for Chroma Ensemble and viola da gamba player, Liam Byrne, as well as the LA Philharmonic's Green Umbrella Series.