London-Bahraini five-piece Flamingods are fast becoming prized across the UK for their ecstatic sonic vistas and rhythmic rituals.
Their unstructured approach channels the impromptu electronics of Animal Collective with delirious eastern-influenced rhythm and rhyme.
Often dubbed 'ethnic pop', they are the masters of reinvention, co-opting indigenous instruments, freak folk and far-out psychedelia for their trio of albums,
Sun, Hyperborea
and the remix set
Moon
.
Outlandish carnival vibes and indigenous African instruments abound, ensuring theirs is a true melting pot of inference and influence.
We caught up with founder Kamal Rasool for our
Awesome Africa
feature in the
latest issue of M magazine
to find out more about their African inspirations, their love of all things exotica and their growing lack of national identity...
You spent most of your summer in Europe touring – how did that go?
It went really well. We had a few disasters though. All our vans kept on breaking down because we just had so much gear. And we were playing in all these rural towns in Spain and Portugal where it was all uphill and it was really hot. All of those things combined and two vans broke down because they just couldn't handle it.
Oh dear! Any highlights from the tour then? Or was it all quite stressful?
I guess the highlight is the same every time, just getting to play in all these different places that we've never been before and meeting different people and different cultures. It's always quite exciting and makes you feel inspired and alive.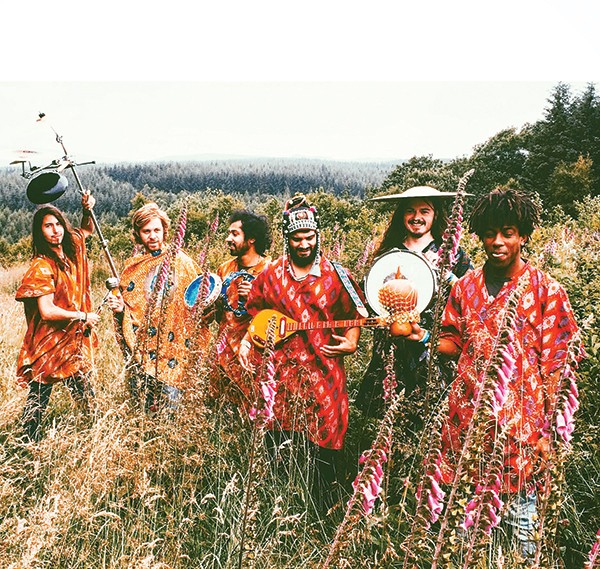 You've been doing some recording as well, haven't you?
Yes. We're recording our third album right now. We really wanted to make an exotica album. Exotica was popularised in the fifties and the main ethos of it was based around the idea of making music to tickle the listeners' imagination and take them to a faraway, foreign and mysterious place, away from the West.

We got really into people like Les Baxter, Arthur Lyman and Piero Umiliani. We also realised that we loved swapping guitars for ancient or exotic instruments, or having loose song structures and instrumentation, and using repetitive tribal drumming patterns. Or just using imagery of exotic song titles and album art to perceive the imagery – these are all things we love so much. So we thought it was the right time to go for that jungle voodoo vibe.

It's really exciting because we haven't really done a concept record before – it was new territory. It's not all strictly exotica, there are lots of other influences on there, but that was the main idea.

What's the weirdest instrument you've got hold of?
For the new record we picked up a Thai thin guitar, which is from the northeast of the country. It's got three strings, and it has an amazing thing which I can only describe as a dragon flame! You screw it on and it looks amazing and sounds really good. It has a really psychedelic rock vibe to it without it being a guitar, and that's quite exciting.

We also managed to track down a gamelan from Indonesia. We found it in an old antiques warehouse in Dubai. It's got such a mesmerising sound. Those are the two distinctive new additions, I'd say.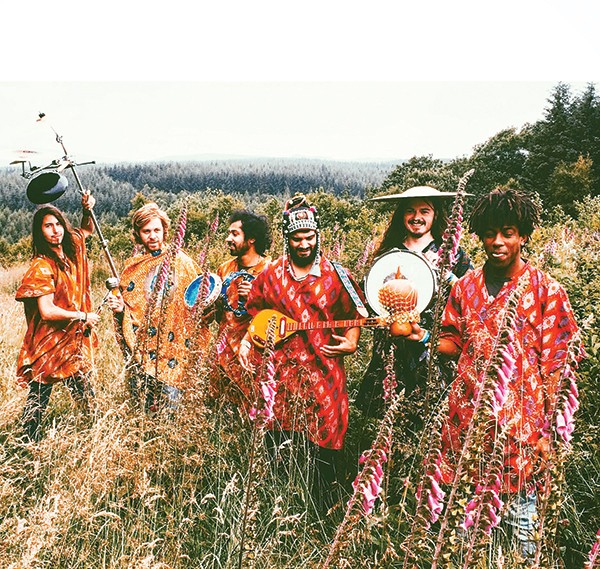 How do you appropriate those instruments into your own sound?
The funny thing is, the band is split into two. Although some of us are classically trained, we're interested in experimentation. We don't want to play instruments in the traditional way because people have done that already. We wouldn't want to steal from anyone, but rather, take these instruments and ideas and try to make them our own.

Our take on learning an instrument is to just pick it up and play it, and just trial and error. Learn your own way how to play it. It's an idea that all the band members have picked up now and now we all just love to swap around and try and learn new instruments as we go along.

I'm interested in the unconventional structures that your songs take. It that a conscious thing or does it just come naturally?
That's something that's been there since the very beginning of the band because when it was my solo thing, I didn't really know how to write a proper song. I didn't have the knowledge to make one, so I found it more natural to have free-flowing song structures. And that's something that carried on and we took on in favour of normal song structures.

What are your musical connections to Africa?
African music has always been such a huge influence on us. We love all the revival record labels that are out right now, making these amazing compilation LPs, like Soundway Records, Sublime Frequencies, Awesome Tapes from Africa.

We particularly love Ghanaian highlife, Nigerian afrobeat and Ethiopian jazz. We've always been really fond of repetition in music, and most African genres share that enthusiasm and share the trance-inducing shapes that we love so much.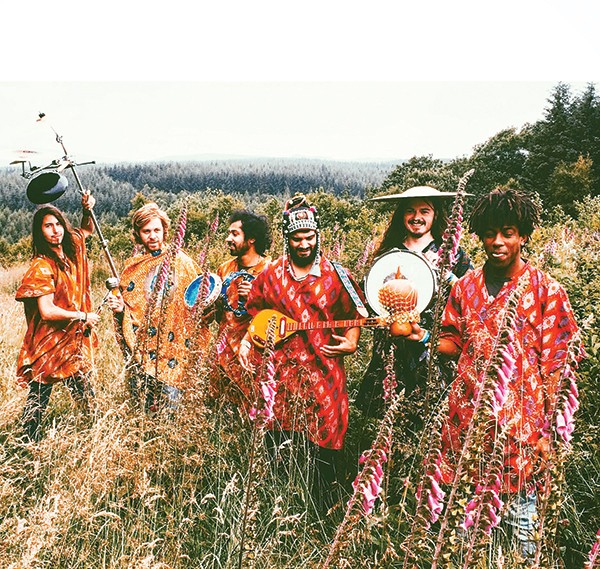 Can you hear African influences in other artists too?
Yes, definitely. I can hear highlife influences in bands like Ibibio Sound Machine and modern bands that are taking on those traditional sounds and experimenting with them. It's an idea that's really exciting to us - take something that's traditional and make it your own by experimenting with it.
You're seeing that ethos not only in Africa but also in the Middle East and North Africa. Egypt's electro shaabi scene springs to mind. We love that idea of experimentation with traditional rhythm.
Why are people excited about it all over the world right now?
I honestly think it's these record labels, the revival labels that are digging out all these amazing sounds and pushing them. Labels like Awesome Tapes from Africa aren't only releasing music, but they're also taking on new artists, giving them a new platform, and getting them gigs in the West.
How is the recording process going with all of the band scattered across the continents? Are you sending files frantically at the moment?
Our process is really weird right now. With the last album we home recorded everything. We never went into a studio, so there was a lot of back and forth. But for our new record, we're going for a much bigger sound and so we recorded in Lightship 95 Studios, which has an amazing set-up.
But obviously, because two of us live in Dubai and three in the UK, it makes it hard. So we were only able to get three days of recording done while we were over in the UK. But we were sending stuff back and forth and we got all the demos ready before we went in there, so we had a straight idea of what we wanted to do.
We managed to get most of it done actually. I'd say 80 percent of the new record is done. And we have a lot of guest musicians on the record; we've got saxophone and flute and strings.
You, and the rest of the band, spend so much time all over the place, where do you call home? Do you have a national identity?
I don't feel like I have a strong national identity, and the Flamingods sound is drenched in that feeling. I grew up in Bahrain, as did the other guys, but I don't think we ever saw it as our one true home, we were always looking to expand our views and knowledge of the world without falling under one categoric nationality or culture.
We really love Bahrain and we really love the UK, but we find it much more exciting taking bits and pieces from those cultures to try and create our own cultural beliefs. And I think that definitely goes into the band ethos as well, because I don't think that Flamingods can stand on one culture alone.
https://flamingods.bandcamp.com/