Car boot beats, hand-me-down electronic paraphernalia and Welsh bat caves – Mark Daman Thomas (aka Farm Hand) is not one to settle on your usual symphony of sounds.
Drawing deep inspiration from the flora and fauna around his rural residence near Hay-on-Wye, he brings bags of provincial familiarity and rustic warmth to his DIY electronics.
A healthy diet of US Girls, Grouper and Atlas Sound, coupled with his work as a real live farm hand, also spurs his pastoral psychedelia and leads him into increasingly weird nooks and crannies.
As founder of lauded Cardiff label Shape Records, and one quarter of Islet, Mark's no stranger to the more experimental end of indie, but this new solo outing sees him reveal the trippy sound world that spins inside his own head.
International Dreams,
his first album under this moniker,
lands on 3 November
. Here, he tells us how he cooked it up…
How did the Farm Hand project take shape?
I moved back to here to where I was originally from, having lived in Cardiff for 12 years. I had lots of ideas and just fancied doing something on my own, really.
Whereabouts are you?
We're near Hay-on-Wye, about 40 minutes' drive from the Green Man festival site. One of the first things I did when we moved back was with the Green Man - I performed in a cave near the site last year.
Why a cave?
It was more of a sound art project to do with the rare species of bats which live there. And we were asked to do a project- it was a commissioned project.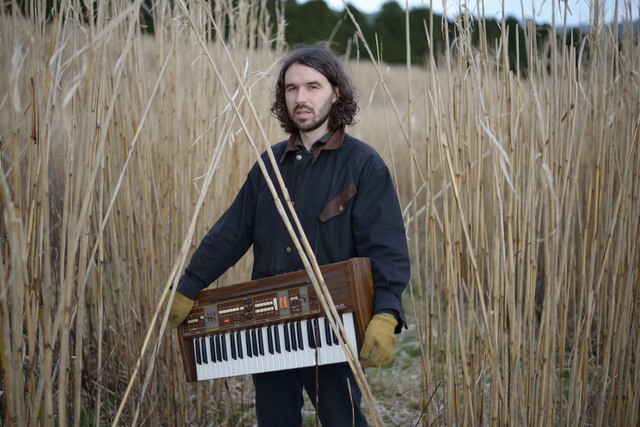 How has your move from Cardiff to the sticks affected the music you make?

Well, I got a field recorder and I started literally using a lot of sounds from around here, rural sounds. Some of those are on the album, but less than I originally thought. We go on so many walks, and that's influenced the lyrics a lot.

What do you think field recordings and found sounds add to your music?

I really like different textures that aren't readily available. I put them through an effects pedal and end up with stuff that literally no one has ever heard before. For example, I recorded some rocks and made a beat out of the different sounds I got. It completely changed the feel of the music.

Are you more switched on to music that incorporates field recordings?

Yes. I guess probably a lot of music I listen to has different textures and ambience – things that make it a bit more abnormal.

Why do you think so many people are turning to found sounds and field recordings in their work?

Maybe because the technology is so readily available? We've all got microphones on us via our phones. Recording is so much easier than it ever has been before. I ended up buying a specialist field mic, and that made it a lot easier and clearer. I record things like the rain dripping on a tin roof, and it adds such a different kind of atmosphere.


What's the thinking behind your debut solo record International Dreams? Is there a common theme?
Yes, it's definitely a collection of songs. I call it my factory reset – moving back here had that effect on me. I'm getting back to being me and feeling comfortable. I've been doing a lot of work on the actual farm too! The Farm Hand name was a bit of a joke originally, but now I am actually doing farm work!
How did the album come together?
I like writing lists. As soon as I have a selection of different things that could be songs I write them in a list – and then I think, 'Ooooh, that could be an album now!' I think albums come about just by the sheer want of doing them, basically.
Did you produce it all at home?
No, it was recorded on the farm, but I actually ended up getting a guy called Rob Jones to do it. If I had done it all, it would have been lo-fi, or lower-than-lo-fi! But he's really good and had so many ideas. On [title track] International Dreams, he encouraged me to use live drums instead of a drum machine, and that added way more colour to it.
We love the vid to [lead track] International Dreams - are you that person who's always first on the dancefloor?
No I'm not! I don't really know what came over me! It was going to be quite a cold, arty video. Then my brother lent me a tripod, I set it up, and the next thing I knew I was dancing! I thought, 'Am I really going to do this?' But then, yes, it happened, and I wanted it. I want to make videos that I find fun, just post them up and not be too careery about it.
What have you learned from your 10+ years of running Shape Records?
Well, I was running the label and doing all that businessy stuff alongside being in the band Islet. I was a facilitator for other people's music and I began to realise how much I wanted to do it for myself. People were seeing me more an industry person than an artist, and I thought, 'Shit, I don't want that!'
So while Shape is very much still alive, for the time being we'll just release things that either I do or I'm involved with or any of my family members are involved with.
So what's happening with Islet at the moment?
We had an EP out last year but it's been a really busy time; we've all ended up doing different bits and bobs. My brother, JT, was touring with Cate Le Bon all last year so we were only able to play one gig. We've been recording an album for ages now, but it's nearly finished. It will come out next year at some point.
What new music is catching your ear at the moment?
There are loads of exciting things happening, but not necessarily brand new. I'm listening to US Girls, which was probably my major influence on this Farm Hand album, actually. And Grouper. I listen to her every day! And Atlas Sound.
What's the thinking behind your From Now On events?
We've been putting on gigs for the same amount of time as we've running the label, but with the political climate the way it is, we wanted to do deeper kind of events, which are more defined and address questions we want answering. It's about being positive rather than just moaning online or something. We want to do actual real life things that address the problem.
The Future is Female event is about just how many men there are in the industry and in bands generally. It gets a bit tedious so we thought we'd flip it. We used all female production staff and everything, although we weren't public about it.
Live dates
4 November - Spillers Records, Cardiff (album launch)
4 November - Printhaus, Cardiff (Quodega album launch)
14 November - The Social, London (Huw Stephens Presents)
6 December - The Lexington, London (supporting Sweet Baboo)
https://markdamanthomas.com/farm-hand/