GLASTONBURY 2015: Ivor Novello Award nominated pop provocateurs Everything Everything have been dabbling in arty indie and spritely rock since 2007. But the making of their new album proved trickier than they ever expected…

Following the success of their sophomore top five album, Arc, Jonathan Higgs, Jeremy Pritchard, Alex Robertshaw and Michael Spearman hunkered down in a derelict warehouse in Ancoats, Manchester, to write and record Get To Heaven – their third LP for RCA Records.

Coming down from a year on the road, progress was slow, offering gradual songwriting catharsis and studio rehabilitation.

Last year, with a clutch of self-produced demos under their belts and a suitcase-load of ideas, they enlisted producer Stuart Price (Madonna, Scissor Sisters, The Killers) to help stitch together their new sound.

The results are a majestic alt-pop odyssey, spearheaded by edgy, twitchy lead single Regret.

We spent some time with Jeremy ahead of their Glastonbury Festival shows this weekend to learn about the trials and tribulations of their 'difficult' third record and find out how they managed to overcome 'existential crises' to hit on their most eclectic sound yet…

Your new record Get To Heaven feels like a departure from your earlier work – did you set out to try something different or was it a natural evolution?
I think it was a bit of both. When you write your first record, you don't know you're writing an album. You're just writing songs because you want to play gigs and then you put 12 of them out as your first album. Sometimes debuts can be brilliant because you've had so many years before to conceive the thing. Then the second album has to be written as a whole – which is how we put together Arc. We wanted to mature on a songwriting level and be less frantic in the arrangements. I think we definitely did that but we lost some of our identity by trying to be less iconoclastic.

How did those experiences feed into the new record?
We wanted to react against our tendencies on the last album. We wanted to make this one pretty up-tempo and intensive throughout. We didn't want there to be any tender moments. We were really aware when we were touring Arc that probably half the album wasn't suitable for live because it was quite reflective, slow and insular. We wanted to make an album that would completely stand up in the live environment from beginning to end. We wanted people to enjoy it on a basic party level alongside the depth and darkness in the lyrics.

Where were your heads at when you were putting it together?
We started writing while we were touring Arc. We wanted to kick start that side of our brains again. But it was literally a scamper through whatever ideas we had hanging around. Then, when we finished our touring commitments, we went to a studio in Wales for a week and used it as a rehearsal space really. We just wanted to be away and isolated. But those two sessions didn't really produce a great deal.

Why not? What was getting in the way?
It took a long time for us to warm up and get into the habit of writing again. But even during those first few difficult months we did the last track on the album, Warm Healer, and a few others. The rest of the album was quite a lot harder to come by. I remember Regret was the first thing that pointed us down a different road. It's a tougher, more vital sound. Between those first few songs and Regret, there had been a lot of floundering round and demos that weren't particularly inspiring.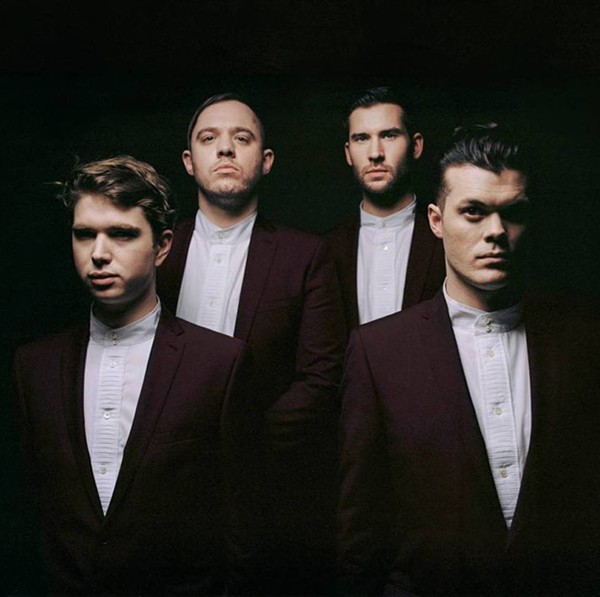 How did you get through that?
Well, you just have to swim through it to get to open water. It was hard - a really testing period for everybody. I think there were a lot of days when everyone woke up and thought, 'Oh god, I've got to go spend another nine hours in the studio with those three guys again.'

What did you do differently this time?
We set up our own small studio as a very basic way to demo our songs and did that as we went along. On the other albums we'd written as a traditional live band, but on this one we were recording our ideas as they came along.

So when did producer Stuart Price get involved?
He was one of the names that came up when we had one of those long conversations in the pub with our manager and label. We talked to a lot of people who we were really excited about, like Flood. But our schedules didn't work unfortunately. Similarly Jacknife Lee, Jim Abbiss as well… We enjoyed whatever we did with these people, whether it was a phone call or an actual session. But Stuart edged it because he came from LA to our little studio in Manchester, which was a hell of a culture shock for him I think, and worked through about 20 songs in an afternoon. He was really quick and nimbly minded. He was so full of ideas and also unafraid to tell us when to ditch stuff - in a way that didn't ruffle our feathers too much. Similarly, if we said to him we didn't like something he was singularly devoid of ego.

How did the recording process go?
We were looking to make a bright, exciting record that balanced the darkness of the lyrics. His own sparkling energy and positivity was perfect for us. We ended up recording a version of Regret on our own in a little analogue studio in Manchester and sent it to him. He played around with it and sent it back sounding really tough and gritty and vital – and that was exactly what we needed. That got him the gig basically.

It was a strange process because he was only able to devote a certain amount of time to it in terms of actually being in the room. So we did a lot ourselves, hence the co-production credit. It was really hard work! We worked our engineer Tom Fuller into the ground.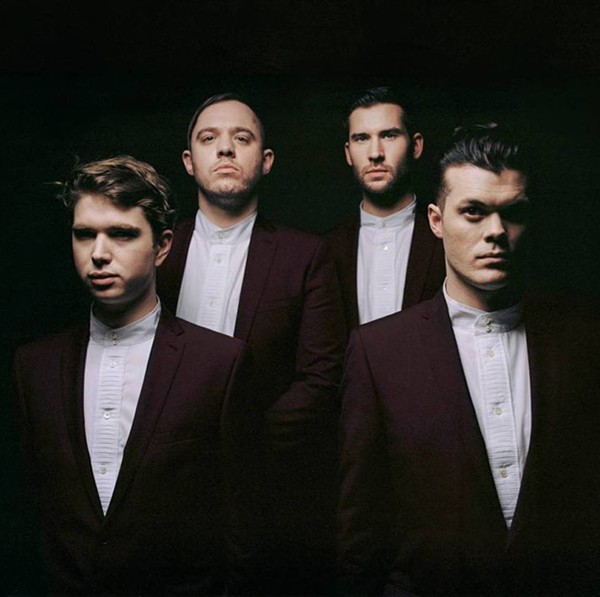 What do you think Stuart brought to the final version?
He came over for 10 days at the end and what he did was totally vital to the sound of the album. He worked in a very quick way, which we weren't really used to. He would do an hour and half on each song and it was great to work like that. We were starting to get a picture of the overall record, which we hadn't really grasped before that point. Then we were able to understand the mood and the shape of it. He also brought a particular sonic discipline from his incredible pop pedigree.
It sounds like you've been on quite a journey with this record…
Yep, it's been a fucking rollercoaster!
How do you feel now it's out in the world?
Relieved. It's quite cathartic to hand it over to people and say, 'This is yours now – it's your problem!' I think that, for John, writing the record was a way of letting out a lot of confusion and grief that he was feeling from the wider world during 2014. I think he feels a lot better now than when we were making it, even six months ago. It's been our most difficult record to make, the one we've had to work hardest on. I think it gets harder and harder as you get older and your alliance as a group goes on.
What have you learned along the way?
That we've been doing this together for fucking ages now! We just didn't stop for five years and as soon as we came off the road from touring
Arc
I turned 30 and had the appropriate existential crisis that goes with that. Coming off the road was really hard. It was an out-of-the-sauna-and-into-a-cold-bath experience after a year and 150 shows. Riding that low as well as trying to make a record was quite hard.
How excited are you to be playing the new songs live?
We played a few smaller venues a few weeks back which was great. It was good to learn about how the songs work in that environment. I think the festival dates are going to feel quite different because the album is out. Touring is the reward for the intensive hard work and grappling with each other that we did over a year of writing and recording.
Are you looking forward to Glastonbury?
It's obviously the big one. It's also our first time on the Other Stage, which is a big deal for us. We've done three years on the John Peel Stage so it's nice to graduate. I hope it goes well. It's the one festival that we like to try to stay at and enjoy it as much as possible. I've got a really long-running relationship with that festival because I used to go a lot as a kid - this will be my 10
th
year as a punter or a player.
Everything Everything play the Other Stage, Glastonbury, on Friday 26 June at 1.50pm. They play William's Green, Glastonbury, on Saturday 27 June at 2.30pm.
This interview forms part of our Glastonbury 2015 coverage.
http://www.everything-everything.co.uk/
Get To Heaven is out now through RCA Records.