Soulful folk? Electronica? Oddball psychedelia? Whatever you want to call it, Zimbabwe-born vocalist and songwriter Eska is an artist making music which almost goes beyond genre.

Her unique sound is one she has stepped into in 2015 with the release of a much-acclaimed self-titled debut album. Previously best known for singing with the likes of the Cinematic Orchestra, Grace Jones and Tony Allen, Eska has spent the past two years toiling, turning out for no one but attempting to define her music.

The result is a personal, warm hearted melting pot of styles and the perfect showcase for her beautiful voice.

We caught up with Eska to talk all things creative, the record and how uncover how she had to re-discover a childlike sense of wonder to find herself…

How did you first get into music?

I started playing the recorder, which I'm very proud of as it gets a bad rep but is actually a brilliant instrument. My dad attempted to teach me and my siblings how to play it, then I started teaching myself. It became a hobby, learning how to read music, where the notes were, the different values - it became my little world.

When did you start writing your own songs?

From very early on - it was what all my siblings did. Playing music was always synonymous with creating music - it wasn't just about the music on the page. That really excited me from a very young age. By the time I was doing GCSEs, I was writing songs which would be sung in my church by the choir. To be able to hear my songs there was such a joy - I loved it.

So school and church both helped you discover music?

I'm very fortunate that this incredible world came to me and that there were opportunities to test out my musical ideas. We were encouraged by the school music department to perform, to celebrate our work and our creativity. It gave me a regular platform for my music.

My local church also helped give me a voice, a chance to be involved in music. It never felt hard. Opportunities were there and I just had to take them. I have no idea how a young person would do that now as the opportunities aren't there. I'm a musician thanks to subsidies. If I was a young person today, I don't think I would have become a musician.

What was moment when you made it your life?

The first professional opportunity was at university. I met up with a mutual friend in the hope of joining his band. That was band was called Quite Sane. I joined them in the year that they'd won an award, so they were already a well-respected jazz act in London. I felt honoured to be a part of them, meeting other young people with similar aspirations, who wanted to be great performers and great musicians.

It felt like there was a tribe of young people out there who you could identify with and who could help you develop and be inspired.

How did you end up hooking with Matthew Herbert for the record?

It was actually Dave Okumu from the Invisible who introduced me to Matthew. Matthew and I did some work on the Invisible's first LP, they invited me to add some vocals to that. It went really well and that success made us continue to work together. I worked with Matthew on his big band album, There's Me and There's You - then it led to him working on my album.

When I first started to put out my first solo material, I asked Dave to be involved in helping me to shape the music and my debut the Gatekeeper EP. In terms of my beginnings I've known Dave for a very long time, he's a very dear friend and we've kind of grown up creatively together.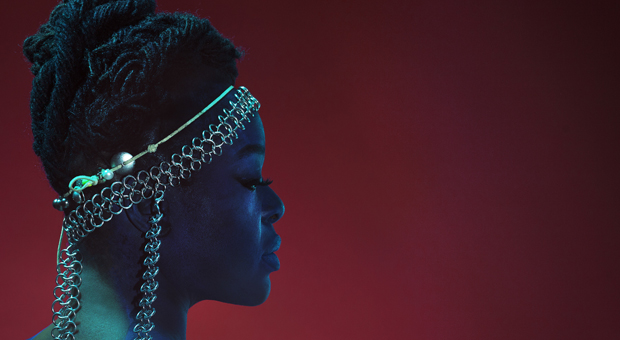 Did you have an overaching plan for the album?
The only creative objective I had in that time was to really try and discover who I was, my voice as a singer and my compositional voice as a songwriter. So for around two years, I stopped recording, writing or performing with or for other people. I needed to be the only element in the room I was answering to so I could get to learn what my sound was. When I collaborate, from a songwriting point of view, you really get inside people and find what makes them tick. I was carrying a lot of baggage from these partnerships, meaning my identity had been lost. I knew I had to get back to where I'd come from to find my own music, a childlike innocence and approach to my writing.
So how did you try and achieve this?
I thought it'd be key to learn a new instrument, so I started learning jazz piano, not to become a jazz pianist, but just to feel the naivety of approaching something for the first time.
I wanted that to feed into my songwriting, my production work and my arranging. I didn't even know what I enjoyed in my sound or my voice.
But once I'd built the sonic house, then I'd let my voice surround it like a garden. I remember in the process of doing this, I'd find myself and push myself in different directions. I was having this wonderful dialogue with myself - it was glorious. I'm a real evangelist for that process as in the end you create this sonic space that you like and you enjoy. No one can come along and denigrate it.
That was really important as I was incredibly anxious about the presentation of this music, particularly as I'd been working with others for so long - my biggest fear was that it wouldn't live up to those collaborations. I needed to get to the area where I didn't care. It's an important stage to get to. .
Are you pleased with how the record has been received?
It is very heart warming to receive positive feedback about your work - there's a sense of vindication as it's made a connection with the outside world. I brought definition to my music and myself, which was lacking before.
What does the future have in store?
I'm interested in seeing what my next evolution is. Matthew Herbert told me to write music for what it feels like for Eska to be alive right now and that's what I did with this record. But the irony is, I'm not that person now, I've moved on. So I'm interested in answering that question again over the next year, to see how I've changed. I'm really excited by that.
eskaonline.bandcamp.com
eskaonline.com
facebook.com/eskaonline
Eska's self titled debut LP is out now. Watch the video for
Shades of Blue
from the record below.