London five-piece The Duke Spirit have just returned after a five-year hiatus with a new record Kin – and it's their most emotive yet.

Still featuring the original line-up of Liela Moss, Luke Ford, Olly Betts, Rich Fownes and Toby Butler, the set also boasts Simon Raymonde (Bella Union head and Cocteau Twins member) on production duties, plus guest appearances from Sam Windett (Archie Bronson Outfit), Mark Lanegan and Terry Edwards (PJ Harvey/Gallon Drunk).

It's a misty, wistful journey into Liela's outer consciousness, born out of a sun-baked spring trip to LA and the hazy remnants of a crisp English autumn.

In the space between the band's last record Bruiser (2011) and their latest, they've faced birth, death, happiness and grief, all of which have informed their latest sounds.

We caught up with Liela to find out more about how the record came about, how the band have changed since their 2005 debut LP Cuts Across the Land and the challenges of staying in the game for the long term…

What's the thinking behind your new record Kin? 
It's a shard of light pouring through the crack in a stone wall, covered in ivy and moss. The light is pale at first, like the low early morning sun in winter, but as the album repeats, the glow is strong and intense and shines all over your face as you crane to look through at the light. The light beams soothe your aching muscles and the heat penetrates your cranium until, finally, all feels warm, cherished, nurtured and in love.

Where were your heads at when you were making it? 
Some bits feed off lyrics written in the heat of June in Los Angeles in 2014. Mostly though, it is formed of words and melody laid down in Somerset at the end of 2014 and New Year 2015. Waving so-long to summer and saying hello to skeleton tree shapes, birds, green fields turning brownish, Beech trees a-flame in orangey autumns. Fire. Shooting stars. Lushness!

What was it like to work with Simon Raymonde again? 
It was so full of laughter, that most days, little tears of joy would roll down my cheeks as something funny was said and we, to put it poetically, pissed ourselves laughing. Simon always pays a kind of sacred attention to vocals - which is magical. I feel huge pressure to make him feel lifted, or moved. Sometimes it doesn't work, but when it does, it really shows in his face across the glass in the studio. I love that bit!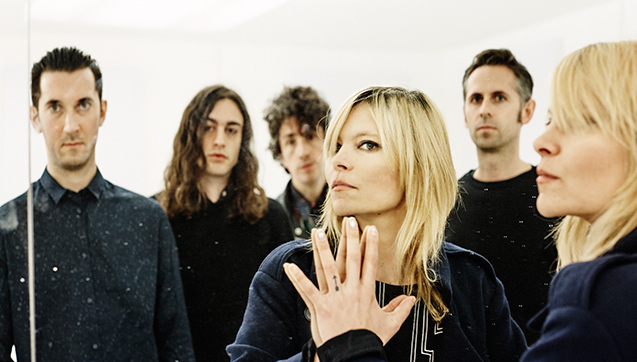 How do you think your sound has evolved since your first album?
It's more embellished, more subtle. More pianos, more harmony, more synths. Just more of a few things, and less obvious on the arrangement side.

How has the industry changed around you in that time, do you think? 
I would say it is almost a totally different business since the first album. I know more about selling beer than records. Being from a family with pubs, I can tell you that is a much funnier and easier game than this music thang! It's so HARD!

Who or what are your biggest musical inspirations?
Bjork, Nirvana, Hole, The Breeders, Patti Smith, PJ Harvey were the groups that turned me on so fantastically when I was a teenager - they absolutely changed my life and I return to them still over and over. I take great inspiration that most of those artists are lifers, who produce more and more fabulous work each time they release something, and those two being women is rather triumphant...

You've been going since 2003 – what's been the biggest highlight for you so far?
I met and sung with Nick Cave in the studio for some Lawless soundtrack stuff. It was such a fulfilling, focusing day full of anxiety, laughs and casualness, I had to keep pinching myself. The same thing with doing backing vocals for Jerry Lee Lewis in Memphis about eight years ago. Totally, absurdly good. I also sang with the Heritage Orchestra back in 2014 in Sydney Opera House. I can't think of a time when I was more nervous. Jesus!


What keeps you writing and recording? 
A feeling that each time you create a song you reveal something more beautiful to yourself - the search for that satisfying melody, which almost never comes. A restless desire to be better than the last time around and keep trying to dive for pearls and not pull up and old shopping trolley.
What does the rest of 2016 have in store?
I am hoping to complete my Yoga training, first things first. Then, write another record!
http://thedukespirit.com
October tour dates
10th - Patterns - Brighton
12th - The Rainbow - Birmingham
13th - Brudenell Social Club - Leeds
14th - King Tuts - Glasgow
15th - Think Tank - Newcastle
17th - Gorilla - Manchester
18th - The Bodega - Nottingham
19th - The Fleece - Bristol
20th - The Scala - London
23rd - Hafenklang - Hamburg
24th - Bi Nuu - Berlin
25th - Kranhalle - Munich
27th - Zakk - Düsseldorf
31st - Point Ephemere - Paris