David Housden is an award-winning composer lauded for his collaborations with game developer Mike Bithell on the BAFTA award-winning indie hit Thomas Was Alone.

Drawing on his garage rock band days, David creates melodic, original scores for some of the most immersive new games out there. Harnessing synths, strings, pianos and augmented found sounds, his sonic palette constantly pushes the boundaries of media music.

In recognition of his talents, he was nominated for the Best Videogame Score Award at The Ivors last month for his work on Dan Da Rocha's epic Q.U.B.E. 2 videogame.

We catch up with him before the awards ceremony tomorrow to find out what the nod means to him, how he created the music he's been nominated for and learn his top tips for getting ahead in the business…

How does it feel to be nominated for an Ivor Novello Award this year?

It's literally made my entire year. I was so proud of the work I did on Q.U.B.E. 2 but because the game's such an absorbing, atmospheric experience, I wasn't sure how conscious the audience would be of my contributions. So, it's incredibly flattering and rewarding to have received such prestigious recognition for my efforts.

How did you first get involved in the Q.U.B.E. 2 project?

I'm currently working on a game called Lost Words created by Mark Backler, and was actually introduced to the creator of Q.U.B.E., Dan Da Rocha, a couple of years ago by Mark on a night out! During the evening Dan mentioned he was currently working on the follow up to Q.U.B.E. which was a hugely successful indie game, at which point Mark asked him if he needed any music for it and started gesturing in my direction in a nudge nudge, wink wink fashion, as a joke. Dan surprisingly said they were actually looking for a composer at the time and was a fan of my work on Thomas Was Alone, so I guess a combination of that and Mark's recommendation put me on the radar!

After that I remember we all happened to be at Gamescom in Cologne that year for various things, so I met the writer and we stayed up until 3am talking about the creative direction for the game and their vision for what they wanted to achieve, whilst drinking copious amounts of German beer. I think I started work on it the following week!

How did you decide what kind of sonic palette would work best?

I had a very interesting brief on this game. We knew we wanted to take an ambient, ethereal approach due to the subject matter and the fact that the player could potentially be spending a long time attempting to navigate just one puzzle. But the Qube (the environment the game takes place in) is an alien construct created by an entity attempting to replicate earth. So, my remit for this was that everything should sound real and natural, yet not so. On the surface level there should be some familiarity but with a strange, alien subtext to it.

So, the first thing I did was collaborate with a fantastic synth programmer by the name of Vinko Boric on building a sound palette to draw from. We'd take real world sounds and instruments and then import them into various synth engines to manipulate and change them until they sounded like something completely different. So the essence of everything was grounded in an organic source, yet the end product was something unique and original, in keeping with the fundamental theme of the game. It was a lot of fun to explore and create.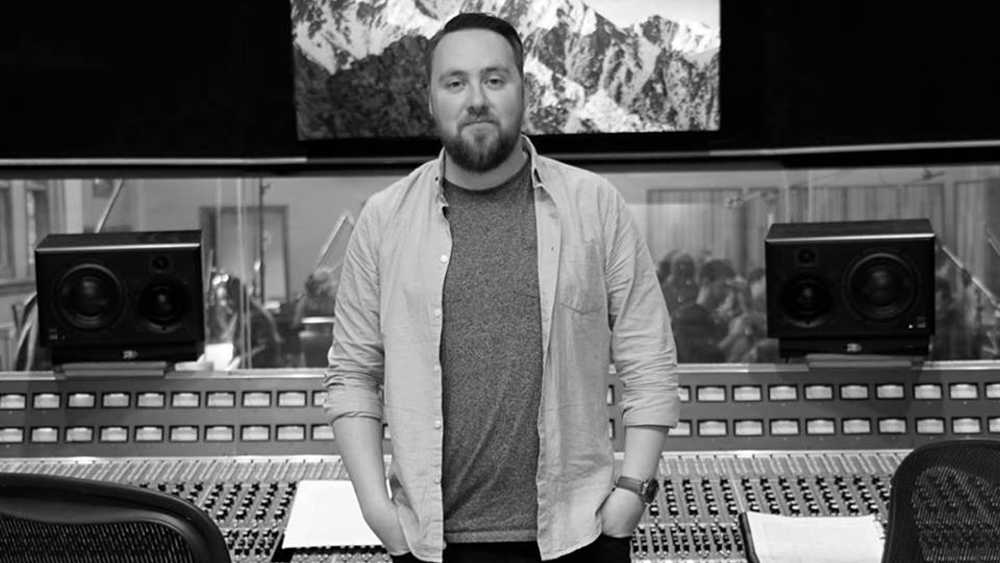 How does scoring for videogames differ to the compositions you create for film and television?
This is going to be the antithesis to the stock answer that most composers give here but in some ways it genuinely doesn't differ at all for me. At its very essence, all I'm ever trying to do as a creator is write the best possible music I can, to support the emotional arc and the subject matter of the content I'm writing to. Be that for a mini-series, a short film, or a 20-hour game, my priority and goal does not change in that respect.
Now obviously the way you set about achieving that is wildly different as writing for games presents a different set of challenges unique to the medium, but I feel that letting the format dictate your approach towards what the music is saying, is almost putting the cart before the horse. For me, figuring out what I want to say needs to come before I decide how I'm going to say it. Once I've established the direction I want a scene or stage in a game to go, then I'll look at presenting it in a way that makes sense with the mechanics, and the flow of the player's journey, and that's where knowledge of adaptive systems and middleware functionality becomes very useful.
I know lots of people will think about what they want to do from a technical standpoint before they decide how to approach it from an emotional one, but it's just not the way I work.
Where do you feel most at home?
Difficult question as they both have their own inherent pros and cons, but if I was pushed I'd have to say games are where the heart is, for me. It's where I started my career and I love the medium. I hugely enjoy working in film and it's something I'll definitely be doing more of in the future, but as of now, games are where I feel the most comfortable.
Your next big project that's up for release is Lost Words – can you tell us more about that?
Absolutely!
Lost Words
is an atmospheric, narrative experience where you play as a young girl named Izzy, through her journal, and the fantasy world she creates on its pages. It explores the special relationship she has with her grandmother and her own budding interest in becoming a writer. When her grandmother tragically suffers from a stroke, Izzy uses the fantasy world she's created as a means of dealing and coming to terms with the emotions she's facing in reality. The game is split between the pages of Izzy's diary and Estoria, the fantasy world she creates, and each stage is themed with a different phase of the grieving process. So it's a super original concept and has been incredibly rewarding to write for this game.
There's a great team involved, Rhianna Pratchett's written the story and I was lucky enough to record the score with the Nashville Scoring Orchestra at Ocean Way Studios earlier in the year, so I'm really excited to be able to share it with everyone when it comes out!
What else is keeping you busy at the moment?
In addition to this, my main project currently is a remake of an old NES game by Rare, called
Battletoads
. It was a super popular, but notoriously difficult side-scrolling 2D combat game back in the day. After years of clamouring from fans to reimagine it for a modern audience, they decided to give it the green light last year and I've been working on it since then. I can't say much more than that at the moment, but it will be launching later in the year so watch this space!
Do you have any advice for composers just starting out?
It's a tough landscape out there as the level of competition is higher than ever before. The flip side of this is that there has never been more opportunity to break into the industry than there is now. The sheer amount of content being created for various media with the advent of
streaming
services is unprecedented. Couple this with the domination of mobile gaming, and the new platforms and technologies being made available through advances in VR and AR and there are more avenues than ever before to find work.
In all honesty, starting out is hard and it's not going to be for everyone, but the one aspect that you have control over at that stage is the quality of your work. Take the time while there's no pressure to hone your craft until you're able to create work of such a high standard that it could happily sit in any
broadcast
quality media. Then it's about finding collaborators at a similar stage in their career as you build relationships and experiences together. It's not an overnight fix but assuming your work is good enough, given enough time and luck, you'll find your place in the industry sooner or later. There's also always library work in the meantime, which is a great avenue for anyone starting out.
https://www.housdenmusic.comThe 2019 Ivor Novello Awards are presented by The Ivors Academy in association with PRS for Music.