Since the release of his critically acclaimed debut album Sweet Disarray back in 2014, Dan Croll has taken a couple of breaks from putting out music. Looking after his mental health the first time around, and moving from Liverpool to Los Angeles the second, Croll's hiatus' have done little to quell the buzz around his releases.
A sonic explorer who approaches every song as a new adventure and uses instruments as inspiration and samples as signposts, Dan doesn't so much sidestep genres as conquer several at the same time.
Following on from 2017's Emerging Adulthood, Croll has just released his latest album Grand Plan via Communion Records. The album chronicles the 12-month period starting in February 2018 when he became restless at home and decided to move countries.
M Magazine caught up with Dan to discuss the new record, meeting Paul McCartney and what it's like to be in the US during a global pandemic.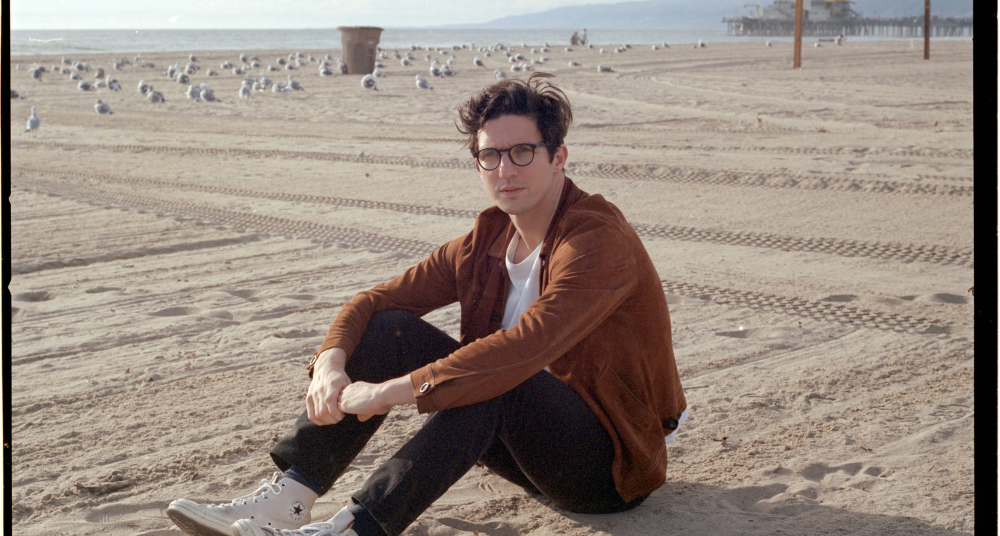 Hi Dan! Thanks for taking the time to talk to us. Where are we speaking to you from?

Hey, no problem at all, I'm just in my apartment in sunny Los Angles!
How have the last few months been treating you?
It's been a strange rollercoaster of emotions that's for sure. I started this quarantine in a pretty strong mindset, whilst others were not used to working at home it's all I ever do. I'm pretty used to the solitary life. However, the cracks have definitely started to show, I've gone through the stages of madness and boredom to now being a bit uncertain about everything.
It must feel strange to drop an album when you're unable to get out and perform…
Very strange, but it's all been a bit of a life saver to be honest. Those recent uncertain feelings have been quashed and whilst it's sad that I probably won't be touring any time soon, it's been incredible to see people reactions to the new album!
Talk us through the new album…

It's basically twelve tracks that follow me through my first year of moving to America. When I decided last minute to move to Los Angeles I didn't know anybody, or really much about the city, and so as I went through those stages and new feeling I documented them in each of these songs, hopefully giving the listener a good idea of the ups and downs and everything in between during that first rocky year.
The track Yesterday from your new record observes a meeting with Sir Paul McCartney and we're desperate to hear more about that…
Yep, the man himself. I was lucky enough to get some one on one time with him many years ago, and the emotional build up to that meeting was pretty intense. Unfortunately, the night before I ended up missing the last train home to Liverpool from London, so had to take the seven hour night bus, and I basically arrived home feeling like crap at 7 am then running straight in to the session with him. It went well, but in hindsight I was totally flustered, and I owe a good chunk of that to the journey home. Whilst it was an incredible moment in my career, I can't help but hold some frustration at how it played out, so I wanted to address it in my song Yesterday as a way of moving on.
You left Liverpool for Los Angeles a few years back. How has the change of scenery impacted your songwriting? Does a move like that change you as an artist?
I think so, and I hope so. I moved here with the main aim of trying to get in touch with some of my earlier influences, majority of which were from the Laurel Canyon glory days, so that's why LA stood out to me. Being where they launched their careers has definitely put me in a better mindset. That alongside the beautiful weather, the change of scenery, and the experiences I've had here have all massively impacted it for the better.
Has the current political climate in the US influenced you at all?
I'd say so. It may not have directly impacted me and my job, but there's definitely a greater drive and passion for change that I've maybe had little of in the past. Sometimes it's just too much though, you definitely have to step back now and then, for the sake of your mental health.
What's it like to be so far from home during a global pandemic?
Homesickness has definitely kicked in recently. I miss my family and friends greatly, but hopefully there will be a chance to come home for a bit towards the end of the year. Covid wise it's a total shit show over here, and I can't bear the guilt of flying internationally right now, so I guess I'm just picking up the phone to everyone as much as possible to make do.
Can you tell us about the Dial Dan Hotline? What was the most obscure WhatsApp you received?
Well my second album lyrically centered around mental health which is something I was struggling with at the time. I struggled to get support when I needed it and it made me worry about others, especially my fans who were connecting to these songs, so I decided to open a hotline where every few weeks they could ring or test me directly to just vent. I genuinely though I would be prank called or messaged constantly, but I honestly didn't have a single one, nor any obscure messages. They were just mostly kids and teenagers going through anxious times. Most were too embarrassed to talk to family or teachers about it, but there was something honest about picking up a phone to someone also going through a similar thing and just chatting rubbish for a while, taking their mind off it.
Your debut album Sweet Disarray dropped back in 2014 and you seemed to take a bit of a step back before releasing Emerging Adulthood in 2017. What happens during those periods of downtime that reinvigorates you as an artist?
I think that 2014 - 2017 gap was just mental fatigue. As I mentioned my mental health wasn't at its best and taking a few punches from the music industry didn't help. What has invigorated me this time has been the move to the states, a complete change of scenery and the excitement of taking away my own safety net. I might not move countries again for the next album, but I'll definitely seek opportunities to push myself and get that rush about music again.
Do you have any golden rules for songwriting that you can share with M readers?
I've realised how important to me it is now to sit and write a song all the way through, without stepping near any computer or recording equipment. If it can't stand on its bare bones, then it probably won't stand with a bunch of production and sounds lathered on it.
What's next for Dan Croll in 2020, coronavirus permitting?
As long as I can living off of my music then I'm happy.