Disco-boogie-house-soul - whatever you want to call it, the sound of Nottingham/Manchester crew Crazy P has been keeping clubs and festivals moving for the best part of the last 20 years.

Formed around the core trio of Chris Todd, James Baron and vocalist Danielle Moore the group have astonishingly just released their seventh album Walk Dance Talk Sing, a record which moves like its learned some serious tricks from both sides of the dancefloor.

Following the much loved The Wicked Is Music and A Night on Earth albums, this latest effort, three years in the making, shows the outfit to be possibly at their most ace and assured.

We caught up with Chris to get the skinny on the new LP and how they've managed to continue keeping it real in the ever-changing world of electronic music…

How did you get into music?

My dad is a really good folk, acoustic guitarist and I asked him to teach me some tunes after I'd watched Back to the Future. I wanted to play Johnny B. Good! That was my epiphany. He showed me some guitar licks, then I started teaching myself. I went to Notts to college to study music, met some musicians and started messing with electronics and sampling.

Nottingham had a really vibrant house scene back then. I got into disco and house music and met Jim, my musical partner for the last 20 years. Dani came along a few years later.

How did you first start making your own music?

After a weekend of going out, my mate Nathan, who was really into his disco, would pull out the originals of house tracks we'd be dancing to in the clubs. For me, it was really interesting to see where the music came from. It turned me onto searching for second hand records, crate digging and finding those little musical nuggets. We had very little equipment so the sampler was also a way of being able to write music cheaply and getting production values into your music you wouldn't have been able to otherwise.

What was the moment you knew you were onto something?

There were lots of little things. Getting signed to house music label Paper first off was a massive thing for me and Jim as we loved the music they released. Everyone of those early releases in '95 and '96 were magic. To get our first record on there was a dream come true.

After that, the next big thing was when our second album, The Wicked is Music, was licensed to Universal in Australia and they really pushed it. We ended up going out there to support the release which was mind blowing. We were playing gigs in England for about 200 people, then went to Australia and ended up performing to 1,500 people in Sydney. It was a bit of a baptism of fire and so far beyond our expectations.

Walk Dance Talk Sing is your seventh album - how did you approach the record?

It's been written quite sporadically over about three years so there wasn't really a plan or overarching vision for it. It's all been written by the three of us in the studio. Dani's been using loops a lot, which helps get ideas in quickly. It's a little more disco-y than the previous record but still kind of in the same vein - stripped back, no string quartets, just keeping it a little bit more in house. We've just tried to write music we can have fun with.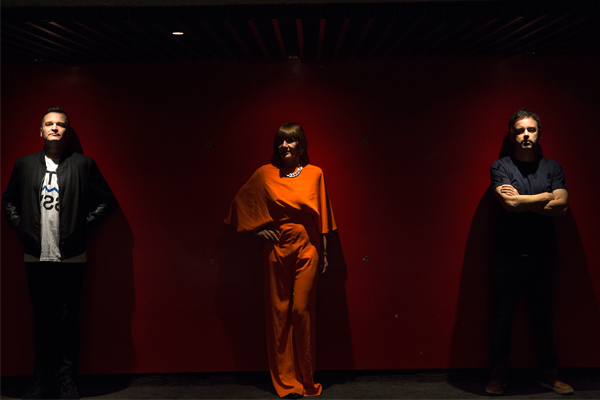 Has the writing got easier over the years?
The technical side has as you learn your craft as you go along. We do the mixing and production so on that side we've really honed our skills. In terms of creating songs it's just as bloody hard as it was with the first record. If anything you learn that you don't know when the brilliant ideas are going to happen. You can spend three days in the studio writing average music but you always know when you've come up with something good. If anything, we've become more philosophical about the process. One song on the new record
Cruel Mistress
is about this whole thing, how music is a bit of a cruel mistress but when it hits, it's magical. I don't worry about it so much as I used to.
Are there any important studio lessons you've learnt over the years?
Recently, I've tried to keep the volume low in the studio. It's tempting to keep notching it up but your ears get tired. Hammering them with eight or nine hours a day of loud music is going to bite you in the ass down the line. I'm a big advocate of ear plugs.
The other thing is keep listening to new music. Always try and broaden your musical palette as much as possible. Referencing is something that has helped me too. Keep a good stock of reference tracks that you really admire in terms of how they sound. It's more on the technical side of things but it's really helped me as a producer and mixer.
Is dance music in good health at the moment?
I think it's still in a state of flux after the digital revolution. The music industry out of all the creative industries has been the most radically impacted and is still finding its feet especially in terms of how artists make their money.
For us, we've been pretty lucky as we do different things - we DJ, have a live show but also have a soundsystem. It's that which has really kept us afloat over the last few years. There is a negative side of people accessing music for free but the flip side is music production has been unlocked to more people and anyone can set up a label now.
Which aspect of the band do you prefer?
We all love playing live. The soundsystem is great but with live, we've had the same line up for about 15 years so it's very much like a family affair - going off on tour, travelling abroad, the camaraderie of travelling with four of your best mates - it's hard to top.
What does the future have in store?
We've been on tour and have some festival action over the summer. We're looking at going out to the States and maybe South America, potentially Australia over Christmas. It's been a challenging year but we're getting there. We've switched labels, got a publishing deal for the first time, just loads of stuff going on. It's been quite chaotic but in a good way.
Walk Dance Talk Sing
is out now.
crazyp.co.uk
facebook.com/crazypmusic
twitter.com/crazypmusic