Hull rapper Chiedu Oraka has built up quite the head of steam in Yorkshire and beyond.

Describing himself as, 'a rapper from Hull who is hungry for success and won't stop until he reaches this', he got started freestyling at house parties and is now championed as one of the pioneers of the northern alternative urban scene.

With releases including 'N.H.E (North Hull Estate) and his latest EP 21st Kid, it's taken numerous gigs and mixtapes but now more ears are turning towards him and his peers.

Last year saw him perform at BBC Radio 1's Big Weekend and join fellow Hull rising stars LIFE on stage at Leeds Festival, while he's previously supported hip hop and grime royalty including Stormzy, Akala and Wretch 32.

His first single of 2017, Flex, has racked up over 100,000 streams on Spotify alone, and follow-up N.H.E (North Hull Estate) made BBC Introducing track of the week on BBC 1Xtra.

Here, in this extended interview taken from our upcoming Formidable Flows feature, we chat to Chiedu about the hip hop scene in Hull and why he wants to see stronger northern representation in UK black music...



How did you get started in music?

My journey started when I was a tiny boy, probably about six or seven, when my mum used to throw her famous house parties. That was when I first understood that music could determine a person's mood. All the memories I have of them days were good ones. Everyone was so happy and people used to dance for hours. UB40, Bob Marley, The Specials and Chaka Demus were some of the names that were on heavy rotation.

My first encounter of actually picking up the pen or even performing in front of a crowd was again at house parties. Me and the lads used to go to house parties all over the city and me and my friends, Crafty and Allan, used to put on instrumentals and rap over them: literally bang on a beat and freestyle to them. We would say the funniest things just to get a crowd reaction. Nothing serious, just a couple of lads rapping, trying to make any word rhyme – probably fuelled off eight cans of Fosters or a £5 bottle of vodka.

At what point did you know music was for you?

I think I realised music was for me in around 2011 when I released my mix tape Not Ya Average Spitting. I had just finished university and thought: I want to give this music thing a proper go. So I made the mix tape in my mate Crafty's bedroom on his PC. We just had a condenser mic and the Pro Tools programme to record ourselves. Proper DIY set up but we did produce a classic piece of material (well I thought it was at the time), which I just sold on the streets or at any gigs I could get at the time. I sold over 300 copies at £3 a pop.

You're from Hull – what's the hip hop scene like? Is the city (and Yorkshire) a fertile place for rap music?

In Hull we have a very small scene to be honest; we only have about four or five artists who are actively working hard to try and carve a lane for themselves. So the Hull urban scene is going through a bit of a revamp. It was bigger in the past, in regards to the number of artists, but to be quite blunt there were too many guys in it for the wrong reasons and a load of guys not putting in the required work to ever succeed. Everyone knows Hull is known for its lively band scene, but there have been some great moments for the rap/grime scene in 2017. So it's important now we're in 2018 that we don't lose focus and we build on the momentum.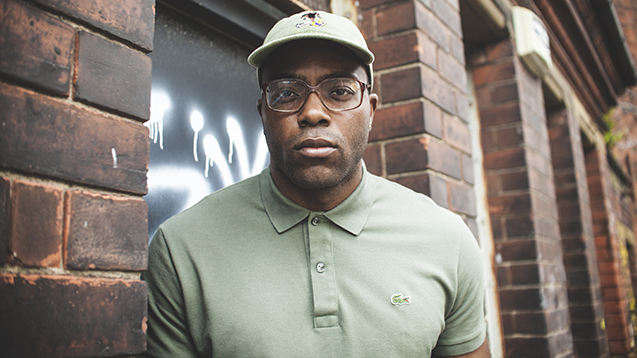 Any new hip hop artists we should be looking out for?
If we are talking Hull artists, I would have to say Deezkid and Live Lans – two very special artists with two very unorthodox styles. Out of Hull, I like a guy from Nottingham called Splinta, TE dness, Dave and Avelino. I wouldn't say any of them are new, but these are the guys I like to listen to.
How can UK hip-hop and rap artists expect to benefit in the wake of grime's stratospheric success and gain extra traction?
I don't think anyone can expect anything; as an artist you just need to keep motivated and focused. There are so many influences that can get in the way of your thinking. I feel one thing we are all guilty of doing as human beings, is caring too much about how things are portrayed to us on social media outlets. Nobody owes you anything: you just have to work hard and a lot of the times it comes down to luck.
It's great to see the likes of Stormzy, Loyle Carner and J Hus being nominated for BRITs. It was great to see Skepta win the Mercury Prize in 2016 and Ramz just miss out on a number one with
Barking
. But all these great achievements don't guarantee any benefits, just because we're all pigeonholed into one genre. All I want to see is stronger northern representation in UK black music and I need to be one of the figureheads of that movement.
Where are the boundaries between rap, hip-hop and grime? Are they merging or becoming more distinct?
There are no boundaries: a lot of the artists in UK rap work with grime artists anyway. We have a new wave of Afro influenced music coming through the ranks too and they work with everyone also. If it's good music, it will break through the glass ceiling no matter the sound. UK black music has definitely become more collaborative.
Who's supporting UK rap in the industry, and how?
Everybody seems to be championing UK black music at the moment and this is lot to do with our DIY attitude. For years we were ignored and ridiculed, because of the content and the topics used in a lot of songs. The main reason there has been a resurgence is because a lot of artists have stopped trying to conform and now just make music that sounds good to them. The youth love the grime culture, which has now resonated with the rest of the UK. They can't ignore us anymore, so now we have a lot of people who have jumped on the bandwagon. That's sick – who would have thought that this day would come?
Who are the biggest innovators in the field?
In my opinion; Skepta, JME, Giggs, Austin Darbo, Jamal Edwards, Posty and GRM Daily. There's too many names to mention, they are just a handful of examples.
Any advice for how up and coming rappers can stand out?
It's hard to give any advice to be honest, because I am nowhere near where I want to be. All I can say is stay true to yourself and always make the music that you enjoy making – don't try to force it.
www.facebook.com/pg/chieduorakaofficial