Close friends Grzegorz and Wojciech have enjoyed an almost purrrrfect career as house outfit Catz 'N Dogz ever since they broke cover from the Polish scene back in 2003.

As producers, DJs, remixers and owners of Pet Recordings, the Polish duo have always been on point with their music, gaining themselves a reputation as purveyors of big, often chunky, yet always well heeled club styles. Veering from deep house to disco, the duo's warm-blooded take on eclectic electronics, encapsulated on their much loved albums Escape From the Zoo, Stars of Zoo and most recent long player, Basic Colour Theory have won them fans across the dancefloor and beyond. The latter features collaborators including Green Velvet and Javeon, and sees the pair taking on a more crafted approach to their songwriting. But when they're not finessing their own productions, Catz 'N Dogz are much in demand DJs and remixers, with the latter string to their bow leading to rewires for Kim Ann Foxman, Friendly Fires and Basement Jaxx.

With the latest project, their great Watergate 22 mix, the pair are now packing their bags and gearing up for an extensive world tour. Ahead of their global galavanting, we caught up with Wojciech to learn more about musical roots and how they're helping to change pre-conceptions surrounding Polish music makers…

How did you both begin your musical journeys?

I used to sing in the choir and Greg had his radio show with local station, Radio ABC. This is basically a long story cut short of course.

We started to DJ in clubs separately but because our hometown Szczecin is not very big, sooner or later we just had to cross paths. From the beginning we had a very similar approach to music. We never wanted to focus only on one genre. I think this is what made us different from all other DJs in our hometown.

What drew you to electronic music?

We have different backgrounds. Greg was more into deep house at the beginning and because all my friends were listening to hip hop I was into making beats with them.

But because I was singing in the choir I had a chance to travel around the world when I was a teenager. It was thanks to this that I discovered house music. I recorded a tape from Groove Radio during my stay in LA. I think I was around 14 years old and the tape included mixes from a few local house DJs. Another really important thing for us both was a show on Polish national radio, RMF. They had great guests like Carl Cox or Josh Wink and different artists from electro, techno, even jungle.

For me that was my music education. Recently I was listening to some of those tapes because of I was moving house. It's amazing how those memories are still so sharp.

How did Catz 'N Dogz first get together? And what were you hoping to achieve when you got into the studio?

To be honest we were not hoping for anything. We just met and liked similar music, liked smoking weed, listening to tunes and hanging out with friends.

So all that came afterwards was somehow very natural. Working in the music industry is very addictive and I never really thought about that when I was 18 but yeah … when you are able to connect your passion with your job, you can't ask for more from life. It's the essence of being happy in general. I remember I was just doing music for eight to 10 hours a day every single day and my parents were literally going nuts because I wouldn't leave my room ever except to eat.

Have you been surprised by your success?

Surprised is the wrong word. We were more overwhelmed I think. Even though we were internationally known from early on, we still didn't have enough confidence to do some stuff at the beginning.

You know, we are kids of eighties and we only had the free market and all the cool stuff from the west since the nineties. In general in Poland people always thought at the beginning that everything from the west was better than from there and it's an attitude that continues. There are still a lot of festivals in Poland that don't book us as headliners even though we are the most successful Polish electronic music DJs. That's why we've always had a mission with our labels to try to change this and show to other Polish artists that it's possible to succeed.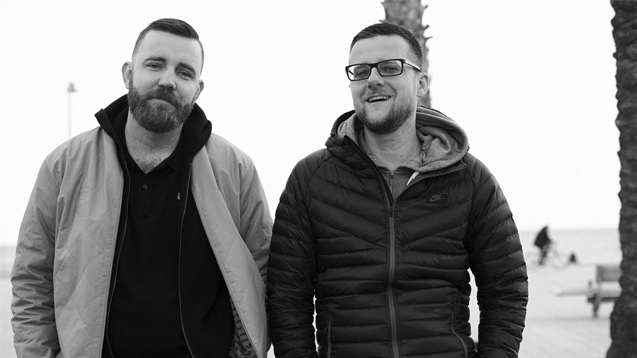 Your Watergate 22 mix has just been released - how did you put it together?
We are obsessed with looking for new and old music. And try to play music that nobody else is playing at the moment. We both have, on our desktops, folder with rare tracks that just sit there waiting to be used one day.
We did this with our first compilation for Get Physical Music, later with our Essential Mix and now with this Watergate release. All those tracks are memories for us. With Watergate we put special emphasis on what we play in the club, what
works
and what doesn't.
It's just every shape of every room, every soundsystem, location and smell that makes some tracks pop more than others. When we were doing the mix we thought about this a lot.
What has been keeping you busy of late?
As I said the best thing in your life is if you can combine passion with your work. But the problem is if the passion changes in to obsession and you don't think about anything else. So it might sound funny but we both try to now focus less on work because we are both workaholics. And funny thing is we have better ideas and everything works better when we don't stress out and think about it all the time. We have a tendency to overthink stuff and create too many ideas. We just did the mix, there are two vinyls coming out with remixes, we have our Wooded Festival, two labels Pets and Step, now doing a compilation for Friends Of Pets ... we're putting out an EP during the summer on Pets, just remixed Maya Jane Coles. We are also now doing video for our upcoming single in October. Also we will do small tour in Poland during summer. There is really a lot of stuff. Oh ... I forgot about our 3 Channels alias and I started to do some of my solo stuff under a different name.
Are there any new producers or DJs that you're tipping for the top?
Cinthie is one of them. She is not new in the game but I really think she found her style now and it's really working well with her labels and Watergate residency.
Where do you look for musical inspiration?
We take a lot of inspiration from partying itself. From our friends as well. We are trying to surround ourselves with people who inspire us, this is our rule. Life is really too short to be dealing with idiots so after many years of dealing with people that just demand stuff, we are now focusing only on people that really want to change something in life. People that care about life and about others inspire me a lot, as do people with passion and people who don't talk about money all the time. Also people that are older but have young minds inspire me a lot. Just because you have kids doesn't mean you have to stop working on your self-development.
The best moments of listening to music for me are always when I sit with my record collection and just browse slowly and read the covers. I also love those late nights with random YouTube links.
How do you prepare for a DJ set?
Everyday. All the time, since forever.
What have been your best experiences as DJs and as ravers?
As a raver two years ago when I went with my boyfriend to NYC Downlow, I thought nothing could surprise me anymore after so many years of partying but this place was just another level. Also few weeks ago Margaret Dygas in Panorama Bar.
Best DJ experiences would have to be the ones where we DJ all night or play very long sets.
Do you have any tips for aspiring producers?
Yes believe in yourself but use the rule of GIVE GIVE GIVE. Which means you have to put something into the community and don't expect that the community will return something right away. It takes a long time to succeed and a lot of work. Also, don't try to fit in because if you do it you will always follow you. Make your own references.
Find out where Catz 'N Dogz are playing next
via their Facebook page. The
Watergate 22
mix is out now.
Photo credits - Yonathan Baraki