As one half of MOBO Award winning act Binker and Moses, Binker Golding is helping making jazz accessible to a new generation of ears.

He studied jazz at Middlesex and the Guildhall School of Music and Drama before joining up with Gary Crosby's Tomorrow's Warriors. It was here he met drummer Moses Boyd and the pair hit it off, cementing their friendship through a musical bond formed by performing with Zara McFarlane. While he's released his own music, he's achieved great success as Binker and Moses and their critically lauded LP, Dem Ones. They topped off a great 2015 by winning the MOBO for best jazz act earlier in the year.

We quizzed Binker to find out more about his inspirations, influences and why the next generation of jazz acts need to look beyond traditions…

How did you first get into music? 

I mainly remember hearing Tina Turner, the Beatles, Bonnie Raitt, Tracy Chapman, Bob Marley as well as a load of jazz and classical when I was young. Jazz was mainly Ellington, Charlie Parker, Monk and Miles Davis. The classical was mostly Beethoven, Stravinsky and Wagner. I also gravitated to hard rock music, particularly Guns 'n' Roses LP Use Your Illusion II. That had a huge influence on me. I listened to it so many times I memorised all the parts, including the swear words!

What drew you to the world of jazz?

The improvisatory element. I was genuinely fascinated with playing classical music which is what I studied as a kid, but as I got older I gave more attention to my parents' jazz records. Turned out improvising was really appealing to me. Another pivotal moment was when an uncle sent me about 10 or so jazz CDs from the States. There were some great recordings in there that got me hooked including Joshua Redman's Wish.

When did you realise you were onto something with music?

I was always in love with music ever since I can remember. I started playing saxophone at eight but I think I was about 15 when I first seriously said to myself that I have to spend my life making it. It became too difficult to imagine life any other way.

Where do you look for inspiration?

Inspiration in music is easy if you love sound. So I'm always inspired to make new music with combinations of sound that are at least new to me. Whether or not what comes out is good is another story. More important to me is motivation, particularly the fact that one day I'd like to have children and want them to respect my creative output! I don't want my future kids to listen to a record I made way back when and say 'Wow, dad was really shit'. I also don't want to let people down by not trying hard enough. By trying hard and trying to create something worthwhile I hope I can actually help people somehow.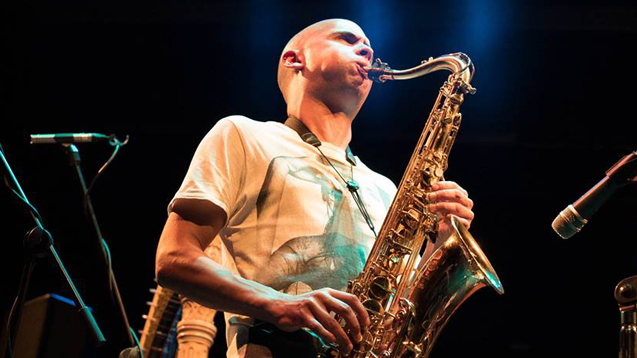 How did you two get together?
Moses and I first met when rehearsing for the trumpet player Abram Wilson. We worked with a lot of the same people so it became difficult to avoid one another. We realised that not only did we get on as musicians and as people, but we also had a similar outlook on the world of music, in particular London jazz. We spent a lot of time on the road together in Zara McFarlane's band where we really developed our understanding as musicians.
How did you make the LP?
We'd been working on the LP before entering the studio. We'd been practising on the road with Zara and done a few performances as a duo. We made a demo of what we'd been doing and the guys at Gearbox Records heard it and decided to go into business with us. The aim was to be super honest with our music. When we were developing the material one of our general criticisms of the jazz we were hearing around us was that it was trying to be too clever. The goal was to take out all the pretty sounds we'd learnt and focus on improvising with only a few primal compositional elements.
Congrats on winning the MOBO - what does this mean to you?
We were happy that our music was recognised by a mainstream awards show, even if there were no free drinks at the event! It was nice to know that there were people out there that cared enough to actually vote for us. We're hoping that it will give us a bit of leverage in our day-to-day tasks. If a saxophone and drums, semi-free-jazz album can win a mainstream award then people are more crazy than I thought.
Have you any advice for new and emerging jazz artists?
Don't lose sight of your initial goals. If your goal was to be the best saxophonist or pianist you can be or a good composer, then tattoo it to the front of your mind. It's very easy to lose sight of that.
If you can just about financially survive by doing things you believe in then eventually something will happen (hopefully), but it can be a long and sometimes depressing road. It usually takes about 10 years or so after leaving music school to get anywhere and even then you have to have been drilling the same thing all that time to even get a shred of success.
Is the jazz world in good health?
Yes and no. There's plenty of interesting music being made but you really have to search for it if you're not on the scene. Mainstream culture is really doing us no favours, so don't expect it to come to you, you'll have to go find it.
There are certain aspects of the contemporary jazz scene I could do without. For example youngish players pretending they're living in the forties by dressing in suits, only playing old
repertoire
and taking tinted photos of themselves attempting to look like they're signed to Blue Note. I ultimately see all of that as pandering to an audience that has nothing to do with us.
I'm surprised jazz musicians haven't learnt to be themselves by now. I often feel some have completely forgotten they're supposed to be artists because they're so blinded by 'the tradition'. We have to find new places to perform if we're to survive long-term. Playing the warehouses and trendy art spaces in the likes of Hackney and Peckham is a good start.
What does the future have in store?
For Binker and Moses we're certainly looking towards album number two. It will be quite different to
Dem Ones
(I think). We're certainly not going to make the same album twice. Apart from that I'm working on a number of classical chamber compositions and I'm hoping to record a quartet album at some point under my own name, but I'm working on getting the material right and I'm a relatively slow writer.
binkergolding.com