'I wanted to be a bomb disposal officer. I wanted to be in the army', says grime legend Big Narstie in our interview.

The military's loss is definitely grime's gain whether he's taking the piss or not. Narstie may be one of the largest personalities in UK grime, but it's now his music which this mike man is becoming increasingly loved for.

His recent collaboration When The Bassline Drops with Craig David saw him breach the top ten in the UK singles chart and bodes well for his forthcoming solo album, due to drop at some point this year. Narstie's achievements include winning Urban Music Awards' Best Grime Act Award for each of the last four years, creating The BDL (Base Defence League) movement plus a MOBO nomination and becoming one of grime's most beloved commentators.

We caught up with Narstie for a weird and at times wonderful 20 minutes to get his take on grime, success and how 'people power' has got him to where he is today…

How did you first get into music?

It was through my family initially, but grime I got into through my cousin. N.E. rest in peace. Then through my youth club and youth projects in Brixton.

I wanted to be a bomb disposalist, I wanted to be in the army. But then I got into music. I remember the first time I saw Pay As You Go at Fridge nightclub in Brixton.

What was the moment you realised you were onto something with your skills behind the mike?

When I was outside this primary school kids, they came up to me and said 'you're Big Narstie'. These little kids went up to me and knew who I was.

Which new artists are you tipping for success?

P Money, yeah man and up north, I'd say, Mayhem, Deadly, Hitman. There are plenty of new guys who are still pushing the envelope.

How have you sustained your career?

By having faith in what I do. And keeping some integrity about myself man. And believing in what I do. At the beginning not everyone knew what I was about. When you get me, you'll either love me or loathe me. You'll never be inbetween about me. Do you know what I mean? I'm like marmite. But I'm a genuine person.

Real people in the music industry can sometimes be lacking…

Yeah man, my whole way into the industry was built through people power. I don't have an uncle with a lot of music industry friends. I've had to come in and work my way up. What was instilled into me by god and me mum was that I get on with people. And yeah man I'm the true example of the words 'people power'. I'm only in this position because people like me. And had time for me. Do you know what I mean?

So social media played a big part in getting yourself out there?

Yeah definitely. Definitely. I've got to be seen. You can't really show your whole self in a song.

Have you had to plan it as a strategy - or do you post as and when?

I take life as it comes - that's how it is with my social media. Whenever anyone's like 'you're cool or blah blah', it's a bit mad to me. None of my stuff is rehearsed. I just keep it true.

That authenticity and integrity is important isn't it?

Definitely. I can't be anything else than what I am. I'm a fat black kid from Brixton. If I pretend I'm Tom from Lancaster Gate, it isn't going to work out.

Is it easier these days for artists like yourself to survive and thrive in the music industry?

Yay and nay. Because there are no short cuts. I'm a funny person and I have a lovely personality. But if I wasn't talented or making music then it wouldn't work. Do you know what I mean? It's like you could be fucking Elvis Presley but if you don't go to the studio, make music and work at it, it ain't gonna happen. Do you know what I mean? Nothing will sustain. Social media has made the music industry bigger so more people can fit in. As much as people say that's a bad thing because there are too many people I think it's a good thing. Cos if you're constantly hearing shit stuff when you hear something good, fucking hell man, it's a breath of fresh air to the ears. If everyday you ate Iceland oven food, then you went to Five Guys and got a bacon burger bruv, it's fucking next level stuff.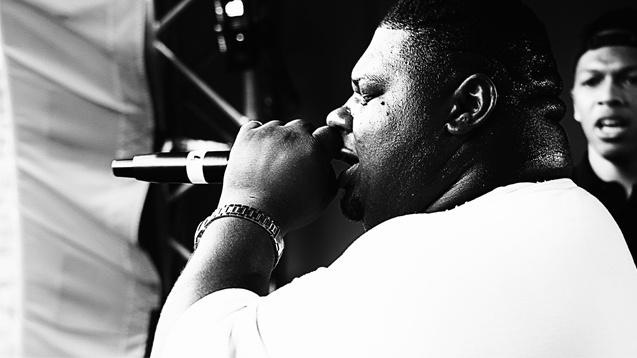 What have been the highlights of your musical career?

At the Godiva festival I put 12 people in hospital and made four girls faint. I tried to get 20,000 people into a 2,000 people tent. That was fucking nuts mate.
Is performing where you're at your best as an artist?
Yeah man it's good to have a good vibe. I want people to enjoy my music and it not be like an art museum. When you just look deep into a picture and think about stuff. Playing live you've got 45 minutes to act like a total twat and be proud of yourself. Do you know what I mean? Let's have a good time. If I can make someone vomit or have a banging headache or hangover in the morning, then I've won man.
As a grime artist, is there any money to be made from your music – or do you just use your music as a calling card to get people to come to gigs?
It's a bit of both. It's hard to sell music these days. Everyone just downloads for free. But the reason why people bought albums by Biggy Smalls was because they had a connection with them. It was more than music. You actually wanted to support them. My Uncle Pain DVD, yeah, has been out for a year and a half, it's sold out three times, it's never been bootlegged. You right now can't search for it on the internet, not one person has leaked it. That's not because of any PR thing. It's to do with love from the people. If people feel what you're doing, then they will support you. I can't force people to care.
There's been a lot of talk about grime having this revival - what's your take on it?
It's back in the spotlight because of me. Like, three years ago I organised the first official grime UK tour independently. Four or five years ago no big promoters would dare put on a grime event because of the 679 forms getting closed off and police shutting down events. I put on two independent tours last year. There wasn't a fight or any bad energy at all. You get what I mean. The problem with grime was all the events got locked off and no promoter would dare risk their bread and butter and put on a full on grime night in case the police shut it down. All the promoters would do is book one grime act and mix it up with a couple of house DJs. I brought fun back to the scene.
Do you think you've got enough credit for this?
Nah but a martyr never gets enough credit at the start. Nah what I mean? I haven't got enough public credit but I've got enough life credit because the thing that I worked hard for is paying my bills and making me live. You get what I mean. So I don't really care if people aren't shouting my name from the mountain tops.
Has music saved you?
100 percent. I would never have visited so much of the world without music. Remember, before music most black kids from ghetto communities only thought they could get out by being a footballer.
Who is on the album?
I've got some other artists guesting but I want to keep it a surprise.
Is it important to do an album?
100 percent. For all artists, it's important to do an album. You're releasing a body of work. You know what I mean? All your music is there. It's a big artistic statement.
For new MCs, have you got any tips or wisdom?
Manners will get you further than money can. Manners and respect will get you so further than money. Get used to the word no. Do you know what I mean? Don't be deterred. You're going to get told no a lot. And number three - have faith and be persistent in what you do. Yeah man. Definitely. And have faith man. Have faith.
bignarstie.com
Watch the video to
When the Bassline Drops.