Beatrice Dillon is a London-based producer and Somerset House artist-in-residence, whose mutant beat-making and discreet way with sound have created some of the most memorable electronic moments of recent years.

Her command over a chunky kick drum and shuffling hi-hat throws thrilling new light on the techno genre now 30-plus years into its lifespan, while her oblique melodies pull in flavours of everything from jazz to folk.

We first heard about Beatrice around time of 2012's Folkways II release, her tantalising trip in the obscure archives of the Smithsonian Folkways collection.

Since then, she's been busy pushing boundaries either through her solo work or via collaborations, including a gloriously pared-back series with Rupert Clervaux and standout pairing with Call Super on Inkjet / Fluo.

Through lauded releases via The Triology Tapes and Hessle Audio, live appearances alongside Ben UFO and Lena Willikens, and a regular show on NTS Radio, her sonic dexterity is now raising her chips on the growing global festival network.

Having already played in Cairo, Moscow, Athens, Montreal, Tokyo and Tasmania over recent months, she's also hitting up Ukraine and Spain this spring.

Here, we grab five minutes with Beatrice to get to grips with her boundary-breaking approach to music and learn what keeps her anchored…

Do you think electronic music is geographically anchored to the place it's created in, or is physical space irrelevant?
I've been very influenced by London where I'm from - the collision of stuff going on here, but I think the freedom of electronic music is in the way that (to a degree) it's weightless, owned and repurposed by anyone anywhere who has access to a laptop. So, what starts as local seeds, in say London or Bristol or Detroit or Sao Paolo gets quickly blown up to a global conversation. As an artist, for me this is the most exciting aspect of our times. Who wants to have a conversation with only your neighbours?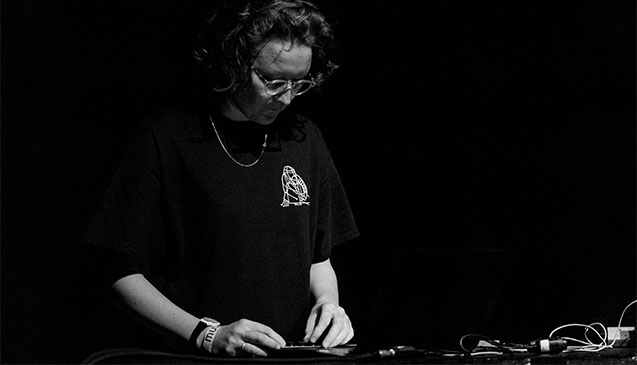 Do you feel part of an international electronic music community?

I feel part of a London-based music community that is intrinsically linked to, indebted to and inspired by worldwide artists.
In the last few years, it's been a privilege to perform internationally and I feel ashamed that world-class artists wanting to share their work have been regularly turned away at British and European borders.
How did you first come to play/perform overseas and how does the experience differ from the UK?
Doing my NTS show has been a great way to share mine and other artists' work. My first overseas gigs were extremely exciting and that hasn't gone away. I've had some very special experiences performing live and DJing internationally to a diverse range
of audiences in clubs and art galleries, music halls, festivals etc.
Some of my most memorable gigs have been in the middle of the night in Cairo, Moscow, Athens, Montreal, Tasmania etc. I'm super excited to be performing in Ukraine and across the UK and Europe in the next few months ahead.
How are you inspired or influenced by your live music interactions overseas?

To perform your own music live overseas is a total honour, to do what you love somewhere new, and be welcomed is amazing. I've made friends along the way, collaborated with new artists, been directed towards new ideas, new equipment, new approaches.
Beatrice Dillon plays at the NTS 7th birthday party on Friday (20 April) at Electrowerkz, London, and All Points East Festival, London, on 26 May.
http://www.dillonwork.com