Agit-punk quartet Bad Breeding have delivered an early contender for Album of the Year with their frenetic new LP, Divide.

Landing tomorrow (7 April), it's a fast and furious postcard to post-Brexit Britain, a nod to the chaos and calamity that ruled the referendum and defined the ensuing fall-out.

With tracks such as Loss, Leaving, Entrenched and Whip Hand, they confront our confusing times head on, letting personal introspection and political nous shape their message. Theirs is a vital voice, cutting through the background noise with visceral lyrics and a relentless rhythm.

To celebrate the release of the record, Christopher Dodd made us a collage explaining the band's motives. He also lets us in on their musical manifesto in our Q&A below…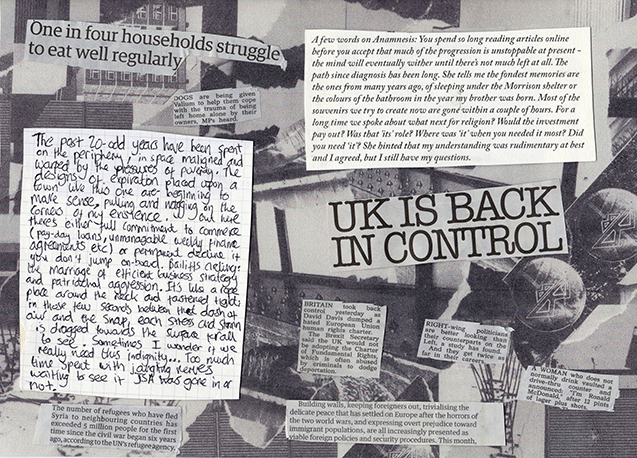 What goes into a Bad Breeding track?
There's no real science to it. We tend to work on parts at home and then come together to draw things out from what people have made on their own. Once there's a base to work from we'll just crack on with it together as a four. I'd like to think that we're not too precious with what we make, as long as the initial idea has some substance to it and we can justify it as an idea then it's already halfway there. With work and other stuff going on, we don't usually have the time to craft and spend hours stressing over parts and transitions. Working fast has always been pretty necessary.
What's the thinking behind your new record?
It was put together under the narrative of the referendum on Britain's place in the European Union so some of the songs have been informed by those debates. That period last spring conjured up some particularly conflicting ideas and arguments and Divide sought to mirror some of that uncertainty. It's not totally political, though, and some of the songs on the record deal with our own personal difficulties too. One thing we wanted to progress from the first record was examining ways of threading pieces together more conceptually. Making it during the past year obviously presented us with some obvious political and cultural ways of shaping that narrative, but we also wanted to do that through production too. Working with Ben Greenberg was perfect in that sense, it opened up the opportunity to explore some of the more industrial language we wanted to sit beneath the songs.
How does the outside world influence your sound?
Most of what I do lyrically is dependent on a lot of broader discussions and conversations being had. As a group of four people we're quite insular, but most of what I have tended to write about has relied on events beyond us. In terms of the sound, I think that detachment that we encounter here in Stevenage is particularly important. Being from a place demonised by certain elements of the media and abused by policies implemented by successive inadequate governments is always going to have some sort of bearing on your creative output. There's a lot to write about here.
What purpose/s does music serve in the world?
I think that's a matter for the individual. We're so inundated with content that finding things you like or don't like has never been easier. For some it's just another part of the consumer wheel, while others hold it more dearly. For us as a band it's a form of release, an outlet from work and the chance to explore particular emotions that other people might be feeling too.
How do you want people to interact with your new record?
In some ways our opinion of what people should do with it is irrelevant. Once it's made and out there to listen to, people are free to do whatever they want with it. We've always been careful not to be too 'preachy' - most of what we make is us trying to make sense of what's going on around us. The content is subjective and open to interpretation once it's out. I guess we'd hope that people come away from it with some sort of opinion one way or another, whether they enjoy it or hate it. Indifference would be a failure in that regard.
https://www.facebook.com/badbreedingband
  //
http://anageofnothing.tumblr.com
Bad Breeding's Divide is out on 7 April via La Vida Es un Mus. Order it here https://lavidaesunmus.bandcamp.com/album/divide-lp
The band will also host a two-night residency at London's Sebright Arms on 14 and 15 April, and have announced guests for each night: Friday 14 April - w/State Funeral and Drahla Saturday 15 April - w/Runt and Hotel Lux