'He's already explicitly said, he's not going anywhere with me and an angle grinder.'
Arrows of Love's Nuha Ruby Ra is sat up on the
PRS for Music
terrace with her bandmate Nima Tehranchi, chatting about her experiments with industrial equipment to create some of the bands' caustic sounds.
Replicating those sounds for stage poses its problems she admits, but then that sense of fearlessness is exactly what makes Arrows of Love such a dangerously exciting prospect on the live music scene: jarring, upfront and deeply passionate, their direct live style has earned them supports for The Fall, Buzzcocks, The Wytches and more.
Led by the co-writing pair, the five-piece released their debut album,
Everything's Fucked
, to critical acclaim in 2014 and unveiled their eagerly anticipated second album,
PRODUCT: Your Soundtrack To The Impending Societal Collapse
back in August this year, both via their label and publisher I'm Not From London.
Exploding with roaring guitars and fervent lyrics, it continues the punk meets poetry attitude of its predecessor, cranking it up a notch with critiques on modern life, philosophy, politics, and social apathy.
The band's own sense of social responsibility was put to the test during the album sessions when their warehouse community at Vittoria Wharf was threatened with demolition.
Along with a slew of local artists, they spearheaded a campaign to fight the closure, hitting local and worldwide headlines in the process.
Here, ahead of their November UK tour, Nima and Nuha chat about the band's beginnings, digging deep for their live shows, and how funding from PRS Foundation changed everything for them...
https://soundcloud.com/arrows-of-love/sets/product-your-soundtrack-to-the-impending-societal-collapse
How did the band begin?
Nima: I started Arrows of Love and it was a bit of a ragtag, you know. I use the 'Band of Gypsies' phrase – it was a kind of a ragtag band of gypsies, people from different bands... It was the end of my last band and we had a show booked at Secret Garden on the main stage. I had all these songs and then I was like, "I'm going to play that show still."
So I just went up and made that the first Arrows of Love show, and then kept playing with different people. Then me and Nuha met at one point – the first album was us and two other people with a revolving guitarist. After that album, we just sailed through. We just had such a massive overlap on songwriting ideas and compatibility as well. Like bringing different things to each other, as well as having a lot of things in common. If we heard something and felt it was good, then you knew it was good, because we sort of challenge each other.
Nuha: Because we've both got exquisite tastes!
What bands do you both share a common love of?
Nuha: The new one that we both really like is a band called
Idles
. They're a band that we came across a few months ago, and kind of immediately fell a little bit in love with them, because they make great music.
Nima: There's another really great new-ish current band from America called Ho9909. It takes about half an hour to realize why they're amazing. You can't just listen to one song. Genre's not that important to them – it's sort of grime, hip hop and a mish mash of stuff. But then live they've got a sort of Rage Against the Machine style drummer and it's like a Black Flag gig.
With older bands, we've both got a lot of love for Shellac. One of their members has just mastered this album. Also David Bowie... the list starts to get really wide.
The lyrics to Beast include the line: 'We've seen the shit that's going on out there, it's fucked. Are you going to get up and throw some stones?' Was that written in reference to the Save Vittoria Wharf campaign you were involved in?
Nima: It wasn't actually, no, it was before. Definitely it felt very relevant when we were recording it.
Nuha: The feeling was in the waters in general and then it became a lot more relevant as life unfolded around us.
What was going on at the time of writing?
Nima: The writing took place over about a year and a half. We were doing a bit of touring, doing our first shows in America. As a band we were kind of like going out and then coming back and retreating in that place, Vittoria Wharf. Politically, I think we were seeing the same issues as now. People like Trump got in power and we saw evidence of people being pushed to one side in our local area.
The idea of those lyrics, is very much 'don't just stand around and watch: do something.'
Nima:  Yes, that's why I got involved [with the campaign]. I would have felt really sick with myself if I hadn't. When it was so obviously wrong, they had this very old plan and it was really disrespecting what people had brought to that area and what had become of the place. It had been recognised as this national asset of community value and all of that was disrespected.
Do you think musicians and artists have a responsibility more than others to get involved with community issues?
Nuha: More than others is maybe not something I would necessarily say, but I think that musicians and artists have tools where they're able to be more involved visibly and vocally. So, maybe in that respect they have more of a duty because they have those tools.
Nima: Yes, I'd fully go with that. For me, it's been hard, because I do think the world is in a bit of a dark place sometimes when I look around. For me, I came to the point where I was like, "Can I really justify focusing so much or all my energy on music or art?" Because it's my personal view that we're not going to get out of this shit by just making nice things. Do you know what I mean?
Nuha: They don't have to be nice!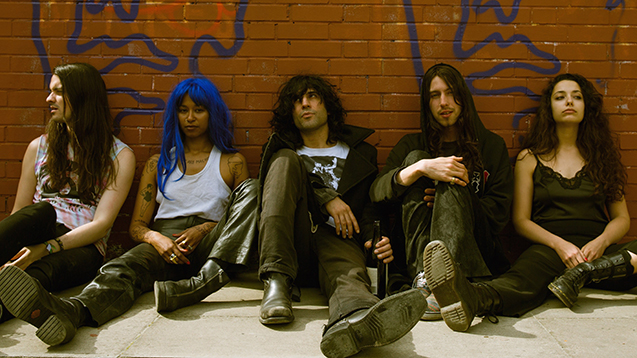 Your album titles are very unapologetic with what they say about the world. What impact do you hope to make?
Nuha: We're a cheery bunch! Rallying up troops, definitely: we've got to incite people into action in some way. But I would say that still wasn't the intention of making the album, to incite to action. It's just naturally been that way because of just how, I guess we feel.
Nima: For me with art, it's good to go 80 percent of the way and leave the rest of it to be decided by whoever's listening or watching or reading. So hopefully there are just some things that naturally provoke thought stimulation and people can answer their own questions about what they want to do. It's not like preaching from a soap box or whatever.
There's a motoric, industrial element to your music.
Do you take sound inspiration from your environment?
Nuha: I definitely do, yes. It's a big thing for me in general, in music making, to take inspiration from sounds. Just general sounds that surround me, rather than being melodic.
Restless Feeling 
is the one where it's maybe a bit more evident in the recording at least. When we started recording it, I sort of took the riff away and made the song structure and sounds out of a lot of metal that was around us and saws and wood. Where my studio is, we had a lot of wood workers and metal workers. So I was constantly surrounded by scraps of metal and angle grinders and all sorts of things like that, which are really pleasing for me to hear anyway.
Nima: Then the challenge comes when Nuha turns up to rehearsal saying that she's bringing incredible amounts of wood, saws and random industrial equipment onto the stage with us at the next gig!
Nuha: It's still a little problematic to know exactly how you're going to do some of the live set-ups on some of the songs!
Do you actually bring that stuff to stage?
Nuha: There has been one failed mission. We decided to do it in the smallest, most DIY gig that we played for a very long time. It was definitely the wrong place to try this out! We might try and give it another bash at Electrowerkz.
Nima: Don't make promises you can't keep.
Nuha Ruby Ra: I know! Exactly. It's not a promise, it's a thought at this point. Nima looks like, "No." He's already explicitly said, he's not going anywhere with me and an angle grinder.
Nima: No, it was a chain saw. She said as a joke, "I've got this new part that involves a chain saw." And I was like, "I'm just saying 100 percent right now, I'm never going anywhere near you with a chainsaw, not even the taxi."
How do you prepare for your live shows?
Nima:  For me, I do a certain quota of alcohol. I think it varies, but sometimes, a bit of quiet space before a show can be good to get into your own zone. For me, I actually bottle up and store all the angers that I end up feeling in that day. It could be something as ordinary as getting a parking ticket. I don't let go of those angers, I just hold them up until I get to the stage and sometimes I go a bit quiet.
Nuha: Yes. I think generally the not talking to people that much before has helped. I find it very hard communicating with people that much before playing a show. I don't know whether it's to do with our band in particular and the music that we do, but in band situations, I am quite a lot moodier.
Nima: Somebody put it to me really well once: he'd seen us play a show and he was talking about how as artists, you tend to dig deep inside and pull out a part of you that's not necessarily the part of you that's always obvious to other people. And I think that's kind of it. If you're having to socialise before a show, you don't have a chance to go deep inside and bring out that part of you, if you know what I mean?
Nuha: You're kind of like a vessel for whatever it is on that day. There have been some gigs we've had, where I've been a lot more subdued. It's not always, "I have to switch on crazy, angry Nuha." Naturally I am like that, but there have been many times where it's been a very introverted side that has been needing to be present at that point and I've gone with that instead. It's kind of more tapping into your truth a bit for me, before going on stage. Just being as real as possible with what I'm delivering. And that can vary in a lot of ways.
Nima: Definitely, like we don't go on and pretend to be anything that we're not.
Nuha: No, exactly. That's very, very important. There's nothing I dislike more than watching bands and I see them forcing whatever it is that they are trying to be, because you can always see through that. It's always very, very obvious. So, I think no matter what it is, whoever you are, it's important to be honest with that as a person when you're performing to people.
You just get more comfortable in your own skin and with your own emotions, not feeling inhibited. People are going to judge you – like who gives a shit? Just be whoever you are. You're not doing it for other people you're doing it for yourself, that's important.
How has PRS Foundation's Momentum Fund helped you?
Nuha: My God. We wouldn't have made an album really. Well, it wouldn't have been anything like this album.
Nima: It gave us the option to take up possibilities that we wouldn't have been able to take. Like working with our producer Mikko. It's also been the support, you know. PRS Foundation awarded us the Momentum thing, but also helped us get to America as well. We went and played the CMJ showcase and while we were there, we ended up getting so many show offers, that we had to say no to a couple. It was insane and we ended up signing to a booking agent and publicist out there because of it. It's actually allowed us a platform physically in territories which became really influential on our paths.
That day that I received the email saying, "Your application had been successful, we're awarding you £13,800," I was sat on a mattress on the floor of this studio: anyone would have thought it was a squatted studio. I had 60 pence in my bank account, I had nothing on me. Any money I was getting was going into the band and not for me. I just remember my hands were shaking when I was reading it. I had about an hour or 45 minutes, where I was just like… yes!
It puts the wind up your sails, basically doesn't it? It's like you might know that you're quite a good sailor, and you might be on this ship in the middle of the sea but there's just no wind left and, "I don't know how I'm going to get to shore." And then suddenly this massive wind turns up and it was basically like that.
So what's next for the band?
Nima: We've got a few weeks in Europe, a possible trip to New York, and then coming back for another couple of weeks of touring around the UK. That's when the vinyl edition will be ready for everyone as well. In the meantime, we've got a couple of plans for two different EPs and hopefully the next album in about 12 months' time.
www.facebook.com/ArrowsOfLoveMusic
Upcoming shows
Nov 22: Rough Trade, Nottingham
Nov 26: Fulford Arms, York
Nov 29: Electrowerkz, London
Dec 02: Heart Breakers, Southampton
Dec 03: The Old England, Bristol
Dec 04: The Musician, Leicester