As a composer, saxophonist and educator, Andy Scott has enjoyed a musical career at the top of his game for the best part of 30 years.
Andy is a busy man as tenor sax for the Apollo Saxophone Quartet, performer and composer with ensemble, SaxAssault and one half of an experimental duo with percussionist Dave Hassell. At the same time he's composer in residence with Foden's Brass Band and a tutor at Manchester's Royal Northern College of Music (RNCM).
A past
British Composer Award
(BCA) winner, he was nominated again in 2015 for his work
A Child Like You
. We caught up with him to find out more about the piece and on his thoughts on the world of composition. Look out for a performance of the work at the forthcoming
RNCM Brass Band Festival
on Saturday 30 January 2016…
How did you first get into music?
I came from a musical family, my grandparents both played piano, improvising to black and white films. My dad was a clarinettist and organist who went to the Royal College of Music and my aunt a cellist who studied at the Royal Academy of Music.
I ended up playing the saxophone because I suffered from asthma as a kid. A doctor said this kind of exercise would help my lungs but I've no idea why I specifically went for the sax. But learning how to control your breath when playing a woodwind or brass instrument can definitely help you if you are an asthma sufferer.
How did your love for music develop from there?
I think it depends a lot on how inspirational your teachers are when you're young or when you start an instrument. Some people will be quite emotionally fragile when they begin and could be put off by one bad experience or comment so teachers are crucial in the early stages. I was lucky that mine were incredibly passionate about what they were teaching.
I began playing in big bands from the age of 13. I lived in the Poole/Bournemouth area and I was very fortunate to have Bill Brown as my saxophone teacher, and Bob Hayden-Gilbert as my school music teacher.
From my mid-teens, I was composing, arranging, transcribing, playing the saxophone and starting different ensembles. Essentially, 30-plus years later, I'm doing the same thing!
Was there a point when you realised music was going to be all consuming?
Well I wasn't particularly bright academically so it almost felt like my only option. I loved music and was involved with music all the time, but not through thinking about it or working out a career path. They key thing for me that continued my musical development was going to music college.
My family were based in Manchester and Liverpool, and relocated to Bournemouth after my dad was offered a head of music job. I had no real guidance or advice about higher education and for some reason I just applied to the RNCM in Manchester. A crazy gamble. They didn't offer me a place so I took a year out and practised, and thankfully I was offered a place at the RNCM the following year. There was something about the RNCM and Manchester that just drew me in.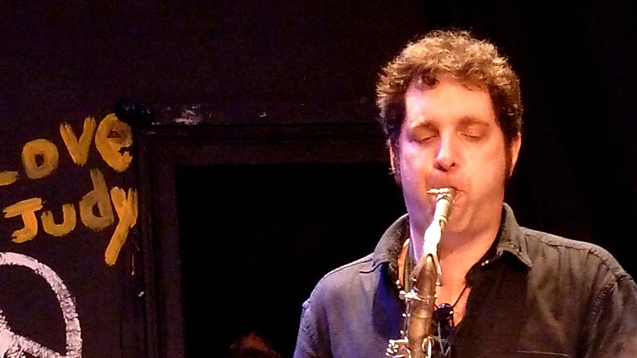 You've worked across a whole huge spectrum of music - what have been the most enjoyable situations that you've worked in?
Playing in the Apollo Sax Quartet is and has been fantastic. We started it in the first week of studying at the RNCM (in 1985) and to this day it strives to be creative, commissioning 100 plus
works
and touring worldwide.
In 1994 the iconic Manchester music venue Band on the Wall (BOTW) approached me to write music for a new group. Ian Croal, BOTW artistic director at the time, suggested a large saxophone group with rhythm section. Last week we recorded our third (and first studio) CD, which will be released in October 2016. I'm really excited about it; the release will feature; Gwilym Simcock, James Pusey, Laurence Cottle, Elliott Henshaw, Rob Buckland, Krzysztof Urbanski, Simon Willescroft, Dave Graham, Mike Hall, Rob Cope, Chris Caldwell, Jim Fieldhouse, Carl Raven, and saxophone legends John Helliwell and Barbara Thompson. It's a real honour for me to play with and write for these amazing musicians!
I love working with percussionist Dave Hassell, we have an experimental duo that has taken us to Mexico, USA, Europe and the UK, and I enjoy experiencing different musical worlds when writing commissions for different soloists and ensembles, such as Foden's Brass Band, guitarist Craig Ogden, flutists Paul Edmund-Davies, Clare Southworth and Andy Findon, and it's a continual learning curve when opportunities arise to work on creative collaborative projects with the likes of the US saxophone giant Bob Mintzer.
I'll never forget the first time that I played with the Halle Orchestra, sitting in amongst 80+ first rate musicians that are playing incredible
repertoire
, it's spine-tingling to be in amongst the sound, and petrifying at the same time! It was a privilege being the soloist with the BBC Concert Orchestra performing Concerto for Stan Getz at Richard Rodney Bennett's 70
th
birthday concert, with him there, and him playing piano with me in rehearsals.
It's a fine balance, the thrill of being given the opportunity to work with virtuosic and creative musicians, the responsibility of working with younger musicians, giving guidance and the benefit of experience, set against the reality of trying to earn a living. The name of the game is still survival, and as I mentioned before, music chooses you, you don't choose music, which is why musicians devote their lives to their art, it isn't simply a job.
A Child Like You is one of your recent pieces and was nominated for a BCA - what were the motivations behind it?
I was very grateful for the opportunity to be part of the PRS Biennial in 2014, one of twenty composers that was commissioned to write a 15-minute work, in my case scored for Foden's Brass Band, soprano Anna-Clare Monk, harpist Lauren Scott & four members of Foden's Youth Band, conducted by Michael Fowles.
The title came from when Ugandan Asians sought refuge in the UK and other countries. In 1971 there was an appeal on the BBC news asking for people to take in a refugee, which my parents acted on. A week later, a 17 year-old Ugandan Asian arrived and lived with us. Looking back it was a really courageous decision. If you think what he must have been going through at 17, literally fleeing the country for his life, only allowed one suitcase, having to leave everything else behind. He didn't see his parents for years. This was also the seventies where there was more racism in the UK. So credit to my parents for doing this.
In terms of the piece itself, this was the first time I'd written words, and I attempted to bring the different emotions associated with such a real story to life musically.
What else has been keeping you busy?
I divide my time between writing, gigging, teaching at the RNCM and at specialised Saxophone Days worldwide. It's great to teach at the Royal Northern, having studied there too, it's also one of the leading art centres in the UK.
Commissions are carefully planned for the next 18-24 months, this year I'm excited to be writing a concerto for the American trumpeter Rex Richardson, and a concerto for guitarist Craig Ogden.
The essence for me of surviving financially and developing as a musician is listening, learning, communication and collaboration. You're always a student of music!
Is it harder now to make a living from music?
I think that the music business is ever-evolving, it's exciting. Unfortunately what is sadly lacking is music education at a primary school age. This is tragic, as young people are being brought up without developed listening skills, which in turn allows an acceptance of mediocrity, and allows the more commercially-minded sharks out there to take advantage. They have no soul, which is something that money can't buy!
If we delve below the surface I know that in the UK we have a wealth of creative, imaginative and risk-taking musicians, that unfortunately don't receive the true recognition that their talent deserves. The role that the PRS/PRSF and like-minded organisations and individuals plays is vital supporting our free-thinking and creative musicians.
Yesterday David Bowie passed away. There was and is a worldwide outpouring of emotion; the power of music, the power of the creative person, power in the right hands. A true inspiration.
andyscott.org.uk