Although only just 30, singer and violinist, songwriter and composer Alice Zawadzki is one of jazz music's newest leading lights.
Her list of accolades is impressive for someone so young. Alice earned a BMus (hons) in violin before graduating with an MA in jazz voice and composition from the Royal Academy. Along the way, she's been the recipient of scholarships from the Musicians Benevolent Fund, the Jerwood Foundation and Scottish Arts Council and was asked to participate in jazz promoter Serious' Take Five Edition X artist development programme. Her debut LP China Lane was critically acclaimed and
this week will see her performing at the EFG London Jazz Festival
. We caught up with an artist doing her bit to light up the world of jazz…
How did you first get into music?
Music was all around me from the beginning - I've got five siblings, and countless cousins so there was always noise and instruments.
I became aware of music's power when I saw Russian pianist Maxim Filipov. He played Chopin and Rachmaninov and, to my five year old self, was a formidable and mysterious creature from another realm. After the concert my Dad took me to have my programme signed and there was Filipov, hands trembling with a cigarette hanging from his mouth. The juxtaposition of that image versus the man who had just thunderously changed my whole emotional world struck me as odd. At that age, I didn't understand how there could be such a duality, but of course now I do.
What first drew you to the world of jazz?
Lillian Boutte, the godmother of New Orleans jazz and gospel came to my school and did a workshop. I was about 13. It was a massive event and highlight that she would come to our little comprehensive in our sleepy town. Lillian's warmth and good vibe could singlehandedly power a small country. I fell in love with her in an instant. I was already doing music but had never really heard jazz. It seemed, then, to be the most direct way of expressing the human condition that I'd ever experienced, stronger than words, actions, or other forms of music.
What was your first big break?
Being born into a kind and loving family who care about what I do. That's been the biggest break of all. Not everyone has that or ever finds it. I agree that some of the best art comes out of adversity but I also think it's hard for talented people to realise their potential if they're not encouraged.
You released your debut LP China Lane last year - could you explain what the thinking was behind the album?
I worked hard and was quite particular about certain things, but was blissfully uninhibited about what it would end up being. It just sort of made itself and I watched it come out. I think that's a good thing about first albums. Nobody knows who you are or has any preconceptions of what they think it should sound like. I'm glad of how it turned out, and I think it's a good snap shot of where I was musically then. I think
China Lane
is the best representation of who I am when I don't have any other 'hats' on, and I really am being myself.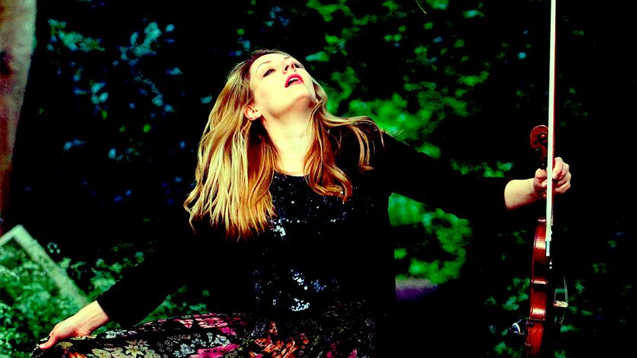 What projects have recently been keeping you busy?
I'm currently writing and arranging for a new trio, which is with Alex Roth, the super-creative guitarist who I work with on most of my projects, and cellist Alice Purton, who is a remarkable, striking musician. I adore them both. The songs have been collected and are from all over the place - different countries, languages, styles. Some of them are written by us too. But they're all about the moon. Or if not about the moon specifically, about the feminine elements - water, night, the sea. I feel like there's quite a unique sound coming to life within our line-up. Alex's luminous soundscapes and left-field electronica, and Alice Purton's sonorous tone and mercurial spirit have set fire to me and I'm enjoying the ride, a romantic and effervescent journey if ever there was one! We're recording in the new year and I can't wait for people to hear what we're doing.
Where do you look for musical inspiration?
I'm enlivened and emboldened by my musical colleagues. But I also get warmed up by derelict buildings and layers of decay and regeneration, the past and new growth. I like folkloric things and ceremonies and rituals - both old and ones that appear, unselfconsciously, in our modern culture. I'm inspired by patterns that repeat themselves everywhere you look. I like that you can see a formula in a snowflake that repeats itself in the sound of a train, or in the cycle of a relationship, or in the shape of a building.
From your perspective, is the world of jazz in good health? Are there plenty of opportunities for new and aspiring composers/musicians?
Generally, yes. It depends on your expectations and what you're willing to put in. It also possibly depends on which panel of our great huge jazz umbrella you find yourself under. It's a massive umbrella. But I don't really believe in genre. Something that worries me is the diminishing support for arts in schools, and massive tuition fees for people who want to go to university. Plus the ongoing housing crisis - this is an issue which will affect our society across the board, not just musicians.
Have you got any advice for new jazz artists?
Find the music that you genuinely love, then go for it. And if there are hard decisions to make - ask yourself if the music is right for you. Everything else will either fade away or fall into place. I read a great book by Viktor E. Frankl, who a lot of people say is the grandfather of modern psychology, and more specifically a thing called Logotherapy. It's called
Man's Search For Meaning
. It talked a lot the way a "man can put up with almost any 'how' if he has a 'why'". So all the things which can be a drag as a musician don't seem half as bad when you're really alive and present in the music - then it's the best job in the world!
Visit
alicezmusic.com
to find out more.