Brighton duo AK/DK must have some of the most well-fed ears around, having gorged them on a diet of Throbbing Gristle, Devo, Suicide and Silver Apples.
Over the last five years, they've managed to both emulate their heroes and bring a new pop sensibility to the grimy analogue blueprint – all the while emitting a barrage of wonky arpeggios with high-energy abandon.
From dancefloor beats to spacey bleeps, they throw a smorgasbord of technical nous at both their albums and live sets, winning praise from BBC Radio 6 Music and
NME
in the process.
Now back with LP number two –
Patterns/Harmonics
– and the final instalment of a UK tour tonight (Friday), they're running on a full tank with plenty more ideas to fuel the next leg of their sonic adventures.
We caught up with them to learn what's in store…
What or who is the biggest inspiration behind AK/DK?
Really the biggest inspiration behind AK/DK is our shared love of pounding drums and gnarly, distorted and delayed synths! In terms of bands, when we started out it was some kind of crazy mash up between Throbbing Gristle and Silver Apples, these days it's more like some kind of mix between Devo and Suicide.
How did your new record, Patterns/Harmonics start life?
All our records start from bizarre Dictaphone recordings we make of improvisations we come up with in the rehearsal studio. Afterwards we'll deconstruct our favourites and then reconstruct them to play them live in the recording studio.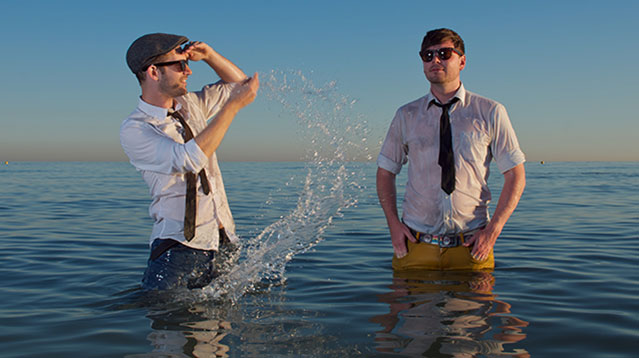 Did you have a clear idea about the sound before you started making it?
We always want our sound on record to really reflect the full-on live energy of our gigs. This means a really in your face, overdriven drum sound and big fuzzed-up synths.

How do you think your sound has evolved since your last record, Synths + Drums + Noise + Space?
The recording process has been very similar on this new record as it was with our first album Synths + Drums + Noise + Space; we record improvisations live in the studio then edit down the ideas into tracks. This time we made a conscious effort to include more vocals. Of course this means thinking more carefully about what we want to say with the lyrics, which deal mostly with ideas about consumerism, politics, and the relationship between maths & music / patterns & harmonics. The new album is definitely a more developed sound and approach compared to the almost completely live recording of the first one.

What's your worst musical habit?
Our worst (and best) musical habit is to have the distortion and delays as loud as possible on our synths - nothing beats the sound of a Roland SH-101 through a homemade fuzz pedal, swimming in analogue tape delay!

Is there a piece of studio kit you couldn't do without?
The absolute must have item in our set ups is the KP3 Kaoss Pad - it's what we use to build up all our loops live and in the studio. It's just so reliable and withstands being hit with drum sticks and having beer spilt on it! We never use pre-recorded samples live or in the studio so it's totally indispensable for our sound and style.


Any one studio item you're really lusting after at the moment?
There are always so many pieces of hardware we've got gear-lust for! You can never have enough keyboards and buying modular synth modules is a highly addictive process. Equally you can never have too many outboard distortions like the Culture Vulture or compressors like the UA 1176 or Fairchilds. We could geek out for ever about gear - it's best not to get us started!
What's the oddest record you've ever heard?
We love the freedom and experimentation of groups like Throbbing Gristle - they push the boundaries of what lies between music and noise. Of course,
Trout Mask Replica
by Captain Beefheart is a really rewarding challenge to listen to. For those really brave amongst us you can check out
Ascension
by John Coltrane for some true free-jazz-freak-out. It's not for the faint-hearted lounge listener!
What's next for you?
We're working on new material to hopefully release sometime at the end of next year. In the meantime, we'll be doing more shows in the early part of 2018 alongside another single release, as well as playing a whole host of festivals next summer - it's going to be a fun one!
AK/DK's Patterns/Harmonics is out now via https://akdk.bandcamp.com/.They play St Paul's in Worthing on Friday 10 November.2018 live dates:
24 January – Birthdays, London
27 January – The Jericho, Oxford
1 March – Castle Hotel, Manchester
2 March – Headrow House, Leeds
3 March – Patterns, Brighton