'I'm far more moved by authenticity than originality,' says Ailie Robertson.
As a composer, arranger and curator working at the vanguard of the Scottish classical/folk crossover, she's more aware than most of the country's rich musical heritage - and also the novel ways in which it can be mined.
But for Ailie, it's less about gathering together a broad church of composers just to create something innovative, and much more about joining the dots between the country's cultural past and the present.
As curator of the PRS for Music Foundation and Sound and Music-backed Echoes and Traces project, she commissioned eight creators from across the musical spectrum to respond to a 900-year-old plainsong fragment from Orkney.
The results, which included pieces from Sally Beamish, Matthew Whiteside, Aidan O'Rourke and Savourna Stevenson, toured Scotland last month to critical acclaim.
Outside of her collaborative/commissioning work, Ailie produces
works
born out of her deep love of the remote Highlands countryside, combining it with her appreciation of Kronos Quartet and Tanya Tagaq.
We spend some time with Ailie to learn more about her creative process and hear what's keeping her busy into 2017…
When did you first start composing music and what triggered you?
I came to composition relatively late, at the age of 28. At this point I had been a touring musician for eight years, spending about six months away from home each year, and composition became a way to express myself during life on the road. It was a way to communicate what I was seeing and feeling, on and off stage, and also a way for me to explore musical ideas that were really different from the music I was performing each night.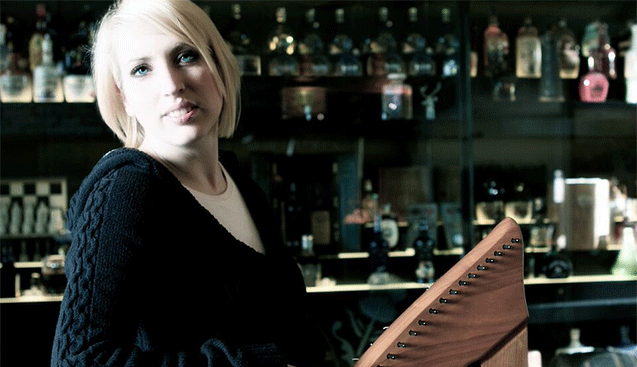 Who or what have been your biggest influences?
My influences come from a huge range of styles and sources – musically, I've been massively influenced by the folk music of Scotland, and this has led to a fascination with the music and folklore of other minority cultures around the world. Studying scores by composers such as Berio, Ligeti and Berio has also taught me so much, as well as more contemporary composers such as Kaija Saariaho, Julia Wolfe, Meredith Monk, and David Lang. But poetry, books, art, landscape and personal stories are just as important an influence.

What was the thinking behind your latest work, Haven?
Haven is a work that I hope transcends the classical/folk boundary with true authenticity. I wrote it with my good friend, Donald Grant, in mind, who is one of the finest violin players and fiddlers I know, and I knew he would be able to perfectly encapsulate the sound-world of the 'keening-style' melody that I had in mind. I wrote the piece while up at my grandparents old cottage, which is out in the wilderness on the Isle of Skye, and I think the piece is a reflection of that place for me – it's fantastically desolate, bleak even, yet the history of the place resonates throughout the landscape, and it's where I feel more at home than anywhere.

You recently curated the Echoes and Traces project – can you tell us a bit more about it?
Echoes and Traces was a project that I put together over the past two years that commissioned eight Scottish composers to write for Cappella Nova, and then took the new works on tour around Scotland. All the pieces were written in response to a 900-year-old plainsong fragment from Orkney, which celebrated St Magnus. I wanted to project to reflect the wealth of composition talent in Scotland, so my choice of composers drew on artists within the contemporary classical, folk, electronica and world music genres. It was a really well received project, reaching about 1,000 people across Scotland, and it fantastic to see people engaging with a programme of entirely new music.

I understand there's an educational strand to the project – what does this entail?
I wanted the project to engage with school children across Scotland, so some of the composers went into local authority schools to do composition workshops. I think it's so important for young people to meet living composers and to realise they are not all just dead white men! I believe it's particularly important to try to address the fall out in numbers of female composers after high school - and giving young girls the opportunity to meet female role models and talk to them about composing is a big part in trying to reverse this trend.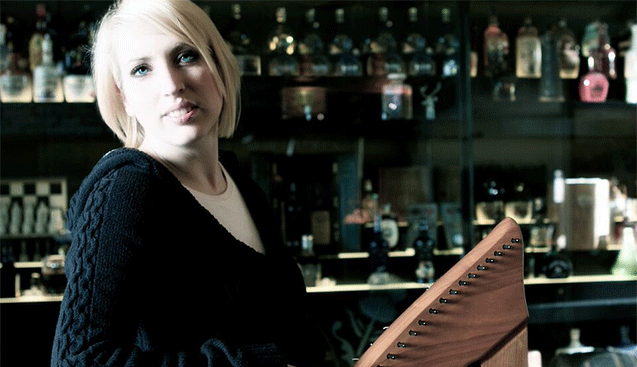 How important is it for you to celebrate Scotland's cultural history through your work?
My key personal interest as a composer has always been in finding ways to connect the past and the present to create something new. Having grown up playing traditional music, the stories, songs and poems of Scotland hold great resonance for me, and I am continually using these influences in my work. It's not always a conscious choice, but inevitably some of those folk influences creep into almost all my music. The older I get, and the more new music I hear, the less impressed I become with originality. These days, I'm far more moved by authenticity. Attempts at originality can often feel forced and precious, but authenticity has quiet resonance that never fails to stir me. And I think that's the appeal of traditional music for me.
What's next for you?
I've got a really exciting few months coming up – I'll be performing a solo show of my compositions for harp and electronics at the Huddersfield Contemporary Music Festival in November. In the new year I'll begin working on commissions from Live Music Now!, The Secret North and Celtic Connections, and I'm lucky to be part of the RSNO's composers hub, so will be writing my first orchestral work for that. I'm also heading to Australia and mainland Europe for about six weeks on tour in the new year, so it will be a busy couple of months!
Do you ever suffer from writers' block? If so, how do you overcome it?
I definitely suffer from writer's block, but I've come to realise that most of that comes from fear – fear of not being good enough, of failing, of not being original enough, of what people will think, that people will laugh at me etc. I rarely start a creative endeavour without a certain amount of fear, but I think fear is always triggered by creativity, because creativity asks you to enter into realms of uncertain outcome.
The writer Rebecca Solnit put it well: 'So many of us believe in perfection, which ruins everything else, because the perfect is not only the enemy of the good; it's also the enemy of the realistic, the possible, and the fun... The most evil trick about perfectionism, though, is that it disguises itself as a virtue.'
So the key for me has been to learn tricks to bypass my fears. Recognising that people's reactions don't belong to me is the only way for me to create and not lose my mind. If people enjoy what I've created, terrific. If not, well too bad - they can go make their own art and I'll stubbornly continue making mine!
Is there anyone you'd really love to work with?
There are so many artists I'd love to write for/collaborate with, but I think the top three on my wish list would be The Hilliard Ensemble, Kronos Quartet and Tanya Tagaq – all artists who have hugely influenced my listening over the past 10 years.
What are the biggest challenges facing British composers in 2016?
In many ways it's easier than ever for composers to get their music out there, but at the same time, the huge quantities of music available to us now can make it hard to really be heard! Also it feels like festivals have so much focus on getting the premiere of a work that it can be hard to find opportunities for repeat performances of pieces, which is sad. And of course, Brexit is a huge concern for British composers that is certain to have a negative impact for artistic collaboration in Europe.
http://ailierobertson.com/