'Someone once described our music as James Brown on acid.' Says A Certain Ratio's guitarist Martin Moscrop.

2019 sees the post-punk funk pioneers celebrating 40 years since their debut release The Graveyard and the Ballroom was let loose on the world.

Emerging as part of the UK's post-punk scene in the late seventies, A Certain Ratio (ACR) soon set themselves apart from their contemporaries via the incorporation of dance and funk into their sound.

While many bands played straight with the post-punk ethos, ACR explored everything from dub and disco to world music with shades of jazz.

Following a series of studio album reissues, and a career-spanning compilation ACR-SET, the band will mark the anniversary with the release of a box set that delves into their extensive archives.

Alongside ACR-BOX, they are set to hit the road on a UK and European tour with a two-day celebration taking place in Manchester on 24 and 25 May.

Ahead of the box set release and celebratory shows we caught up with Martin to chat about 40 years of music making, their brush with Grace Jones, and the band's legacy…

Happy 40th anniversary. How does It feel to have reached this milestone?

I wish it was me that was 40, but unfortunately, it's the band. But yeah, it feels good. I'm quite honoured to be in a band that's lasted so long really.

The best thing about it is that over 40 years we've produced so much different music, and not one album has been the same or similar to the album before. It's not just about the length of time we've been going, it's what we've put into it and got out of it.

First and foremost, you make music for yourself and if people like it then that's a bonus. ACR are a bit like marmite; people who like and understand us really love us and then you get people that are not quite sure what to think of us.


What was the process of compiling the box set like?

The first 26 tracks were quite easy. What ACR do is they never put singles on albums, so some of our most popular tracks never appeared on an album.

Because we rereleased all the albums, all the tracks that weren't on the compilation or on those albums were mainly A-sides and B-sides, so the first 26 tracks are the A-sides and B-sides that weren't on any of those releases.

The rest of the tunes were basically unreleased stuff that we had to search through and find and dig in to. There was lots of listening to analogue masters and DAT tapes, going through them and finding stuff that was worthy of putting on the album.

There's lots of little gems on there, but it was quite time consuming, going through all these masters and DATs and honing down what we wanted to put on the album.

How was the experience of remastering these tracks?

We master all our stuff at Abbey Road, all the Mute re-releases have been done at Abbey Road. They're used to doing box sets because they're quite popular at the moment. All the A-sides and B-sides had already been mastered previously, so it's all about level matching. Then the unmastered tunes we had to get them up to standard, especially the demos, they had to be more mastered than normal, and that was quite successful really.

Frank Arkwright is the guy that did the cut at Abbey Road and he's really good. We had to master one of the tunes off a vinyl version because we didn't have the masters to that, and he did a brilliant job. There were a few crackles on it which he took out. It ended up sounding great. He was really good at bits of repair work.

Of the unreleased material, what are you favourites that have been included on ACR:BOX?

I've got quite a few favourites out of the singles and B-sides and stuff that we hadn't heard for a long time. But out of the demos there's the Houses in Motion track that we did for Grace Jones, and there's a track we did for a John Peel session called Piu Lento which was never released on any of our records.

We played it live quite a bit, but it never made a record. We were really prolific in those days, so we used to write stuff and then not put it on records.

Then my other favourites are the demos that we did for the Force album. They're not that much different from the versions on the album except that the album recording sound better.

Then we've got a lot of monitor mixes and demos of tunes from the period when we were on Rob's Records, Rob Gretton New Order's manager. A lot of the stuff we did for his label were a surprise to us.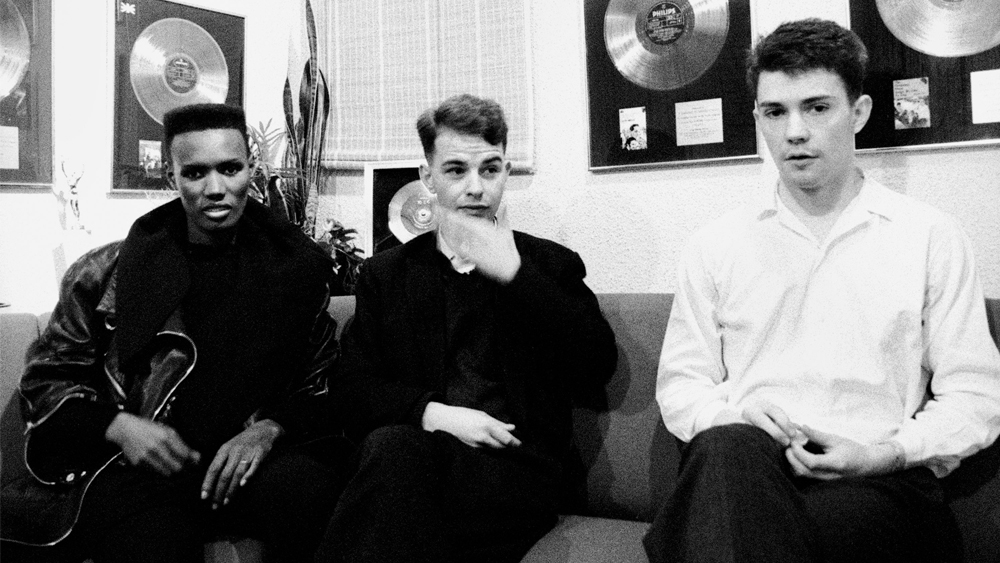 The cover of Talking Heads' Houses in Motion was originally set to feature Grace Jones. Why weren't her vocals completed and what was she like to work with?

Grace Jones came down to the studio to meet us, the day after the famous Russell Harty flap on TV. She came to meet us and listen to the track, met Martin Hannett, because the idea was, he was going to be producing her with ACR as the backing band.

She loved the way we were dressed and our haircuts, she didn't know much about our music but she like the way we looked. She was quite drunk actually, when she came to the studio.

She went away and Tony Wilson, who was our manager at the time, he said that they were interested in going to the Bahamas with us and recording an album with Martin Hannett producing. But at the time Island records was owned by Chris Blackwell and he produced all of Grace Jones's tracks. So, apparently when Chris Blackwell found out that Martin Hannett was involved, and he was going to be producing, the idea got sacked because he was her exclusive producer.

It started off as a great idea but ended up not going ahead. It would have been good to have her vocal on it, but Jez's (Kerr) vocal on it – you know he did that talking vocal – we envisaged that's how she would do it. Quite a lot of her tunes at the time had that talking vocal.

Have the Mute reissues, along with the compilation and box set, forced you to evaluate the band's legacy?

We never re-evaluate things. We were quite were quite famous for quite a few years for not doing our most popular songs at gigs. So, if someone came to the gig, they'd hear the tunes of the next album not the one we were supposed to be promoting. People would want to hear Shack Up and Flight, songs like that and we just didn't play the popular songs.

In a way we've sort of grown out of that and we like to pander to the fans a bit and make sure we play a set that they enjoy. But what's important to us now is exactly the same as what was important to us when we were 19 and that's making the next record.

We've already got nine tunes that we've committed to multi-track, none of them are finished but they been started. Once we get the live dates out the way that's the next objective is to get a new album together and make it the best album that we've ever done.

That's all that we've ever been interested in really, what's coming next and being forward thinking.


Your music is most commonly referred to as punk funk, how do you feel about the term?
In different shops I've been in around the world we've been in different sections, and different genres. The most exciting one for me was finding an ACR record in the world music section.
But I love funk punk. Anything that sounds funky with a slight punkier edge is good for me. We don't only play punk funk, we play Latin music, we've got hints of jazz in there, hints of more ethereal stuff like Brian Eno or the Velvet Underground.
Someone once described our music as James Brown on acid, which we really loved. But then again, another journalist said we sounded like Shakatak with flaws, which wasn't our favourite description of our music.
Given you've got 40 years' experience in the game, how do you feel about the health of the music industry in 2019?
Not very good with the whole Brexit thing going on. Obviously as a band we're very nervous about Brexit and we've grown up being European and part of Europe, especially with music and travelling around Europe all the time.
Europe's been really good to music in the UK and vice versa. So, it's a worrying situation.
People still want to be entertained and people still want to listen to music. The live music scene in the UK is fantastic at the moment there are loads of gigs everywhere and it's brilliant. I can go to five gigs in a week in Manchester and five good gigs. It's alright when you can get in on the guest list, I wouldn't be able to pay for five gigs a week.
The live music scene is very healthy, but it's hard to make music selling records. I'm lucky I'm with Mute and have all the back-catalogue stuff to release. Making new records for people is quite difficult. You can make the recording for virtually nothing but then trying to get something on physical release or trying to get something on digital and get it recognised and sold enough to make any money out of it is very difficult. It's hard for young bands in a music selling sense but very healthy in a live sense.
The other thing that's difficult and that we struggle with is going to the States and the fact that visas are difficult to organise. When we were younger it was so much easier. I hope that Brexit doesn't make Europe like that. We've got gigs in Europe in October and we're a little bit worried about the prospect of that.
Whatever your political stance on it, it's going to affect music.
Forthcoming tour dates:
4 May Islington Assembly Hall, London
10 May Newhampton Arts Centre, Wolverhampton
23 May Jarcaranda Records – Phase One, Liverpool
24 May Yes, Manchester
25 May Yes, Manchester
30 May Leadmill, Sheffield
1 June The Voodoo Rooms, Edinburgh
2 June Zephyr Lounge, Leamington Spa
ACR:BOX is released 3 May via Mute Records.
acrmcr.com
Photo Credit:
Kevin Cummins