Arjun Ravi reports on how PRS for Music members across India are not content with transforming both the sound of Bollywood and the wider Indian music scene – they are breaking international borders, including  performing at this year's Glastonbury festival.

'I did my first film songs with the sole intention of buying the band a Roland C303 [synthesiser],' remembers Vishal Dadlani, frontman of electro rock act Pentagram, and more famously, one half of Bollywood music directing duo Vishal-Shekhar. Dadlani represents a curious duality in contemporary Indian music. Vishal-Shekhar is one of the biggest music directing groups in the country and Pentagram is a cutting edge independent act.

As part of Vishal-Shekhar, Dadlani composes and produces songs and scores for some of the highest grossing Bollywood films of the 21st century. As part of Pentagram, he is the lead singer of an act that consistently produces some of the most avant garde independent music in the country. Both elements represent a crucial part of India's popular music macrocosm, and both are breaking through international borders.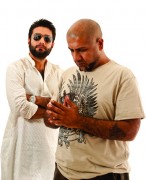 The popular Indian film industry - predominantly from Mumbai and better known as Bollywood - produces over 150 films a year. Each of these films features an average of five songs, used in the script as plot devices. These songs are composed and produced by music directors like Vishal-Shekhar and Shankar-Ehsaan-Loy, a partnership similar in stature to Vishal-Shekhar, comprising Shankar Mahadevan, Ehsaan Noorani and Loy Mendonsa.
'A director, when he comes to us, knows exactly where the songs are going to be fitted in the film,' explains Dadlani's cohort Shekhar Ravjiani. The challenge for the music directors is to create music that not only enhances the plot, but is notably different from what's being churned out by the rest of the industry, while still having universal appeal.
'The first thing we do is get a narration of the script,' he says. 'We get the vibe of the script, and try to figure out the sound of the entire thing. We figure out what kind of genre, what kind of style, what kind of approach we need to take with it. Then, depending on whether it's a sad song, a romantic song, a dance number, or a bhangra number, we start writing songs to that theme.'
Vishal-Shekhar and Shankar-Ehsaan-Loy represent a new era in Bollywood music. They rose to fame in the late 90s and early 21st century, when the industry was seeking out younger, fresher talent. In particular, AR Rahman's work in the film
Roja
was an inspiration to many budding film song composers. 'Here was one guy who had a pretty consistent level of quality and very distinct sound at that point,' says Loy Mendonsa of Shankar-Ehsaan-Loy.
'When I heard
Dil Se
[a Rahman song in a film of the same name] I was like, "Oh man, I think it's great to be in the business at the moment! It's changing the sound of the Hindi film scene,'" Ravjiani enthuses.
The "scene" he refers to was, at the time, languishing in worn out sounds that reinforced the stereotype that Bollywood music was one jangly, happy song-and-dance sequence.
Rahman is considered by many as the change agent, and his work encouraged others to explore new sounds. 'People wanted something new, something edgy, something cool. Any genre of music that we really enjoyed was being accepted by people,' says Ravjiani.
Vishal-Shekhar's music is a melting pot of everything from Indian folk to hip hop to acoustic rock, and modern Bollywood directors were, and still are, committed to capturing those influences for their soundtracks - a sea change from the days of yore. 'That was a beautiful time to be in the industry,' Ravjiani recalls. 'And right now, we're enjoying that same period.'
Both Vishal-Shekhar and Shankar-Ehsaan-Loy come from advertising backgrounds. They produced jingles for advertisements, and continue to do so, though to a much lesser extent.



energetic, vibrant and is far more representative of the current Indian macrocosm



Their careers in Bollywood took off after getting breaks from young directors looking for different sounds in their movies. Vishal-Shekhar's work in the 2003 film
Jhankaar Beats
made the duo overnight stars, and the music won a national award. Meanwhile, Shankar-Ehsaan-Loy's music for the 2001 film
Dil Chahta Hai
made the group one of the most in demand in the industry.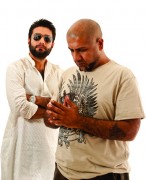 The music itself is energetic, vibrant and is far more representative of the current Indian macrocosm; the majority of the Indian population is under 30, cosmopolitan and urban, enjoying the perks of a growing economy with over 800 million mobile phone users.
The amount of music being consumed on mobiles far outnumbers the volumes of music being sold in physical formats, in revenue terms at least. A majority of this music comes directly from Bollywood. It's consumed via ringtones, caller ringback tones and other mobile based value added services that are offered by service providers like Airtel (which, ironically, is the biggest music retailer in India, not record stores). In fact, at the Global Indian Music Academy awards, a recently launched recognition platform dedicated to national music, one of the categories is the Most Popular Caller Tune of the Year Award.
Directors like Vishal-Shekhar compose an average of 30 to 35 songs a year, not including the music they produce for advertisements, corporate tracks and the rest. Dadlani, who was already in Pentagram before starting Vishal-Shekhar, and has made four albums with the band, rationalises this scale of music production.
'The advantage of Vishal-Shekhar is that you get to be a chameleon. You get to try different styles of music, different kinds of sounds. I've learnt so much musically, from Shekhar and from being part of this group. It enriches you as a musician,' he explains.
'Working within parameters, and working in a professional kind of set up where there's a deadline, where there's some sort of delivery pressure - that keeps you organised, keeps you disciplined. Even if you're writing maybe five or six films a year, that's in the region of 30 to 35 songs a year, which is a lot of material to put out. That kind of discipline helps you as a songwriter, because if you have to do it every day, it becomes part of your mental culture.'
Within the music directing process, these artists have to take on various roles, as composers, lyricists, singers and performers. Film directors are now also commissioning entire scores from these groups. Vishal-Shekhar, for example, is composing the score for
Ra.One
, starring Shah Rukh Khan and slated to be the most expensive Bollywood film ever produced.
Dadlani says: 'Scores are exciting for us when they're done in a certain way. We want about three months to work on one. We want a large chunk of money to work on it because we want to do different things. For instance, with
Ra.One
, we're recording the orchestra in Prague. So if we're doing it, it needs to sound like something special.
Ra.One
is a film that can carry that.'
Dadlani and Ravjiani also have their own eponymous record label, responsible for breaking one of the most popular artists in non-Bollywood Indian music, Raghu Dixit. The label released Dixit's self-titled debut album in 2008, which went on to become the highest selling non-Bollywood record in India in 2009.



getting a billion people dancing is surely a good place to start



'Shekhar and I looked at each other when Raghu played us his first song in our studio and we said to each other, "Dude, should we do this?", and then we went for it. We just had to get the music out there, because he deserved it. I haven't met any other artist who moved me like that,' says Dadlani.
Dixit had been trying to break into the popular music scene for nearly a decade before he was discovered by Dadlani and Ravjiani. He went from label to label with his demos, and was given myriad reasons why his music wouldn't make it.
'I was just trying to make every record label I met happy - almost going to the extent of sounding like Bollywood, but nothing really worked out,' explains Dixit. 'In fact, in 2006 when I met one major record label, I was told I wasn't good looking enough for TV and therefore my videos would never sell.'
Then he arranged to meet Vishal-Shekhar as a last-ditch attempt to make it as a playback singer, and that's when his meteoric rise began.
Dixit, like Dadlani's band Pentagram, represents the growing independent music scene in the country. Over the last decade, much like the new wave of Bollywood, independent musicians have been creating cutting edge, contemporary sounds in genres as varied as downtempo electronica and death metal.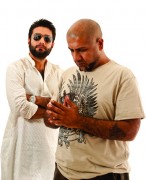 Many of these musicians have started performing at international music festivals including Glastonbury. This year, Dixit's band The Raghu Dixit Project will perform on the John Peel Stage at the festival, the biggest stage any Indian independent act has ever graced at the festival.
His music is a unique blend of Indian folk and rock, with lyrics in Kannada, Hindi and English. With themes of love, celebration and devotion, this distinctive sound has taken him from being a rank outsider to one of the biggest performing artists in the country.
The Bangalore-based musician has packed auditoriums and stadiums around India, and, over the past couple of years, he has also had tremendous international success. Following a string of international festival appearances, he performed on the flagship BBC 2 music programme
Later... with Jools Holland
earlier this year, and powered by an international
distribution
deal with Sony/ATV, his album reached number one on the iTunes and Amazon UK world music charts.
'For me to perform a Kannada song in New Delhi or Mumbai is the just the same as performing it in London because people still don't understand the language,' explains Dixit. 'The common thing people tell me after a gig abroad is that we are a very happy band on stage, which is rare for them to see. In all the joy and happiness and celebration, they see a positive message.'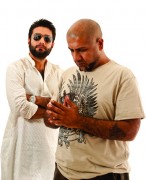 Dixit's younger brother Vasu also performs in up and coming folk rock act Swarathma. The band has performed around India since releasing its debut album in 2009, and last year toured the UK, with a stop at the Lovebox festival in London. With unmistakeable costumes and songs with social themes, Swarathma personifies the upstart indie; entrepreneurial, infinitely motivated and looking to take their music to places around the world.
And so it is with the new breed of young Bollywood producers; the Vishal-Shekhar duo often takes its live shows abroad and has been in talks to collaborate with international musicians. Two songs on
Ra.One
feature vocals from international hip hop superstar Akon, and other such collaborations are also in the
works
. For both of them, the formula for success is simple. 'First, you need to not sound like everything else,' explains Dadlani. 'Second you need a big hook and third, you need a melody that people can enjoy without getting too freaked out by it. It's not tough, as long as you can make them dance.' And getting a billion people dancing is surely a good place to start.