Rave legend Adamski gives us the inside story on how he and the then unknown vocalist Seal rode the wave of acid house all the way to the top of the charts with their number one hit, Killer... 
Rewind to 1989 and the defining sound of youth culture was acid house. Producer and DJ Adamski was a key figure in this mind altering explosion, surfing a wave of neon rave before taking the sound out of the warehouses and into the charts with his huge number one hit,
Killer
. Co-written with the then unknown vocalist Seal, the song made them both household names. Seal went on to win an Ivor Novello Award for his hit
Crazy
while Adamski established himself as a DJ and top producer of leftfield beats. Here he recalls how the pair wrote the song and transformed British pop music for good…
Back in 1989 I had an MC/flatmate called Daddy Chester. He went to an after-party one Sunday morning and returned to the flat with this cassette. He was like, 'You've got to listen to this guy'. It was Seal's demo and featured
Crazy
plus a few other songs. I recognised an amazing voice, then went on to meet him around the scene.
'Seal walked into the rave and had an epiphany about his musical style while I was DJing.'
We first came across each other at Sunrise 5,000, a massive rave at Santa Pod race track that summer. He'd just returned from doing a tour of Thailand and his mate brought him to this rave with thousands of people.
That was the biggest one to date, particularly for me to play at. Weeks before I'd been playing to around 50 people, then I was suddenly playing to 8,000. Seal walked into the rave and had an epiphany about his musical style while I was DJing. He apparently pointed at me and said, 'That's the guy I want to work with', as soon as he walked in.
We started hanging out, having a lot of fun at clubs like Solaris, which happened on Sunday evenings. I met a lot of interesting people back then, all totally psyched by this new style of music. It sounded like it was coming from outer space. Before acid house most music, apart from hip-hop, was really boring. Me and my mates were into psychedelic drugs and bands like Shriekback and dance music that was a bit mental like the Severed Heads. Acid house started coming over at the same time as Detroit techno, and it was the scene I'd been waiting for. The fun and shenanigans of it all revolved around great music and the sense of unity. It was a great leveller of society, culture and people's backgrounds.
After meeting, I asked Seal to come to the studio where I was working on demos at MCA Publishing. He turned up on his moped. It was really funny. He used to ride one with his dreadlocks with bits of silver in hanging out of his crash helmet.
He just said he'd got some lyrics which would fit over one of my tunes called
Killer
. I'd already been performing it as an instrumental, apart from when my MC turned up. In those days we'd go out every night and didn't always perform together. If I was playing in Ibiza, which I often was back then, my MC didn't have a passport sorted out so he missed those gigs. But
Killer
was the tune which jumped out at Seal. Coincidentally, the tune Seal had in mind for the track was called
The Killer
. It was really weird, especially as the word isn't in the lyrics and my tune was called
Killer
. It was named because I thought it sounded like the soundtrack to an assassination scene in a film.
I knew it was a great tune but had no idea it was going to be so massive and reach number one. It was the record company who told me it should be my next single. I had an album out at the time and it wasn't on there. The success of the song kind of tripped me up really as I had to rush to get another album ready. I wasn't ready. I was too busy performing the other music and partying, doing all this PR and promo. It was all new to me. They said, 'Let's put this song out, then come up with a load of new music really quickly'. I do work fast but that was too much. I burnt myself out pretty quickly. If I hadn't gone out every night I could have probably done a better job of it. But who wouldn't want to be going out every night during that time with that musical revolution going on? And knowing all the best parties and being invited to them? It would have taken a very disciplined young man to have said, 'No I'm going to stay in and work on the sound of my hi-hats'.
Adamksi's new album, Revolt is out now.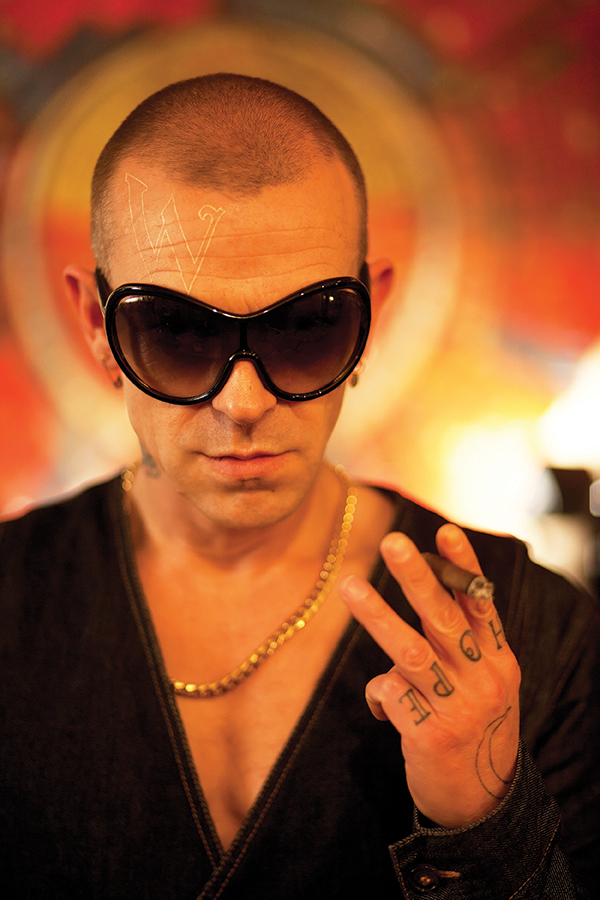 Written by: Adam Paul Tinley and Henry Olusegun Adeola Samuel

Originally published by: Tinnitus Trax and Universal/MCA Music.