London rapper Dave is one of the UK's hottest new musical talents. With only a handful of releases to his name, he made the BBC Music Sound Of 2017 list, received love from US powerhouse Drake, who remixed his track Wanna Know, and has just won an Ivor Novello Award for his seven-minute call to arms Question Time. We caught up with him and his co-writer Fraser T Smith to find out how the track came to life…

Fraser (pictured below): I met Dave when I was working on Stormzy's debut album, Gang Signs & Prayer. His managers approached me saying they had this amazing artist who they'd love me to meet. I had my hands full with Stormzy's record but we managed to squeeze in some time to hook up, got on well and put a session in. We wrote Picture Me from the Six Paths EP and we managed to continue working together as Stormzy was doing some live gigs and I had some free time.

Dave would start on piano, I would jam with him on the guitar, and we had this real musical connection from the beginning. We worked heavily on that first EP together along with 169, who Dave had been working with since doing his first ever track, JKYL+HYD. We could see how well it was received with these conscious lyrics, and I noticed the way Dave was able to touch on such brave issues.

We next moved on to the Game Over EP, which includes the track Question Time. We talked about lyrical content and agreed it was important to push the conscious, stark style, and really hone in on what he was saying. All the tracks on the release go deeper.

Lyrically, Question Time is a masterpiece, while the chords felt influenced by James Blake and Radiohead as we were looking for a dark musical backdrop. It took some time to find the right music to accompany Dave's delivery. We worked on this for about three months trying to get it right; Dave is very exacting on how he wants something to sound and feel.

We thought it'd be cool to divide the song into different sections with musical variations between each, so it became like the chapters of a book. In the first section he's talking about our own government, Theresa May, then Donald Trump, then Jeremy Corbyn.

I feel really proud of Dave for his ability to say exactly what's on his mind; I think he has the potential to become the spokesperson of his generation. There aren't many people asking direct questions of governments around the world through the voice of an 18-19-year-old – and doing it in such an intelligent way without political bias. It's an incredibly brave record to have released, and it's an incredible achievement to have received an Ivor for such a highly political seven-minute song. It's also testament to The Ivors that they can respect his art.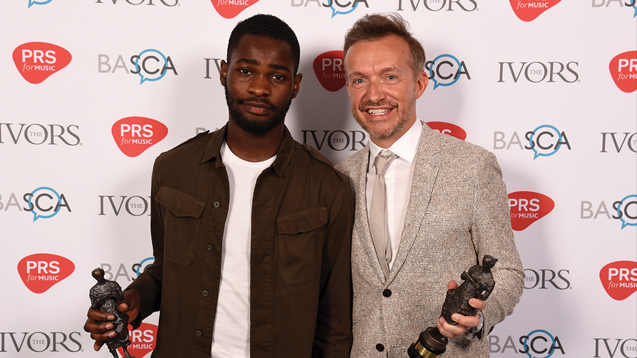 Dave: I'm not the easiest person to work with – I don't know what I'm going to do myself half the time. But when I have something in mind it all flows from there. I wrote the lyrics for Question Time backwards – it's not one I wrote from start to finish in a straight line. I kept going back to Fraser for advice about what was important, what was working. When talking about a subject as touchy as politics, something I don't know everything in the world about it, it was great to have someone like him guiding me.

I would say I'm mildly political, but I think I was feeling spicy when I was writing Question Time! It was great to be able to show that side of us and our work together. I wanted to make something that felt like a time capsule. Something I could listen to in 10 years and know that the UK was in this place, in this time. I wanted to say something that I hope will stand the test of time. There are a lot of statements made in Instagram posts or tweets that are here today, gone tomorrow. But I know that I've written a song that people can listen to and take in for years. As I've toured in America and other countries it's been interesting to see how people connect to it – people from different worlds and different backgrounds. To be able to speak for the voiceless in certain parts of that track means the world to me.

Question Time
Written by Dave and Fraser T Smith
Published in the UK by Warner/Chappell Music Ltd and Kobalt Music Publishing
Performed by Dave


This article appears in M68, the current issue of M magazine