Alexandra Coghlan meets Herbert Kretzmer, the most influential lyricist you've never heard of.

'I had no grand statements to make. Still haven't, as a matter of fact.' Wry, drily self-deprecating and ferociously bright, Herbert Kretzmer has never dealt in the grand or grandiose. He has spent a career making small, telling statements, sharpened like pencil-points to pierce truths, emotions, hypocrisies. Now 90, his speech may have slowed, but his words are still as precise, his instinct as contrarian as ever.

Herbert Kretzmer is the most successful lyricist you've never heard of. His might not be a household name, but if you've ever heard Peter Sellars' comedy classic Goodness Gracious Me or Honor Blackman's Kinky Boots, whistled along to Charles Aznavour's She or Yesterday When I Was Young, or are one of over 60 million people who have seen Les Misérables, then you'll know his work. Not bad for a 'kitchen-table' lyricist whose songwriting was only ever a side line of his day-job as a journalist.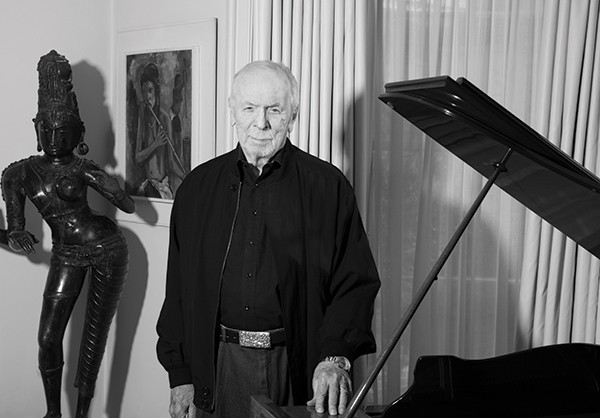 'No one is more surprised than me', he observes, as we sit in his Kensington home, 'that I am ending my life as a songwriter and not as a journalist. Which isn't to say I took it lightly; when I sat down to write I was always serious, and I felt rejection as deeply and keenly as everyone else.' He pauses for a moment, smiling slightly. 'Well, perhaps a little less keenly; I knew that I didn't have to depend on it to survive.'
'I knew at that moment that I was going to be a communicator of some kind.'
Herbert didn't know any songwriters growing up. He didn't even know songwriting was a profession – there weren't many in the tiny South African town of Kroonstad where he spent his childhood. Yet there was no doubt in his mind what he wanted from his life. 'I was young, maybe 12 years old, and I had a vision. I saw myself on a hilltop with a microphone in my hand. I knew at that moment that I was going to be a communicator of some kind.'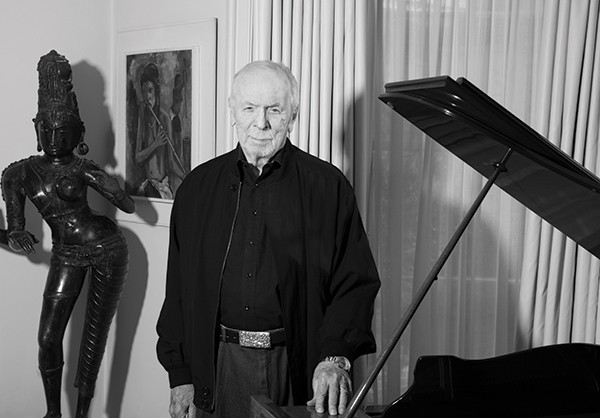 Ambition drew Herbert to London, where communication initially took the form of jobs at the
Daily Express
and the
Daily Mail
. But alongside a successful career as a critic and profile writer, interviewing the likes of Frank Sinatra, John Steinbeck and Cary Grant, Herbert's songwriting began to flourish, first in small projects ('I did one song for George Martin from The Beatles; it wasn't very good, but it wasn't too bad'), before an interview with Peter Sellars led to an unexpected break.
'
Goodness Gracious Me
took about 90 minutes to write. No, it actually took me a week and 90 minutes to write – that's more accurate. For the first week I couldn't write anything, the brief was so complicated. The song had to be delivered on Sunday, and that morning not a word was written, not a note committed to paper. The composer came round, and at about 10am I found the "boom-boody-boom" riff. Once I had that it unlocked a dozen windows and doors, and so the song was written within 90 minutes and was heard within a couple more hours by Peter Sellars.'
Although the song would go on to win an Ivor Novello Award, perhaps more significantly it also caught the attention of Ned Sherrin, producer and director of the BBC's satirical series
That Was the Week that Was
. Ned invited Herbert to write for the show – the start of a regular relationship that generated some memorable and provocative musical satire. Songs would be written each Thursday ('I could normally get an afternoon off work'), handed to the composer on Friday, rehearsed on Saturday morning before going out live on air that night. The pace was fast, and when John F Kennedy was assassinated, Herbert produced now-iconic ballad
In the Summer of his Years
in less than 24 hours.
Political protest is a continuous thread through Herbert's career, whether in the barricade songs of
Les Misérables
, the class-criticism of musical
Our Man Crichton
or his satirical lyrics – surprising, perhaps, for a man who describes himself as not politically-motivated.
'I made my statement in other ways'
'It sounds too flag-waving to I say that I am angered by unfairness, by false accusations against the innocent, but I am. Normally people who feel as I do get more involved, take more risks. But I was never quite angry enough to become a rebel in South Africa. Some of my friends did and spent time behind bars as a result. I never had that sort of courage. I made my statement in other ways.'
Chief among those ways was satire. Speaking to Herbert in the week following the
Charlie Hedbo
attack, it's a subject of disquietingly topicality. 'Satire feeds the great debate that any nation has', he says, 'the conversation every nation has with itself: questioning the headlines, changing views. A song I wrote was once quoted in the House of Commons – it wasn't all that important, but somebody was outraged. I was pleased.'
But outrage hasn't always been such a pleasure for Herbert. His work as English-language lyricist for
Les Misérables
saw him inherit a minor, two-hour French musical and transform it in just five months to the three-hour hit we all know, adding half-a-dozen songs (including
Bring Him Home
and
Stars
) and reimagining many more along the way. Yet despite this, his role has often been reduced to that of a mere translator; when the BBC and ITV made documentaries about the 2012 film adaptation, Herbert's name was omitted altogether.
'There's an element of pride in not succumbing to the easy option.'
'I take the theme of songs, rather than doing a line by line translation', he explains. 'It's not translating, it's recreating.' Herbert is proud of his work on
Les Misérables
, but one song – Eponine's
On My Own
still niggles this meticulous perfectionist. 'I'll get it right one day', he says, not entirely joking. 'The words "danger" and "stranger" are a perfect rhyme, the perfect answer to the question I was asking, but it's been done before. There's an element of pride in not succumbing to the easy option.'
Stacked centrally in Herbert's drawing room, close to hand, are songbooks – Rogers & Hart, Gershwin, Cole Porter, all the greats. Herbert himself is full of admiration for these writers who soundtracked his childhood, whose songs are 'part of fabric of modern living'. But his fascination with the craft of lyric-writing, the words and rhythms that are the nuts and bolts of the job, pushes Stephen Sondheim to the front of his mind.
'Sondheim is a master rhymester. He's one who doesn't settle for the easy way, who doesn't give up.
In A Little Night Music
a wife sings about her husband, and she rhymes "moustache" with the idea that he smokes his cigar until it is "just ash". Another miraculous example is
Some People
. It's not just that the words are self-rhyming and come at the right place, but they are unexpected. That's the sign of a man who won't give up until he has found exactly the right word.'
With over 50 years of lyric-writing to his credit, Herbert knows the business well. And when it comes to giving advice he is characteristically specific. 'It's very practical and simple: don't accept any evident sign of weakness and laxity in your work. Don't ever, for instance, submit a false rhyme. The word "time" doesn't rhyme with "mind". They have same vowel sound, but that's not enough. It has to be a perfect rhyme.'
It's the mantra of a great lyricist, who even at 90 won't give up until he too has found 'exactly the right word'.