'I was there when Captain Beefheart started up his first band … I was there when Daft Punk played dance music to the rock kids' … so goes Sunday night headliner LCD Soundsystem's anti-hipster anthem Losing My Edge.

Well when it comes to Glastonbury 2016, we were 'there' at every key moments from the Crow's Nest above the Park stage to the John Peel tent and everywhere in between, ingesting the sights, sounds and smells of what continues to be the UK's best and biggest festival. Here are our highlights…

Mud

Glastonbury is synonymous with mud and this year proved to be one of the muddiest and wettest in recent memory. It added an extra frisson to proceedings that most of the festival site resembled a gigantic bog of quick sand for the duration of the weekend…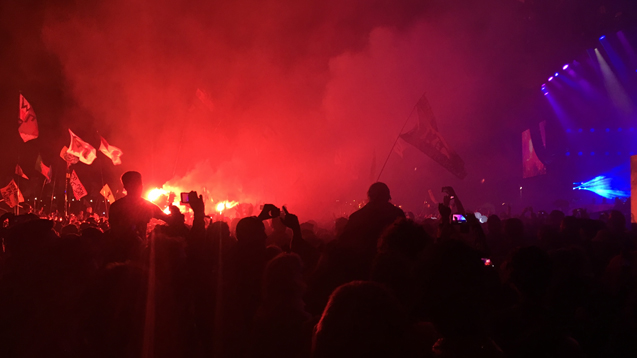 Roisin Murphy
Not only is
Roisin Murphy the queen of outsider electronic pop
but she's also got an eclectic wardrobe to match her staggering array of tunes, exchanging outfits for every song of her ace set at the West Holts Stage on Friday night. Then she turned up later to perform a live PA at the NYC Downlow dressed in a ski hat, over-sized shades and an over-sized KLF t-shirt. It proved to be an undeniably strong look…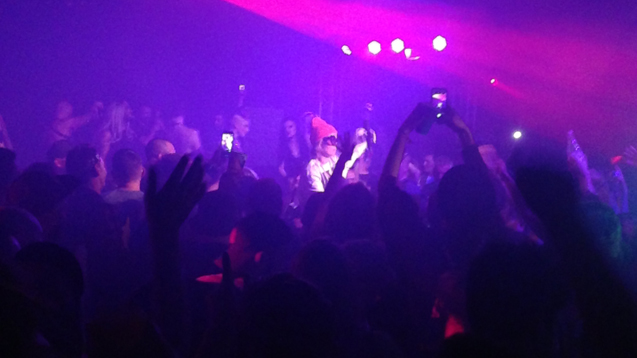 Midnight symphony in the Park

It's a long walk up to the Park, especially in the mud, especially in the dark. But the sound and vision of the Philip Glass Heroes Symphony was worth it. Who would've expected a symphony at Glastonbury? Who would've expected a laser show to rival Disneyworld? Who would've expected that shushing a chattering bloke could work? At this festival, the late hour and weariness melted away under sweeping strings and ominous horns; familiar Bowie motifs transformed and yet profoundly familiar; powerful music wonderfully performed.

UK grime is still taking over

One highlight was meeting Stormzy and then seeing him deliver an astonishing performance at Silver Hayes to what may have been the biggest ever audience for a grime artist. There's no doubt that his next Glastonbury performance is destined for one of the main stages.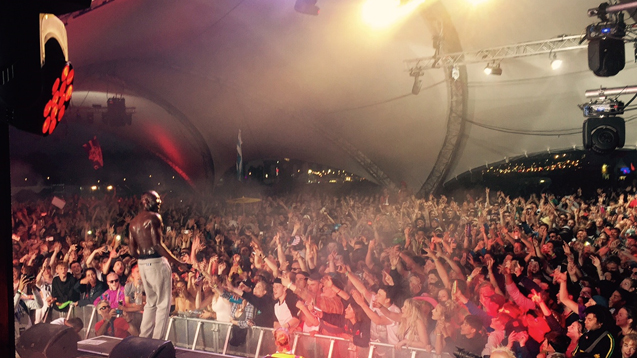 Politics

While Glastonbury itself resembles a dreamlike bubble, the reality of political goings on and the results of the Brexit vote in the outside world couldn't help but seep through. Everyone was talking about it, had an opinion on it and most were upset by it - it added up to a suitably charged and emotional atmosphere.

Two queens of Glastonbury stand before me

I had two best moments at Glastonbury this year; first was the amazing set by Christine and the Queens in the mental weather which kept switching from pouring rain to bright sunshine. Secondly, seeing Cyndi Lauper playing her version of Prince's When You Were Mine. Epic and what a voice! Two very different generations of female stars.

Hot Chip were everywhere - just not as Hot Chip

Last year Hot Chip ruled the Friday night with a crowd pleasing, rabble rousing performance on the West Holts stage featuring Caribou, synchronised dance routines and even a Bruce Springsteen cover of Dancing In the Dark. This year Hot Chip the band weren't on the bill but their various members were all over the event from Alexis Taylor and his Prince tribute set at Genoys on the Friday to Al Doyle helping LCD own the Sunday night set on the Other Stage. Their influence was writ large over some of the weekend's most exciting moments…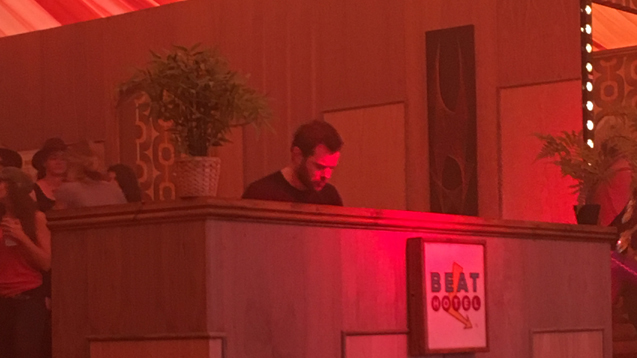 Mike Skinner
Mike Skinner is one of the UK's most under-rated talents, in many ways because he refuses to play 'the game'. He could be milking his time as The Streets by performing gigs of the entirety of
Original Pirate Material
. Instead he's whacking out ludicrous DJ sets rammed to the rafters with bassline, dub, dancehall and grime. We caught him in the Beat Hotel for a set that put a sonic rocket up the rest of our Sunday night…
Do you have a favourite Glastonbury moment from this year's festival? Tell us at facebook.com/PRSforMusic or tweet us @M_magazinePRS
Each year, 
PRS for Music
 sends a field team to work backstage with staff, managers and artists. They gather set lists from all the performers and the information is processed so that songwriters get paid when their music is played on-stage.
If you are a 
PRS for Music
 member and want to report your festival appearances, please email
MajorLiveEventsandTours@prsformusic.com
Thanks to all this year's set list collectors, plus 
PRS for Music
 staff working at the society's hospitality tent, for their contributions to this article.