Now back in the land of the living, with woolly heads and vacant grins plastered across our faces, we're taking stock of the ace annual freakshow that is Glastonbury Festival.

From Mark E Smith's suspicious on-stage wet patch to banjo madman Curtis Eller's fab cover of Talking Heads' Slippery People, we'll be casting our creaky minds back to the best things we saw, smelt, tasted and heard at Britain's biggest rave-up…

Fire breathing spider meets old skool rave, Arcadia, Sunday
If your previous experiences of Glastonbury are limited to the BBC's telly coverage, you might be forgiven for thinking the festival is all about Pyramid Stage headliners, Jo Whiley sitting on a hay bale blathering on about herself and organic hummus.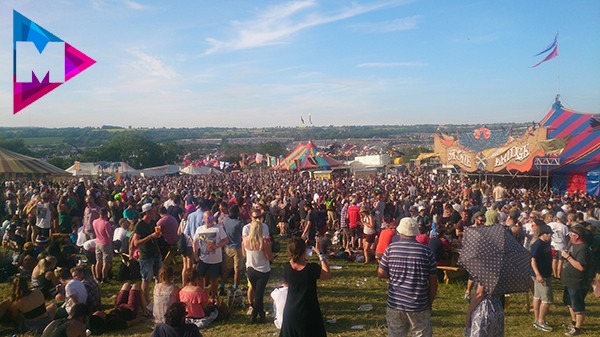 But once dark drops over Worthy Farm, turns out there's more than enough dancing and deviancy for you to get your jabbering jaw around. After three nights of solid late night raving, by Sunday the wheels are definitely falling off and we found no better location for a proper meltdown than under the giant fire breathing spider at the Arcadia.

Mark Archer, one half of the original masked rave nutters Altern8, provided a suitably apocalyptic electronic backdrop to 20,000 dancers collectively losing what was left of their shit to his set of old skool breakcore and bass. We finished off the weekend by watching dawn's rosy fingers rise up over the remnants of the festival site… Mind boggling…

The Fall - totally wired - Park Stage, Sunday
To say that Mark E Smith is one of British music's biggest eccentrics is putting it mildly. This is a raving loony who speaks the most sense you've ever heard, backed by the most chaotic live band that somehow manage to be as tight as you like. Bonafide natural treasures, surely?

Arriving from the second song onwards, it was hard to miss the fact that Mark's slacks were displaying a suspicious looking wet patch - which may or may not have been the great man's actual pee. No matter, the post-punk icon faced it out with his usual swagger and swearing to deliver an hour's worth of ranty, witty, krauty goodness.

Hot Chip, West Holts Stage, Friday
Right now, Hot Chip must be one of the sturdiest, surest festival bands around. With a heavy arsenal of hits and a bucketload of genuine enthusiasm, they pulled a massive crowd to close the West Holts Stage on Friday night.

From the off, everyone went bananas for their formation dancing and bold forays into the land of jazz-funk electronics, as their high energy speaker-busting sound induced an uncontrollable dance-off in the mud.

Classic favourites like Over and Over and Boy From School blended seamlessly with anthemic new tracks Huarache Lights and Need You Now to prove this is a band genuinely at the top of their game. And, just when you thought they'd played all their best tunes, they came on strong with an overblown cover of Bruce Springsteen's Dancing in the Dark that segued into LCD Soundsystem's All My Friends. Welcome to happy, clappy singalong nirvana.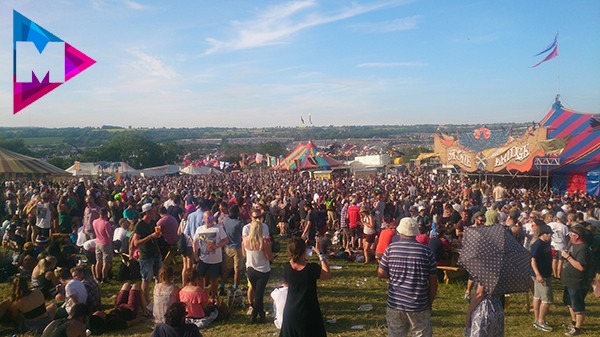 Hats off to the most chilled Glasto ever: where Friday felt like Saturday, Saturday felt like Sunday and Sunday was a Lazy Sunday Afternoon
...
Where the tough choices are Ben Howard or Mavis Staples? Franz Ferdinand Sparks, The Chemical Brothers or The Who? Where even vegans can find plenty of food choice - even if it costs a bomb. Where everyone is welcome and anyone can find their place. Where Patti Smith delivered an awe-inspiring set, surely making it easier for women to be taken seriously in music.
Weirdest moment: The sentence, 'I've eaten the Dalai Lama's birthday cake' being true.
Funniest Overheard at Glastonbury: 'These toilets are really peaceful.'
Cosmic disco samba, West Holts Stage, Saturday
Todd Terje and The Olsens played together on the West Holts Stage to a joyful Glasto crowd in full-on dancing mode for their cosmic disco samba - bringing sunset perfection to one and all.
NYC Downlow, obviously, Block 9, all weekend
Still officially the best place to dance your pants off on the whole of Worthy Farm, there was no dimming the fires of excess at NYC Downlow this year. With a bumper roster of ace DJs and classy drag acts, it was business as usual - and some...
Luke Solomon's stunning Friday night set brought moustachioed gay disco goodness to those brave souls who ran the gauntlet of the cross-dressing fierceness on the door - breaking down boundaries in so many ways. Elsewhere, Saturday's amazing Awesome Tapes From Africa DJ set threw open the boundaries even further, bringing suped-up High Life and tropical polyrhythms to a booty-shaking crowd hungry to dance.
A hot sweaty space spreading the love... just perfect.
Curtis Eller's American Circus, The Bandstand, Sunday
Banjo-bashing, somersault-styling Curtis Eller says his USP is 'gospel music for atheists combined with dance fads for amputees' and, having caught his bouncing set at dusk on the Bandstand, he's not far wrong.
With ravishing song titles such as
Sugar in My Coffin
and
Henry Kissinger's Dance Party
, and an infatiguable desire to run about being silly, Curtis delivered the best laugh-out-loud, bluegrass-laced moments of the entire festival.
UK dance music conquers all, all weekend
This year we were treated to a double whammy of headline shows from true UK electronic scene originators.
Saturday night Sonic Stage saw the return of Leftfield after a 15 year gap between albums. It was heavy. The impossibly cool, intricately crafted show and minimalist visuals displayed a rare level of class, integrity and understanding of what it takes to lift a field of underground ravers.
Sunday saw Chemical Brothers headline the Other Stage, offering the very pinnacle of what a live electonica show can be with the edge on sound, visuals and breadth of
repertoire
. True heavyweight champs. Deadmau5 take note - no cheese required.
What was your top Glastonbury moment? Tell us at facebook.com/PRSforMusic or tweet us @M_magazinePRS
Each year,
PRS for Music
sends a field team to work backstage with staff, managers and artists. They gather set lists from all the performers and the information is processed so that songwriters get paid when their music is played on-stage.
If you are a
PRS for Music
member and want to report your festival appearances, please email
MajorLiveEventsandTours@prsformusic.com
Thanks to all this year's set list collectors, plus PRS for Music staff working at the society's hospitality tent, for their contributions to this article.