For Michael Eavis – and his daughter Emily – Glastonbury has always stood for a romantic ideal. Following  a triumphant 40th anniversary in 2010, he talked to M magazine.





Michael Eavis was still buzzing from the 40th anniversary year of Glastonbury Festival. 'It was fantastic,' he says. 'The best in 20 years. The weather was perfect, there were magical performances, and the avant garde, artistic side of things is moving at a rate of knots.'

The 177,000 who made the annual pilgrimage to Worthy Farm in Somerset this June would doubtless agree. The Telegraph crowned it 'a triumph', The Guardian named it an edition 'to remember for a very long time', and whether it was Muse's supermassive Saturday night set, Radiohead's Thom Yorke's surprise Park Stage appearance, or Dizzee and Florence reuniting for You've Got The Love, there were more than enough magical moments for everyone.

For Eavis, being invited to sing Happy Birthday with Sunday bill topper Stevie Wonder was a highlight, although he's still defending the odd flat note on the night. 'When the time came they didn't give me an earplug or anything, so I didn't know what the pitch was,' he says. 'I can sing in tune, but I was a bit flat because I couldn't hear it!'

Still, taking a star turn in front of 100,000-strong crowd while millions watch around the globe is a remarkable achievement for a 74-year-old dairy farmer. 'It's not too terrible, is it?' he says modestly, with an infectious West Country chuckle.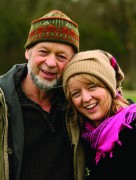 Of all the UK's summer outings, Glastonbury – and its founder – is the most documented. Born in 1935, Athelstan Joseph Michael Eavis was the fourth generation of farmers to raise cattle in Pilton, Somerset. He joined the Merchant Navy at 15 to ply the trade routes between Britain, Kenya and South Africa, but when his father died of cancer, Eavis reluctantly returned, aged 19, to inherit 150 acres of land, 60 cows and an overdraft which he says has only grown since.
The origins of the event itself are no less well documented; inspired by a visit to the Bath Festival of Blues and Progressive Music in 1970 with his new love and future second wife, Jean Hayball, Eavis started calling scaffolding companies about a stage the very next day. The first event in September that year had Marc Bolan and Al Stewart on the bill. Entry – including free milk – was priced at £1 and like so many editions, it lost money (£1,500).
But while the festival's counter-cultural roots are well known, less acknowledged is the role that British music played in its development. 'It really started in '85 with The Smiths,' Eavis says. 'The old hippies wanted Santana and that kind of thing, but I knew we had to move on. We're a British festival, and we made a conscious decision to move towards pop music and fashionable British bands. I went up to Bristol University to see The Smiths play, and I was completely gobsmacked by the change of sound. I booked them for the following year right then, and when they went on stage at Glastonbury, people were running towards the stage – it was so heart-warming. We've never looked back.'



By and large it's all about British music



Glancing back over 2010's lineup, it's clear that British acts still dominate, spanning every type of genre and level of success. From headliners Gorillaz and Muse, via fresher faces like Mumford & Sons, The xx and Foals to career artists such as Pet Shop Boys, Lightning Seeds, Groove Armada and New Model Army, hundreds of names are represented. 'We usually have one big US headliner, but by and large it's all about British music,' Eavis says. And considering some of the career-defining performances seen on the 1,000-acre site, every young hopeful knows that of all the platforms to prove themselves, Glastonbury is the gig to do it.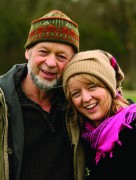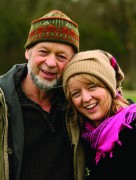 'Coldplay, Radiohead, Oasis and lots of bands have really furthered their musical status here,' Eavis says. 'Certainly Coldplay, who I booked to headline on the Friday [in 2002] when they weren't that well known. The agent and manager thought it was too soon but I said, "Well, I've agreed it with Chris, and Chris wants to do it, so let's go with it". That was a good move, it really was!' he laughs, illustrating how a farmer's canny negotiation skills can help survive four decades in the music business. 'Coldplay were superstars from then on.'
As a talent incubator, Eavis's event has long proved fruitful; initially as one of very few summer gatherings in the UK, but more recently – given the myriad of festivals that now run – through the exposure it offers. This year, over 1,000 media outlets were represented from all over the world (including a Chinese TV station and Al Jazeera for the first time). The BBC alone had over 250 staff covering what is, after all, a town with roughly the same population as Milton Keynes or Norwich. And in this brand- drenched world, it's remarkable to think that it's all been achieved without sponsorship and with almost complete independence.
'I think sponsorship is a poor substitute for a festival making its own way with artistic integrity,' says Eavis, who puts the longevity of the festival down to his Methodist love of hard work. 'We've got 40 years of green politics and campaigning, which appeals more than something sponsored by Nokia.' Indeed, the sponsors that are involved (Orange, The Guardian, Q Magazine, PlayStation et al) provide a service on site, hoping for consumer affection in exchange. The only billboards and branding blocks are reserved for the festival's charities Water Aid, Oxfam and Greenpeace, for which Glastonbury raises millions each year.



While I've got 40 years of hard work, Emily's got that fine musical vision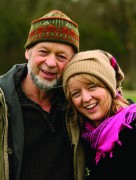 'I've overseen the sponsorship for the last few years, but the charity stuff is the main thing that really excites me,' says Eavis's daughter Emily, who has taken an increasingly important role since her mother, Jean, passed away in 1999. Emily launched the Park Stage in 2007, the site's newest major music space, and she now
works
year round at Worthy Farm.
'She's 31 and already really good on the booking policy, but she usually gets me to make the phone calls, so the old man still has to do the grinding away,' jokes Eavis, who credits his daughter with booking Jay-Z as a headliner in 2009 – a decision widely questioned until the US rapper stunned critics and audience alike, reinvigorating the festival in the process. 'While I've got 40 years of hard work, she's got that fine musical vision.'
'My role has grown a lot over the last 10 years but it's stabilised a bit now,' adds Emily. 'Michael and I work really well together and it's good fun. It's a good partnership.'
But while they may bring different qualities to the farmhouse table, the family shares a similar political outlook. 'We can always go a bit more political,' she says. 'From the beginning, there's always been something to fight against but now more than ever, with the arts cuts and the current government, there are things to talk about. It's important that Glastonbury fights for something.'
In fact for the majority of the festival's existence, Eavis has done just that – battling police, local residents and council to keep his unique creation alive. The event itself has become a litmus test for the cultural climate, as the '70s hippies who rode the last wave of free love were replaced by new age travellers in Thatcher's Conservative years – the 1990s riots reflecting England's turmoil.
Renowned for his socialist outlook, Eavis is no stranger to politics himself. In 1997, while recovering from stomach cancer, he stood as a local candidate for the Labour party, before suggesting, in 2004, that voters should switch to the Green Party in protest at the Iraq war. From most dairy farmers, such a suggestion would be insignificant, but given that Time magazine named Eavis one of the top 100 most influential people in the world in May 2009, politicos would surely have taken note. However, the 74 year-old's time is still largely spent on his land and the almost annual festival which still inspires him.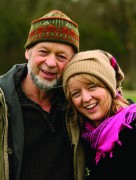 'People are coming up with fantastic ideas all the time,' he says. 'We have a chat, go down to the fields to see what we can do and we're all leaping about with excitement. There's a lot of energy. It's like the Hadron Collider when the particles collide and all this stuff flies off sideways!' And taking at least one year out in five keeps ticket buyers excited when it does go ahead. 'It stimulates the idea of Glastonbury being a bit special,' Eavis says.



It's a lovely, innocent thing and that's what's so wonderful about it



The next fallow year will be 2012 because police resources will be consumed by the Olympics in London, but even two years is a long way off for the Eavises. 'I'd love it to continue but I can't say for sure that it will,' says Emily. 'It rests on a few delicate issues and it's a bit of a fluke when we do get it through each year. Glastonbury is such a present thing and we don't project too much into the future. It's a lovely, innocent thing and that's what's so wonderful about it.'
'I can't see more than one year ahead, but then I never believed it would last more than a few years, isn't that strange?' says Eavis. 'It's such a privilege to be doing it. Having the pleasure of seeing it come together and that sun shining? I love it!'
Watch our  exclusive interview with Michael Eavis
Watch out for more exclusive interviews and coverage from Glastonbury 2011!

All photos (c) Jason Bryant