St Albans rockers Enter Shikari have spent more than a decade perfecting their energised fusion of hardcore, punk and electronica.

Over four albums, including latest top four charting record The Mindsweep, they have become one of guitar music's most loved bands. They've recently released The Mindsweep: Hospitalised, a collaboration with drum and bass label Hospital and played their biggest arena gigs to date. We catch up with frontman Rou Reynolds to find out where they're at in 2016...

How did Enter Shikari get together?

Myself [Rou Reynolds, vocals/programming] and our bassist Chris met when we were 11. We loved creating anything and used to do our own radio shows with a karaoke machine. We were 16 when Shikari formed. Me, Chris [Batten] and Rob [Rolfe], our drummer, were in a three-piece before that and heavily influenced by our local hardcore punk scene. We loved the DIY element but also grander, alternative acts like Muse and Radiohead. We were this odd mix of punk but still very experimental. Then Rory [Clewlow] joined, taking over guitar duties. I moved onto electronics and that solidified our sound.

You can hear a lot of diverse influences in your music - does that come naturally to you?

Yes absolutely. We were really lucky to have a thriving local music scene. It wasn't just hardcore punk, but ska, drum and bass, hip-hop, plus skateboarding. It made for a very inclusive vibe. Growing up there was big divide between the townies and the grunge kids but we rebelled against that. We didn't want anything to do with the tribal thing. Hospital Records was a huge influence, but we also watched dubstep grow from its very early beginnings. With all that in mind, we wanted to have a broad, all-inclusive musical style.

The Mindsweep is your latest album - what was the thinking behind it?

Usually, we don't really plan much. We just kind of see what happens, which I'm sure will be the end of us one day! But we did want to push the vocals and use more natural instrumentation, more brass, strings, there's even woodwind in there. Having those different textures really brought the songs to life.

How do you approach the creative process?

I usually write the basis of the song, the skeleton if you like. Then bring it to the other guys and we'll go through their individual parts together, then they'll take it away and embellish them. Once there's a decent demo that we've all banged out together, I'll tuck myself away and try and write lyrics to it.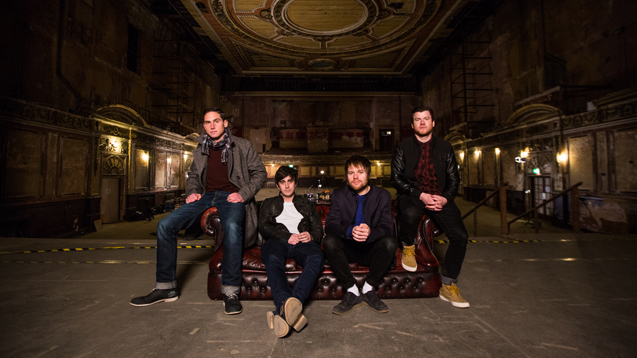 Your music can be overtly political - how important is this to the band?
We grew up with hardcore punk around us, so it was standard for singers to make political speeches from the stage in between songs. That was the norm. Coming from that scene, if you're making aggressive music, you need to be singing about things you're passionate about.
I'm certainly not someone who thinks all music should be descriptive or polemic. But for us that's just what we feel comfortable doing. When you're on stage every night, singing your heart out, it's a lot more genuine if it's about stuff that you want to sing about.
There's a huge imbalance in music at the moment. Especially with the underground, the punk, the alternative scene. As you might expect, I find that hip hop and spoken word seem to be the places where people are writing songs about the oppressed or making statements and social commentary.
It can be scary to wear your views on your sleeve like that. Because your 'career' can quite easily be taken away from you and no one wants to risk that. But it's something we enjoy. We like music that's risky. There's a great deal of very comfortable music at the moment. I love how Thom Yorke described it as 'fridge buzz', it's just there in the background, it doesn't say or do anything. That's not something we're part of. I hope.
How has the music industry changed since you've been a part of it?
One of the great things is the progress of technology, which is making music much more available. As an artist, the whole point is sharing creativity with people. You don't want to limit this by people's purchasing power. You want it to be available for all. So the more that music is out there, the more possibilities with technology, the better. From a creative aspect, most laptops come with music - and film-making software nowadays, which is just incredible. It can mean there's an onslaught of rubbish but on the whole, it's overwhelmingly great.
At the same time, there's a sort of discomfort with being an artist in a capitalistic system. As an artist, the whole point of it, is sharing creativity with people and you don't want to limit this art, this thing that you've created, by people's purchasing power. You want it to be available for all. I'd like to see the music industry steering away from too much product placement. I understand you need to get monetary support from somewhere. But it's still tough to see bands we used to really look up to for their DIY mindset now sponsored by energy drinks. All these pillars of integrity seem to be crumbling in this really harsh landscape.
Have you got any advice for new bands looking to make it?
I usually just say clichés - 'play each show like it's your last because you never know who's watching'. Practice is also key. You can never really emphasise how important it is to be consistently in a creative space with people you want to make music with. It's only then that you're going to develop your own sound and your own identity. I think that's really important as a lot of young bands just rush into an album or playing straight away. There's something important about sitting down and going: 'Okay what's the plan, what do we want to be?'
entershikari.com