Madness may have grown up but, on the evidence of latest record Can't Touch Us Now, they still pack a seriously silly and popular musical punch.

Jim Ottewill gets gregarious songwriter and frontman Suggs on the blower to learn how, after almost 40 years in the game, the gang are still residents in the house of fun…

'I've certainly seen enough of my contemporaries wilt and fade. But there's a real genuine energy to what we do,' rasps Madness frontman, lover and liver of life Graham 'Suggs' McPherson. He's reflecting on the best part of four decades as frontman of one of Britain's most iconic bands.

'On occasion, we've been on the brink of being sucked into the black hole of eighties nostalgia,' he continues. 'But we kept the spaceship going on warp factor nine and escaped. Now we're in a universe of our own making. It's really good fun.'

Following in the footsteps of classic British storytellers such as Ray Davies and Ian Dury, the multi-limbed ska-pop of Madness is equally beloved, with the band revered as chroniclers of London, its characters, boozers, back streets and beyond.

Now with latest (and 12th) album Can't Touch Us Now denting the top five, the group's well of hooks and personality-filled hits doesn't appear to be running dry. Lest we forget, this is a source that birthed One Step Beyond, Baggy Trousers, House of Fun and many, many more. With these in their musical armoury and a return to the most recognised line-up with saxophonist Lee Thompson and guitarist Chris Foreman, they're an unstoppable force, as essential to our national psyche as fish and chips.

London beginnings

The capital during punk was a vibrant playground for Suggs and his cohorts, where one evening would see them watching The Jam, another at a reggae dance.

'Every night there was something happening, from rockabilly to psychobilly, there were all these sounds sprouting up,' he remembers. 'It was a kaleidoscope of music. I don't remember ever being indoors.'

Speaking to the group's frontman is like chatting to an eccentric uncle, the one at family gatherings who offers you a strong drink when no one's looking. While the band might be weathered by their time in the spotlight, Suggs is brimming over with stories, showing that their vim and vigour remains undimmed. A love for songs and pop have always been a defining characteristic.

'Music was the most important thing when we were young,' he says. 'People would wander about with albums under their arms just to show who they were and what they liked.'

He remembers a gig watching the Sensational Alex Harvey as a night that lit the creative touch paper deep inside him. 'I would have been 13 years old and saw Alex Harvey supporting The Who,' he says. 'He burst through a brick wall wearing a stocking over his head shouting, "I was framed. I was framed".'

Coupled with the fireworks of punk going off all around him, it proved to be a crucial time for young Suggs. 'All the pomposity had suddenly gone out of rock music at the time. We suddenly realised that we didn't have to be virtuosos to start a band,' he explains.


Early signs of Madness

Inspired by the London scene, as well their fandom for sounds of all kinds, Madness first formed in 1976. Three years later and, after numerous line-up changes, they landed a residency at Camden's Dublin Castle.

'The big catalyst for me was Ian Dury, writing about ordinary working life and turning it into poetry, singing in his own vernacular,' reflects Suggs. 'I wasn't the greatest singer and suddenly the idea that you didn't have to sing in an American accent in itself was a big thing.'

Although the band could barely play their instruments, the Camden gig turned into a residency, a milestone that will be recognised at the iconic venue by a PRS for Music Heritage Award as part of Independent Venue Week in January 2017. It marked a turning point for the band.

'An audience started to build who weren't just our friends. People were coming from out of town based on word of mouth. You'd look outside and there'd be a queue round the block.'

A support slot with The Specials saw them sign to 2 Tone and release debut single, The Prince. 'We were on the 2 Tone tour with The Specials, The Selector and Dexy's Midnight Runners, and we were off. It just fucking exploded.' Suddenly the band were in the charts and spearheading a wave of acts pushing soul, ska and reggae pop.

Dance craze

The band's rapid ascent translated into million-selling hits, with 15 top 10 singles and singalong number ones making them one of the most popular groups of the eighties. What's the secret to their success?

'Our music came as a by-product of our friendship, we really were having a laugh,' says Suggs. 'I think we captured that on those records and those videos. It wasn't constructed in any way. It was completely spontaneous.'

He believes that a mixture of naivety coupled with an anarchic spirit helped the band stay fresh and ultimately thrive. 'We had no fucking idea about the record industry, what it meant or what we were supposed to be doing, so we were totally free. I think we have remained that way ever since,' he says.

From distinctive records like It Must be Love and Embarrassment to huge live gigs, it certainly seems that Madness seem incapable of failing to enjoy themselves.

'I was on a bus coming back from a festival in Kendal the other day with the band. I was looking down at my old warrior of the road, Lee, covered in flour and someone's trousers torn off. It was like we were coming back from a fight rather than a gig.'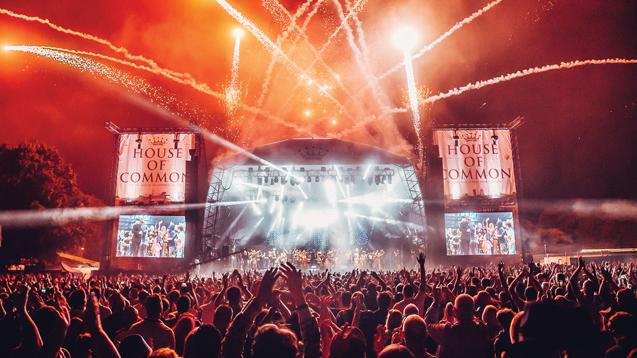 Can't Touch Us Now
The new Madness record,
Can't Touch Us Now
, was made at East London's vintage studio Toe Rag, and co-produced by owner, Liam Watson, and Clive Langer, who played a key role in many of their classic hits. Following in the wake of their summer shows at Glastonbury and Clapham Common, the record is being hailed as a great return to the band's roots, something with which Suggs agrees.
'You know how people say you think it's your best? I really, really think it is. We really didn't compromise in terms of our attitude, feeling or enthusiasm. There's been no blips. Arguments sure, but that's been great, proper arguments full of passion.'
A more collaborative writing approach is at the heart of the album and suggests the band are at their best when they're in creative cahoots. Suggs explains: 'It was our manager who said he thought our best songs were those we collaborated on.'
'It wasn't even that we'd decided that we were going to write on our own. It was just that we all developed these different skills. So with this one, we set about being freer. I started to just write some words and a couple of songs that I was pleased with that I sent to Chris and to Mike, and vice versa. They sent me music and instead of having lyrical ideas they just said, "write whatever you feel".
The return to Toe Rag meant the band focused on the music's meat and bones, relying on live performance and quick recording to capture their essence rather than too long spent rubbing out the music's energy and spontaneity. 'We thought that if we were going to go back to how we used to write songs, then we'd go back to how we actually record them,' Suggs explains.
'Pagan' lunacy
Not only has the album reached the higher echelons of the charts, but 2016 has been marked by the success of their House of Common gig on Clapham Common plus another well received slot at Glastonbury, an event that perfectly suits them and the surrounding mayhem.
'It's the best festival in the world,' says Suggs. 'Someone told me that Coachella was better. But it's nothing in comparison. Coachella is like some Methodist Christian [type of] meeting. You can't smoke there, you've got to put your drink in a fucking plastic thing, whereas Glastonbury is pagan fucking shit. It goes way before pretty much any other form of civilisation.'
A surreal air has always followed the band, seeing them in some unlikely spots from playing atop the roof of Buckingham Palace to the closing ceremony at the London Olympics. Such achievements underline the importance of a group who have defied all expectations in succeeding for so long. Suggs believes the current industry would make it harder for bands like themselves to flourish.
'I wouldn't imagine a band of seven people could make it now in the way that we did. Going round in the fucking van with seven of you, working during the week, trying to support yourself, it would be tough.'
He laments the ongoing closure of the UK's smaller venues as a problem for new bands although the internet has created more competition than ever before.
'Whatever way you look at it, there are thousands more bands now than there were when we started. You can build up a bit of a following online and get some kind of career going, whereas in our day you only had word of mouth. It would take months and months to get 400 people into a venue.'
So what does Suggs reckon bands need to do to stand out in the current climate? 'It goes back to the old adage of hard work and determination,' he reflects.
'We had to work in gardens during the week or painting and decorating, then we'd go out and do the gigs at night. It certainly won't come on a plate, but I saw so many young acts give up after about six months. You just need to keep going, man. Keep going.'
Can't Touch Us Now is out now.
Madness.co.uk