The Proms 2011 drew to a close last weekend and, while the BBC announced that the festival had attracted record audiences, M caught up with composer Graham Fitkin to find out more about his Proms premiere.

The BBC said that attendance at the main evening events was a record-breaking 94 percent, compared with the previous all-time high of 92 percent in 2010.

More than 300,000 people attended a concert over the course of the summer, while 36,000 people bought tickets for the first time this year and more than 5,000 under-16s attended.

Roger Wright, Director of The Proms said: 'The strong attendance figures are a testament to the adventurous spirit of the Proms audiences, their continuing eagerness to embrace such a wide range of music and the great value for money which the Proms offers thanks to the ongoing commitment of the BBC.'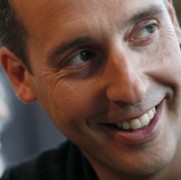 This summer
M
has celebrated the classical music festival with interviews and features from some of its leading contributors, including Judith Bingham, Kevin Volans and Simon Holt.
Today we bring you our final piece; a conversation with renowned British composer Graham Fitkin. Throughout his career he has pushed boundaries and crossed continents, working with some of the world's leading musicians and educating budding students about classical composition.
Here he talks about his cello concerto for The Proms 2011, performed by Chinese-American cellist Yo-Yo Ma on 31 August. He also explains the ways in which technology has affected his work, and discusses the joys of creating 'white noise' using a harp.
For more in our classical composers series read M at The Proms: Insider's View