Alexandra Coghlan dives into the contemporary classical world to discover how composers, commissioners and programmers must unite to thrive in 21st century Britain.
Look through the cultural listings for any Friday night, and it's hard to ignore the fact that contemporary classical music is having a moment.
A quick scan through the options might reveal a Kammer Klang event at Dalston's Cafe Oto, a concert by the Birmingham Contemporary Music Group, London Contemporary Orchestra or Psappha, a Nonclassical club night at XOYO or a newly commissioned chamber opera at the Royal Opera's Linbury Studio Theatre. And that's before you consider annual festivals at Huddersfield, Aldeburgh, Glasgow, Cheltenham and Spitalfields – all enjoying growing audiences, and placing a significant emphasis on new music.
But turn on the radio or open a newspaper and it's a very different story. Barely a week goes by in which a politician, journalist or other public figure does not attack classical music in general (and new music in particular) as 'elitist' or 'niche' – a pastime for pseuds, the rich or the socially aspirant, not for the likes of you or me. So why the disparity?
It's a question composer Julian Anderson feels strongly about, taking it as the theme for the Aldeburgh Festival's annual
Hesse Lecture
, which he delivered in June this year. Speaking out on a topic that has too long been silenced or ignored, he made a heartfelt case for contemporary classical music, highlighting the problems composers face from both outside and within the classical music industry, while also offering potential solutions and strategies for the future.
'There's a lot of prejudice surrounding classical music – not just contemporary music – in Britain,' he explains, 'and when it comes to music that's more demanding than standard
repertoire
, where the sounds involved are often unfamiliar, those prejudices are even greater. It doesn't seem to occur to people that quite a lot of the attraction of this music, like any imaginative art form, is that it's not something you encounter every day, that the adventure of it is expanding your awareness of what sound can be and do in your life.'
Aural adventures
The 'adventure' of new music is something the classical industry must successfully convey if it is to put an end to the popular stereotypes surrounding this repertoire, as Gillian Moore, the Southbank Centre's Director of Music, is very aware.
'While I absolutely have faith in the repertoire itself – if music is powerful and moving and has something to say then it will cut through any preconceptions – in order to get people to concerts in the first place you need to present the music carefully,' she says.
'We tend to try and give the music a context, to build it into larger festivals, relate it to bigger ideas. I'm not really in favour of just slotting new pieces of music into a Brahms sandwich. Programming needs to be bold in order to reach those who view things being new, unfamiliar and possibly complex as a positive advantage.'
Roger Wright, Director of the Aldeburgh Festival, agrees. 'Audiences sniff out a lack of confidence or quality in programming. Even if they are not able to describe it in exactly those terms they know something doesn't quite ring true. It's important for us to trust our audience and also for them to trust us to lead them to interesting new places. Audiences won't be maintained for the future by only playing them the same things again and again.'
Rewind and resonate
Integrating new
works
into the repertoire can be difficult. Premieres are ubiquitous at the big festivals and venues, but how often do you hear a contemporary work for a second or third time? Denied the opportunity to build an ongoing relationship with new works, audiences inevitably struggle to invest in them. 'It's something I worry about,' says composer Charlotte Bray. 'Getting second performances these days is almost harder than securing a commission in the first place.'
It's a problem the PRS for Music Foundation is tackling directly with its Resonate scheme, as Executive Director Vanessa Reed explains. 'We've created a database of works that have been commissioned in the past 25 years by British orchestras. We're offering funding to orchestras who choose pieces from the database that they would like to programme as part of their season, encouraging them to revisit these wonderful works that already exist as an alternative to simply commissioning a new work. It's about ensuring these works get heard and also developing an increasing sense of familiarity on the part of the audience.'
But when it comes to championing this new repertoire, no one is more powerful or more potentially persuasive than the composers themselves. Julian argues, however, that composers are sometimes ashamed of their work and profession to an extent that would be unthinkable among filmmakers or visual artists.
'There are so many composers who say, "I don't listen to contemporary music or "I don't go to contemporary concerts"', he says. 'I hear it again and again from the same people that I see at precisely those events. Perhaps they are afraid of appearing cliquey or as part of a cultural ghetto, but whatever the reason, it certainly suggests a very complicated relationship with their profession, even a lack of love for it.'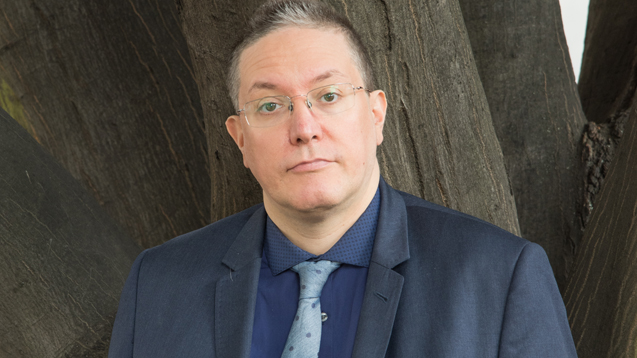 Inner circles
To overcome this endemic professional self-contempt, Julian suggests a bold solution: bringing composers right into the centre of musical life, integrating them into concert programming, planning, artistic administration and even management.
'I'm not saying that composers should run the world, but I am suggesting that if you are planning a concert series, regardless of period or style, ring up a composer – ask them if they can suggest any interesting repertoire. Composers are these extraordinary human repositories of musical knowledge; you have to know a tremendous amount of music to produce it yourself. And of course when it comes to new music the first people to know what's new and exciting are composers themselves, because many of us teach and are listening widely in that area.'
Julian's argument has the weight of musical history behind it. The sheer number of influential organisations, festivals and venues that have been founded and championed by composers is staggering.
From Wagner's Bayreuth to Pierre Boulez's IRCAM and the Cité de la Musique, Benjamin Britten's Aldeburgh Festival, Maxwell Davies' St Magnus Festival and even
PRS for Music
itself, so many of our most important classical institutions are the product of a composer's vision and labour. How much more effective, Julian asks, would new musical technologies – the
streaming
services and download platforms – be if designed by musicians to best serve musicians, rather than by those motivated purely by commercial gains?
Brave new composers' world
So what might the new music scene look like in an artist-driven world? One organisation leading the way is British record label NMC. Founded by composer Colin Matthews in 1989, the label's charitable status allows it to place artistic concerns at the fore, championing the music of living British composers without the usual commercial pressures of their competitors. Uniquely it has a non-deletion policy, meaning that any work in the catalogue will remain available in perpetuity.
More recently it has launched a new series designed specifically to support emerging composers, as Executive Director Anne Rushton explains: 'Our Debut Discs series is targeted at composers who don't have a big mechanism behind them, who have never had a full disc dedicated to their works. We offer them a portrait disc, and work closely with them on it from programming and choosing artists through to marketing and social media,' she explains.
'We're only five years into the project but already there have been so many instances where composers' careers have been furthered as a direct result, whether that's through a new commission or a work being performed abroad for the first time.'
Composer-driven organisations might also reimagine the classical concert itself, changing perceptions of classical music by framing it in new and unexpected ways. Venues, concert formats and even the timing and duration of concerts are all up for discussion, building on the movement of the past few years which has seen new music increasingly break out of the concert hall and move into galleries, industrial spaces and even car parks. For Charlotte, the London Sinfonietta's scheme, Sinfonietta Shorts, is an interesting model of innovative thinking.
'They commission short new works then premiere them at 8am with coffee and croissants. I was a bit cynical about it at first, but was converted by the atmosphere and energy of the event which was a wonderful way of reaching busy people before they started their day.
'Rather than just sitting back and hoping audiences come to us, I think nowadays we have to take more initiative and bring music to people. Why don't we approach offices and organisations and see if we can put on a lunchtime concert in their space?'
But for Charlotte, as for Julian, all developments in new music ultimately return to the figure of the composer. Without them as advocate and champion, no amount of new formats, slick marketing campaigns or multimedia collaborations are going to change public perception.
'I think public engagement is hugely important if we want to be relevant to a community that extends beyond regular concert-goers,' she says. 'We can't just sit in our ivory towers and write music any more. Composers today have to be about more than that. If the interest is there then let's find it and feed it in as many different ways as we can. Ultimately we want to ensure that people really are inspired by contemporary classical music and want to be involved in it as much as they do pop music or modern art.'