In the darkness of the main space, 6,000 silicon rods (over 50km of silicon) make up Ron Arad's Curtain Call, hanging 8m high in a circle at the heart of the Roundhouse. Impenetrable and inviting.

Pushing through the silicon, the audience  sat on the floor in the centre while a series of short films were projected all around. With a 3D sound system hanging dead centre, the feeling was slightly claustrophobic, but in an exhilarating way.

The curtain was opened for a moment to bring in the small set-up for the main feature, a brand new audio-visual composition: 10,000 Miles From A Car Window.  This unique collaboration between Beaty Heart and EYESONTHEWALL, was the culmination of the last year's work artistically for the band - exploring how visuals can work creatively with music, mastering different approaches and relevant software to produce cutting edge live visuals.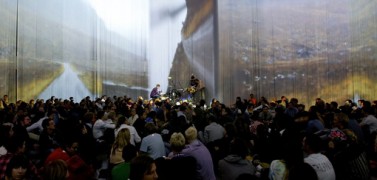 The band sound tracked the documentary, made by Charlie from Beaty Heart, of his journey of 10,000 miles from London to Mongolia. The immersive show took the audience on an animated journey in and around the curtain, where they experienced the trip, the band's unique sound both complementing and jarring creatively with the visual.

Beaty Heart used the new 360 degree sound system to terrific effect with live electronics, and percussion from some of the countries included in the piece– creating an evening of sight and sound both unusual and unexpected.

Curtain Call is part of Bloomberg Summer at the Roundhouse. Internationally renowned artist, architect and designer, Ron Arad has invited his favourite artists, musicians and friends to create unique work for his 360° interactive installation. Various events are running around Curtain Call until 29 August 2011.

www.myspace.com/beatyheart

www.roundhouse.org.uk

Photos: (c) EYESONTHEWALL