From abstract left turns in Art of Noise to orchestrating some of pop's biggest moments, composer Anne Dudley has always lived a musical life less ordinary. Anita Awbi meets a talent at the top of her game…

'I remember I'd always get very excited by the idea that you could sample a door closing or a hammer and build a rhythm track from those abstract sounds,' says shape-shifting composer, arranger and orchestrator Anne Dudley.

She's looking at the joining date on her Musicians' Union card (1978) and remembering what life was like before her classical incursions into electronic pop helped define an important chapter in British chart history.

'I've always loved doing that. I think the combination of electronics and orchestral music can be absolutely, rivetingly exciting if you get it right,' she continues. It's a style she settled on at the very start of her career, and one that helped whisk her from artful novice into one of the country's most decorated composers.

Anne's rare standing is cemented by her Grammy, BRIT, Oscar and now Ivor Novello Award wins, all in recognition of her adventurous musical mutations and remarkable achievements. Picking up the PRS for Music Outstanding Contribution to British Music accolade at The Ivors ceremony in May, she modestly says of her 40 years of sonic adventuring: 'Some people are naturally gifted and it just flows out of them, but for the vast majority of us, yes we have some talent, but the rest of it is technique, experience and hard work.'


In Visible Silence

Raised almost exclusively on the light classical music of her parents' record collection, Anne approached her teenage years with both an encyclopaedic brain for orchestral arrangements and an ear tuned to the ephemeral excitement of pop.

'Does anyone remember [BBC Radio 2's] Your Hundred Best Tunes?' she laughs. 'As a child I was an expert on all of that. Things like Suppé's Poet and Peasant Overture, and Eric Coates, all of those wonderful bits of light music. I know all of that stuff.'

It was this solid grounding that helped sow the seeds for a crossover career that's seen her collaborate with some of the biggest names in pop, pen an opera for the Royal Opera House, become Composer in Association for the BBC Concert Orchestra and build a name as a lauded screen composer.

Following on from her graduation from the Royal College of Music, and the discovery that she had 'perfect pitch', Anne got a job at Trevor Horn's studio as a string arranger. It was there she hooked up with likeminded experimenters engineer/producer Gary Langan, programmer JJ Jeczalik and music journalist Paul Morley. They instantly clicked over a deep appreciation of all the latest music gear and Art of Noise was born.

The band's first bite of the cherry was 1983's Into Battle with the Art of Noise EP, released via Trevor's ZTT label and featuring Moments in Love and Beat Box. The latter, a weird instrumental, rippled with jacking beats and samples of car keys in the ignition and water falling down a drainpipe. Its nod to both musique concrete and the burgeoning hip-hop movement propelled it up the American Dance Chart and, ironically, the Black Singles Chart.

Taking synth-pop on an ambitiously abstract left turn, their innovative use of sampling technology massively disrupted the status quo and quickly delivered international hits Peter Gunn (for which they won a Grammy), Kiss and their seminal first album In Visible Silence.  Testament to its stature within the annals of early electronic pop, Art of Noise recently rebooted to play the million-plus-selling album in its entirety at Liverpool Sound City 2017.

'We had no idea that what we were doing would be remotely commercially successful,' Anne says. 'I think we thought it was in the vein of the avant-garde classical composers, like John Cage and Stockhausen, but then the boys would keep putting these hip-hop beats on it,' she laughs.

'There was me thinking I was following in the footsteps of these great, innovative, contemporary composers, and we ended up winning the Best New Black Act Award from Billboard [in 1984], which is probably my proudest moment!' Cue more laughter.

As chief keyboardist and arranger, Anne was having a whale of a time. Polyphonic synths were just coming in, led by the Prophet 5 and Minimoog, and she was all over them. Immersing herself in oscillators, waveforms and filters, she dug deep into the basic fundamentals of electronic music, where everything is a little more freeform…

'I get quite annoyed when people think Art of Noise was just all computers and computer music, because nothing could be further from the truth, really,' she says.

'It's really more like a jazz group. There was a lot of improvisation; there was a lot of playing about with the sounds, really trying to get interesting chord sequences. They're not always incredibly evident, the chord sequences, but there's a lot going on there and it's quite dense. It's so far from being written by computers.'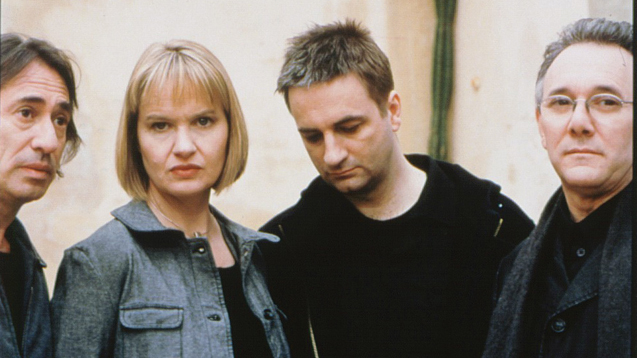 Big breaks

Although you may not instantly recognise Anne's face – or be familiar with the Art of Noise back catalogue – you'll instinctively know when a track has been touched by her hand. Her command of both electronic sounds and real instrumentation was so in-demand throughout the eighties that her synths and strings appeared on the decade's biggest cuts, from ABC and Frankie Goes To Hollywood to Lloyd Cole and The The.

Her classical flourishes and harmonic flutters were so compelling that bandmate Gary Langan dubbed her 'the master of melodies' in Art of Noise. But it was her work as arranger and orchestrator on ABC's massive debut album The Lexicon of Love that really turned heads. The platinum-selling record went straight to number one in 1982 and featured the perennial tracks Poison Arrow, The Look of Love and All of My Heart – all carrying Anne's soaring melodics.

'I was quite young, in my early twenties, and I was let loose with a full-sized string orchestra and a pretty good budget,' recalls Anne. 'I found myself conducting the strings in Abbey Road Studios for The Look of Love, which is still a huge hit!'

The whole record is still so highly regarded that she's been taking it out on tour with Martin Fry and ABC since 2012, most recently with the Southbank Sinfonia in London and later this year at Manchester's Bridgewater Hall and Liverpool Philharmonic Hall.

'I think it was a very happy marriage of Martin Fry's wonderful, ambitious, free-ranging songs and my penchant for doing these big arrangements,' she says of its success.


Orchestral colours

Anne's marriage of classical and contemporary pop sounds originates from an early love of the iconic songwriting and production duo Gamble and Huff. Their magic on records by Wilson Pickett, Dusty Springfield and Patti LaBelle deeply impressed Anne, and helped her join the dots between the strings she loved and the pop she adored.

'I was very taken with the big arrangements that were coming out of their studio. They created the "Sound of Philadelphia", which combined a really hip, cool rhythm section with brass, strings, celestes and xylophones, and all sorts of interesting orchestral colours. That was definitely one side of my influence,' she explains.

Anne's open-ended approach to the boundaries of pop and classical helped snag her first gig writing music for adverts in the mid-eighties. Art of Noise had a great track record with sync - their abstract electronic ambience lending itself to trailers, films and adverts - so it followed Anne's solo sounds would be in equal demand. She was soon flourishing, consistently offering a fresh take on the prevailing studio sound.

'I see things in a very classical way. I'm always analysing things in terms of their harmony, and counterpoint, and how they're actually put together,' Anne explains.

Media ace

Since the nineties, Anne has worked on a string of prominent films from The Full Monty (for which she won her Oscar) to American History X, The Crying Game and Black Book. On television, her music has soundtracked Jeeves and Wooster, Trial and Retribution and, most recently, Cornish period drama Poldark.

Transfixed by the series' plotline and 18th century setting, Anne famously registered a persistent interest in the project. 'I read the script and thought, "I really have to try and get this." My agent said, "No, I think somebody else is doing it," and I replied, "You've got to get me a meeting on this. Go back, try again,"' she laughs.

'With something like Poldark, I knew immediately what sort of music I wanted to do, and I knew that the music could add another layer to the story.'

So what for Anne makes a really brilliant film or TV score? She's definitely not into 'Mickey-mousing', she says, where the composer reflects every single leap of on-screen emotion. But equally, she's not impressed by 'bland' scores that have no dynamic changes.

With series three of Poldark on the TV scheduling horizon, she's been engrossed in her own score, watching scenes dozens of times. 'The best cues are really detailed,' she offers. 'I admire people whose music carries you from one place to another in a musically satisfying way, but they've been able to conceal their art. That's the aim!' she says.

Alongside Poldark, she's also just released the solo piano album, Anne Dudley Plays the Art of Noise, and is producing Poldark star Eleanor Tomlinson's debut solo album.

With just a few moments left with Anne, I ask if there's any advice she has for younger songwriters and composers: 'Pursue your dream and do your own thing,' she says. 'Be true to yourself. If you've got the talent, ambition and drive, there really should be a place for you.'

Art of Noise In Visible Silence, remastered, is out now.