Live performance has long been the cornerstone of many an artist's music career. It's where all the components of their creativity intersect to form their musical identity, while the powerful connection between an artist's work and their audience can be felt in real time. But are today's music creators aware of the financial opportunities that performing live can bring?
Rebecca Boulton, who manages New Order, tells M that 'once an artist reaches a certain level, live shows can be the most lucrative aspect of their income'. Touring is key, she adds, to amassing a dedicated following that permits each fan to feel 'part of the story', while international touring — when financially viable — can bolster an artist's fanbase, which, in turn, will increase sales of their music.
There is a balance to be struck, however. Rebecca notes that artists should tailor the production value of their live show to suit their level (and therefore not spend more on the gig than the payment fee that's been agreed), while also keeping long-term goals in mind by continuing to plug away and hone their live performance whenever possible. 'Shortcuts shouldn't necessarily be taken on performance and production,' Rebecca cautions.
Live performance royalties, Rebecca adds, is something that all artists should be aware of from the very start of their careers: 'Most [artists] don't understand that there is income beyond the simple fee for the show, and it's essential that all music is registered correctly.'
She's right: it's not just ticket sales and merch that can produce revenue from playing live, as royalties can be generated from every registered live performance across the world. In order to reap the rewards of these live royalty payments, artists need to ensure that they register all the music they perform live and report their performances by submitting their setlists once they're off stage.
This is something that Josh Franceschi, You Me At Six vocalist and singer-songwriter, is keen to emphasise. His advice? 'Have someone who's on top of the admin [and] important things like submitting setlists, because then you're not missing out on any potential revenue.' If you're serious about music being your livelihood, then taking ownership of it from a business perspective is key. Once you get on top of the admin of reporting your setlists, then the royalty payments it can generate will become a regular source of income that will further fund your creativity and ensure that your music career is sustainable.
'Knowledge is wealth, and having a profound understanding of how to run your business is only going to pay dividends later on,' Josh adds. He also points to the various grants and funding that is available to gigging artists from organisations like PRS Foundation, who support music creators and help make touring more financially viable for emerging talent.
Josh notes that the current generation of rising artists seem to be more aware than ever about the financial opportunities of touring, such as reporting their live performances. 'This has probably got a lot to do with how stretched and increasingly vulnerable the industry is at the moment,' he tells M. 'When we first started out, we were so DIY: it was very much plugging in, playing and handing out flyers. We were learning on the job and just trying to figure out how to load in when we got to a venue, let alone understanding the importance of submitting setlists.'
Touching on the importance of live shows in building You Me at Six's initial success, Josh explains: 'When we were starting out social media was still in its inception, so it wasn't about building a profile online and then going on tour. All you did was play live, and play to nobody loads [of times]. That's how you found your feet and moved forward as a performer.' The band swiftly grew a strong live following, playing at the likes of The Underworld and Astoria in London as well as festivals such as Give It A Name. This, as Josh recalls now, was all reflected in their live performance royalties.
'I remember getting to October after a run of headline and support shows and seeing the impact the touring had had on our PRS statement,' he recalls. 'It's not about getting one big lump sum once every three or four years if you're lucky enough to sign a new record deal, it's royalty payments that maintain your career and allow you to keep making and performing music.'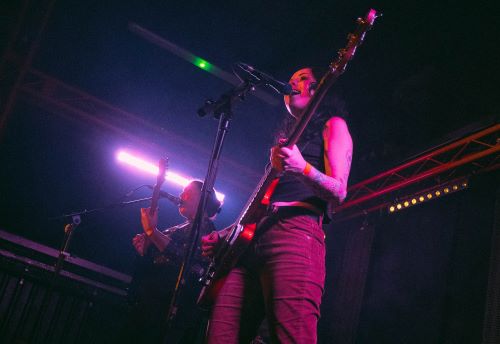 This is something that Jess Bonbon, bassist and singer of the Chester band Peaness (pictured above, credit: Jay Fisher), echoes: 'The money is there: it's just waiting for the artists to claim it.' Peaness, who duetted on stage with Paramore earlier this year in Manchester, can often be found on the road gigging up and down the country. Understanding the admin side of the business, including all the different revenue streams that they might be entitled to, has been crucial to the growth of the band, Jess says.
'Getting in that mindset of being self-sufficient early on can make things much easier as time goes on and shows get bigger,' she adds. 'You'll soon realise that it's very easy to do most of these background things yourself and you don't have to lose money hiring someone else to do the admin. As PRS members, we've been registering songs and reporting gigs since we first started performing live in 2015.'
Does Jess have any other advice for those artists who are starting out on the live circuit? 'Don't act like some big-shot superstar: everybody knows everybody, and word gets around,' she tells M. 'Some acts we've toured with, like We Are Scientists, have made a legacy for being sweethearts, and as a result will always be welcomed with open arms in the UK live circuit. You get wise to what people you want around you and who to avoid.'
Performing live and touring will always present a variety of challenges: should I wear in-ears? How is this stage going to fit the whole band on? Did we spend too much or too little on merch? One thing that's not a question, though, is the benefit that submitting your setlists can have when it comes to the overall revenue you make as a live performer. No matter how big or small the number, it pays to take ownership of your performance both on stage and off.